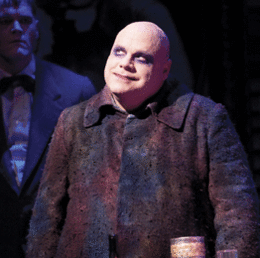 Center Stage
Moorestown native Kevin Chamberlin—hot off a yearlong run opposite Nathan Lane in Broadway's The Addams Family— is a tough act to follow.
Moorestown native Kevin Chamberlin is a bona fide Broadway star, this month set to complete a yearlong run as Uncle Fester, a role he originated in the Broadway musical The Addams Family.
Even as a youngster cutting his teeth in the Moorestown Parks &?Recreation summer theater program, Chamberlin always knew he'd find his niche on the Great White Way—he just needed that one big breakthrough part.
It came in 2000, by way of the play Dirty Blonde. Portraying one of Mae West's most ardent fans—as well as many of the men in her life—the actor/singer earned the first of three Tony nominations.
"My whole career can be defined by 'before Dirty Blonde' and 'after Dirty Blonde.' It was a huge turning point for me," he recalls. Chamberlin, now age 47, had already appeared in several Broadway shows by the time Dirty Blonde reached the stage. But that show propelled him beyond character actor status to the role of leading man.
Next came his first "big-ballad romantic lead," as he puts it: Horton the Elephant in the original cast of Seussical: The Musical. His love interest was a bird, and the performance didn't exactly make Chamberlin a national sex symbol. The show, he notes "was a flop at the time, but has since gone on to become the most produced musical in America." It also earned Chamberlin his second Tony nomination.
Chamberlin's third Tony nomination came just last year, a nod for his stellar portrayal of the eccentric Uncle Fester. Performing alongside Broadway heavyweights Nathan Lane (as Gomez) and Bebe Neuwirth (as Morticia), Chamberlin was the only actor in the show to receive a Tony nomination.
"Fester's a great character to play," says the affable actor, who's leaving the show to take a "well-deserved break" and return to Los Angeles, where he's lived since 2002. Yet, Chamberlin will surely miss his darkly comic role. While Uncle Fester is, as Chamberlin notes, "that crazy uncle that embarrasses everyone," he's also "the same person that the kids go to when they don't want to talk to their parents." In other words, he's "the joy of the family, and also the embarrassment."
Landing the iconic role presented Chamberlin with a unique acting challenge: honoring Jackie Coogan's distinctive portrayal of the moon-faced eccentric (from the 1960s television series) while somehow making "Fester very much my own."
"I was asked to do a reading of the part very early on," Chamberlin recalls. "The writers actually had me in mind for Fester; they thought I could put my mark on the role."
While Chamberlin hasn't decided on his next career move, it undoubtedly won't be long before the talented performer dazzles audiences again—either on stage, television or film.
"I've been fortunate to successfully cross over from theater to film and TV," he says. "There's an unfortunate misconception in Hollywood that musical theater actors aren't real actors." After the Sept. 11 terrorist attacks, Chamberlin moved from New York to Los Angeles. "[It] ended up being the smartest thing I ever did," he says. "It opened up so many opportunities." In addition to his countless stage performances, Chamberlin has appeared in dozens of movies and television shows—everything from the part of an enthusiastic bomb expert in the film Die Hard: With a Vengeance to a recurring role in the NBC science fiction series Heroes.
"The artistic control you have in theater is tremendously rewarding, but TV and movies are less physical work and more financially rewarding," he notes. "So, they each have their benefits."
The youngest of three brothers, Chamberlin moved with his family from Baltimore to Moorestown in 1973, as a fifth grader. As the self-described "new kid in town," he was eager to find a community of friends, something he quickly discovered through the Moorestown Parks & Recreation summer theater program, founded by now-retired South Jersey educator Stan Kotzen. Chamberlin landed the part of Huckleberry Finn in the program's first production, Tom Sawyer. Kotzen—who has kept in touch with Chamberlin through the years—recalls him as a "totally loveable and very talented kid."
"It was obvious from the start that Kevin had a great deal of talent," Kotzen says. "He was a natural."
And in addition to his acting skills, Chamberlin could sing, something that made him a shoo-in for school plays. But in the spring of his freshman year at Moorestown High, he opted to give up drama because there was no musical planned while the teacher went on a sabbatical. Instead, Chamberlin joined the wrestling team, wining the state championship.
Shortly after, his drama teacher returned, motivating him to go right back to the stage lights. He "never continued wrestling, much to the chagrin of my coach."
Chamberlin's leading roles at Moorestown High School ranged from dramas (Mr. Webb in Our Town) to musicals (Riff in West Side Story, The King in Pippin.). During his senior year, he got even more practice, working at an area ice cream parlor as a singing waiter.
"By the time I graduated, I was pretty certain that acting was something I wanted to pursue," Chamberlin recalls, adding that his parents were "totally supportive" of his decision to study acting at Rutgers University. During summers while he was in college, Chamberlin worked as a singing waiter at The Showplace in Beach Haven. ("More training," as he says.)
After college, Chamberlin struggled for three years to break through as an actor in New York City, working as a data processor in the World Trade Center complex by day ("I refused to wait tables," he says), and performing at Princeton's McCarter Theater, where he appeared in six productions. In 1990, he was cast as Reverend Mervin Oglethorpe in the McCarter Theater production of Smoke on the Mountain, which transferred to an off-Broadway theater and earned Chamberlin raves. He landed his first Broadway role in 1993 in the musical My Favorite Year.
The Addams Family earned mixed reviews from critics when it opened in April 2010, though Chamberlin was universally lauded for his endearing performance. While he says he "totally stole" Coogan's "kind of falsetto and cracky" speaking voice for the role, Chamberlin worked with composer Andrew Lippa to figure out "how Fester could express himself musically."
"He's such a big personality, so I suggested some big operatic notes, and Andrew wrote some fun, over-the-top high C's for me," Chamberlin says.
Chamberlin says he loved the part and—after 25 years in the business—he still "totally loves" being an actor. He credits his early stage experiences in Moorestown with helping him find this passion: "It's definitely the place where I honed my chops."
Published (and copyrighted) in South Jersey Magazine, Volume 7, Issue 12 (March, 2011).
For more info on South Jersey Magazine, click here.
To subscribe to South Jersey Magazine, click here.
To advertise in South Jersey Magazine, click here.