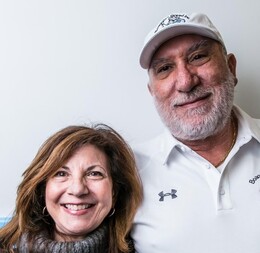 Rave Reviews
Family-owned Boaggio's Bread has expanded its Italian market to the delight of local customers, who can't get enough of their sandwiches, desserts, catering trays and more.
When Donna Boaggio looks back on her childhood in Philadelphia, some of her most treasured memories involve family and great food. From shopping at the stands on 9th Street with her father to taking in the aromas in her grandmother's kitchen to mastering all of the different recipes herself, delicious Italian cuisine played an important role in her upbringing.
Today, she strives to create a similar experience for customers as the co-owner, along with her husband Rich, of Boaggio's Bread in Mount Laurel. Well-known since its founding in 1988 for its unique, creative takes on bread and rolls, the store added an Italian market in recent years to expand its offerings, show off the family's culinary skills and welcome the local community into its collective embrace.
"My motto is, 'Enter as friends, leave as family,'" Donna says. "We treat everyone like family. We know every one of our customers by their first name, we know their children. It's just a really nice and fun place to be.
"When I was growing up, every time you walked in my grandmother's kitchen there was either a big bowl of meatballs or chicken cutlets or a dish of macaroni on the counter. I still do that today at home and at my store, and everyone who comes in gets a taste. If a meatball comes out or a cutlet comes out, customers stand there and taste it. They just love the warmth of our store, and I do that because it's how I was raised."
Boaggio's Bread was started in Somerdale by Rich's father before Rich and Donna took over ownership in 1992. In the early days, the focus was on delivering fresh bread to restaurants, delis, pizzerias and caterers, and after moving to Glendora in 1998, they added a small retail outlet to sell rolls, bakery pizza, cookies and cakes to the public.
The bakery further evolved into a wholesale distributor for major brands such as TGI Friday's, Sysco and Delta, along with Borgata and Lincoln Financial Field locally. To handle the demand, the couple moved to a larger facility in Mount Laurel and removed the retail aspect. But then the pandemic struck in 2020 and they were forced to shut down for several months, causing a period of great concern about their future. Upon reopening that summer, they brought back the Italian market and got a great response, and two expansions later it continues to be a major part of the business.
"Through word of mouth, people started coming and it just took off," Donna says. "We won four awards from South Jersey Magazine and built an amazing following.
"Everything is homemade on the premises. Nothing comes out of a bag and nothing is frozen. We use fresh vegetables, farm to table. It's part restaurant, part gourmet food market with a European flair."
Every recipe comes from someone in the family: Donna's Bolognese sauce, her grandmother's meatballs, her son Kevin's vodka sauce. Kevin comes in on Saturday when he can and makes the homemade mozzarella, among other specialty dishes, and Donna's son Jeff runs the back end of the store, which is even more important than the front of the house. Rich is a self-taught baker specializing in high-end artisan breads of all kinds. He is a developer of any and all products and provides consulting for many other bakeries, restaurants and chefs to help with their needs. Customers also call from the East Coast to the West Coast to have his creations delivered.
The lunch crowd can't get enough of Boaggio's sandwiches, some of which are invented in the spur of the moment and named after family members or devoted customers. The Connor is an example of the latter, combining meatball and chicken parm, while the Richie B. features chicken cutlet and stuffed long hots and the bestselling Donna Maria piles arugula, fig and goat cheese on top of a chicken cutlet. "Our sandwiches are overstuffed, they weigh a ton and people absolutely love them," Donna says.
The roast pork is so popular that Donna recently cooked 120 pounds in a single week, and Boaggio's stuffed breads—similar to a stromboli but with no extra dough on the ends—are filled with meat, cheese and fresh vegetables.
Family meals and catering are also available, with options including eggplant parm, cavatelli with broccoli, and sausage and peppers.
Customers don't just appreciate the food but also the friendly vibe, and a staff that consists of several generations of Boaggios as well as long-time employees who feel like family. "We have the best time here: We laugh, we joke, we dance and Italian music is on all day long," Donna says. "We truly love what we do."
Whether stopping in during lunch hour, checking out the store's special holiday offerings or picking up a catering tray for a family party, local residents who enter Boaggio's Bread are sure to come back for more from this warm and inviting Italian market.
"I'm thankful and I'm blessed that God has given us this opportunity to pivot after COVID, and that people love what we're doing," Donna says. "They love coming to the store and the reviews are amazing. It's heartwarming that our customers have the nicest things to say."
Boaggio's Bread
823 E. Gate Drive | Mount Laurel
(856) 642-9955