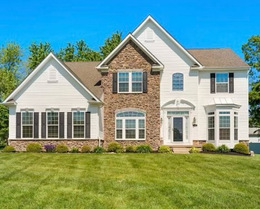 Make Yourself at Home
Weichert Realtors' Denise Walsh is using grit and determination to deliver for clients in an energized real estate market.
Competition and real estate go hand-in-hand right now, especially in South Jersey, where houses are selling before the "For Sale" sign can be hammered in the ground.
In such an unprecedented market, it's essential to have a realtor with experience to guide you through the buying process. Weichert Moorestown's Denise Walsh
has grown up in the local market, and has
an award-winning record of getting buyers where they want to be.
All in the family
Walsh grew up in a real estate family, as her father Joe Clarke ran a private realtor's office in her hometown of Haddon Township her entire childhood. Walsh received her own realtor's license in 1984, and returned to tackle the investment real estate market after a corporate career. She joined Weichert in Moorestown eight years ago, and has
continued to rise since then, winning the Nexus Association of Realtors Superior Performance Award for three consecutive years, and winning regional awards from Weichert.com.
The year 2021 brought new heights for Walsh, as she reached the Silver level of the NJ Realtors Circle of Excellence, achieving $6.5 million in sales with 26 homes sold in that time.
"Everything I do is driven by really hard work," says Walsh. "It's about a love of the work, a dedication to the people I work with and a commitment to helping people reach their dreams. My goal is always to leave my clients happy in a home they love, with a good heart and a good feeling. That shows in my referrals and the way my business has grown since I started."
As a wife and mother to two adult kids, Walsh has grown up and into the community, serving Camden County, Moorestown, Gloucester Township, and her current
home of Cinnaminson, as well as across Burlington County and beyond. She even helped her son through the process of finding his first home just this month and it is currently under contract.
"That felt really special, because this has come full circle for me," she says. "This all started with my dad, and here I am selling my son his first house. And it's because I am committed to good, old-fashioned hard work."
Navigating the modern market
Walsh knows that the current real estate market can seem intimidating for both buyers and sellers, which is why she's kept her nose to the grindstone to navigate what is the peak of our current real estate property cycle.
"It can seem intimidating, but now is really the time to act," says Walsh, who notes that she's seeing interest rates start to climb across the entire market. "It's a fast, competitive market, but with the right tools you can end up in a great investment."
Those tools include the resources behind the Weichert name, which includes a realtor, financial firm, title team and insurance. "Having everything under one roof makes
us competitive in this environment, because we're able to strike fast and get out in
front of real estate while other people are struggling to get financing or get approved to buy that same piece of property."
The first thing Walsh does with her clients is set them up with her financing team, to get pre-qualified and navigate the market more seamlessly. "With the right steps, we're able to get to a house, check it out, get on the phone with the Weichert team, and put an offer in in five minutes," says Walsh.
Walsh says she sees a lot of first-time homebuyers, and specializes in creating an experience for clients navigating these choppy waters. "This is a scary process but it should be a memorable one too. I feel those emotions right alongside them, so I'm able to walk them through what they're feeling and be there, hands-on."
That includes a 24/7 connection to Walsh and the other branches of the Weichert team, so that her clients are never left hanging in the unknown. "There's nothing more frustrating than being a seller who can't get a hold of your realtor," says Walsh. "This is a huge commitment and a huge change in your life, you need to have someone who you can trust to pick up the phone when you're unsure of something or need help. It's about kindness and about respect, and I'm always just a text away."
The personal touch has been part of Walsh's approach since childhood, and has made her one of the continuously rising stars in South Jersey real estate, allowing her to sell beautiful homes like the one above in her hometown of Cinnaminson. "Growing up in this industry, you develop a keen eye for the way things work, and how things change. One thing that doesn't change is respect and hard work: If you do a good job and you work hard to respect your clients, it comes back to you in the end."
Denise Walsh | Weichert Realtors
(856) 235-1950 (O) | (856) 685-3650 (C)
202 W. Main St. | Moorestown