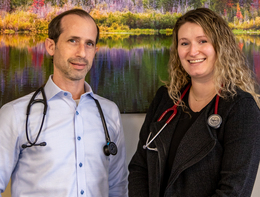 Hope Is On The Way
As Lindenberg Cancer & Hematology Center continues to grow, patients receive innovative treatment and compassionate care and can tackle their diagnosis with optimism.
When Dr. Noah Lindenberg embarked on the ambitious goal of creating a one-of-a-kind, private cancer practice four years ago, he was eager to share the knowledge he had gained from nearly two decades as an oncologist and to offer the latest breakthroughs in the field. The possibility that excited him the most, however, went far beyond medicine. His goal was to foster an environment where every single patient feels valued and celebrated for who they are, rather than restricted by the disease they are battling.
Just a short time after its inception, it's safe to say that Lindenberg Cancer & Hematology Center has surpassed even the grand vision of its founder and is already making a lasting impact on the South Jersey region and beyond, and it's the personal touch that sets it apart.
"We believe that treating patients is far more than simply giving them a medication or a treatment plan," Dr. Lindenberg says. "It's giving of ourselves: myself, other practitioners and our entire staff. Our patients become like family. Supporting them physically but also emotionally factors deeply into their prognosis, how well they do and their experience throughout the process."
It was that approach that first drew nurse practitioner Agata Kraszewska to Lindenberg Cancer & Hematology Center in 2019. A Rutgers College of Nursing graduate, she began her career at Robert Wood Johnson University Hospital in New Brunswick on the oncology/hematology floor, and she discovered a passion for working with that patient population because of their positive outlook despite battling a deadly disease.
After a brief stint at a family practice, NP Kraszewska longed to return to cancer care and found the perfect fit at Lindenberg Cancer & Hematology Center.
"What I love about this practice is that we celebrate patients' birthdays with them, we know their first names and they know ours, and we get to know their families and what brings them happiness outside of this building, whether it's their cycling hobby or gardening," she says. "We don't just talk about their blood values and symptoms, but their quality of life. That's so important in cancer care. There's no point in getting the treatment if you're not able to enjoy your time outside of here."
Dr. Lindenberg and NP Kraszewska have developed a collaborative relationship and her presence has allowed the practice to build on its strong foundation. Lindenberg Cancer & Hematology Center is already in the midst of its second expansion and will be adding new physicians to the staff soon.
"Things are very exciting and growing very rapidly," Dr. Lindenberg says. "Agata is a big part of that growth and brings a lot to the practice. She's obviously quite gifted from a clinical standpoint, from an intellectual standpoint, and the patients absolutely love her. We certainly have a symbiotic relationship that works really well in delivering superior oncologic care."
"He's really amazing at what he does and people love him and his personality," she adds. "Some patients have been seeing him from one practice to the next for many years and say they would never go elsewhere."
Since every cancer is unique, Lindenberg Cancer & Hematology Center offers a customized approach to each patient, using such advanced treatments as precision medicine, targeted therapies, stem cell transplants, immunotherapy and others. Dr. Lindenberg explains that more research is being done today in oncology than all other disciplines combined, and that has led to renewed optimism.
"I do think that nationally there is a change in mood," he says. "The word cancer still has some old stigma associated with it and it's still a scary diagnosis to have. However, because of a lot of these new treatments, patients are very often well informed when they come in. When they're not informed, it's a moment for us to educate and step in and inject meaningful hope for long-term survival, even in cases where patients' initial diagnosis may seem hopeless to them.
"There are a lot of exciting treatments that have more precise targets and far less morbidity, side effects and toxicity, with more meaningful survival. Patients are experiencing longer survival, higher cure rates and fewer side effects in many cases."
For NP Kraszewska, nothing is more rewarding than seeing patients achieve those positive outcomes and go on to live full lives. She frequently bonds with those in her care and continues to be impressed by the hope they have in tackling cancer.
"I feel that cancer patients are so much more positive than other people going through whatever illness they are going through," she says. "They have certain milestones they want to reach, whether it's getting to meet their grandchild or watching their child graduate from college or going to their son's wedding. They have these really big goals, but at the same time it's the simplicities that most of us take for granted. I'm happy that we can help get patients to those special moments."
Lindenberg Cancer & Hematology Center
773 E. Route 70, Suite E-125 | Marlton
(856) 890-7200