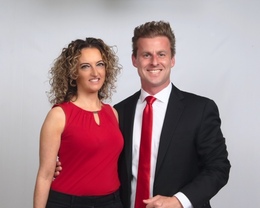 Homegrown Passion
As a realtor, Mark Cuccuini embraces his lifelong love of South Jersey and desire to deliver highly individualized client services to help others find the next house they'll call home. 
At 19, most people are just starting to test the waters of adulthood and figuring out what they want to be when they grow up.
When Mark Cuccuini was 19, he got his realtor's license and hasn't looked back. He soon realized the skills he'd honed by working in food service's demanding environment easily transferred to the real estate world, which helped him learn how to thrive in a difficult post-bubble market when other realtors were dropping out in droves.
"The restaurant I was working at was next door to a real estate office, so I'd always be over there making copies of our menu, and one day they invited me to come work for them," he recalls. "Little by little, I got out of the restaurant and into real estate full time … I was used to being detailed-conscious, I was used to working long hours, so I didn't really think twice about doing that when I came into real estate."
More than 20 years later, Cuccuini's passion for helping people buy and sell their homes hasn't abated, nor has his love for the region he's called home all his life.
Cuccuini experienced the full scope of what Burlington County especially has to offer as a youth, as a young adult and as a family man, all of which have been invaluable to those hopeful homeowners looking for the perfect place for putting down their own roots.
"Someone who grew up in South Jersey understands the culture, what areas someone might want to live in based on what they're looking for, the different schools, the different shopping options, and what you get from the different towns," he notes. "But the main thing is understanding the different property values. It's a very localized market: Everywhere is so different and it changes so frequently, and someone who grew up in the area is going to have a reliable speculation on what areas will maintain their property values and which ones aren't."
The lifelong Jersey boy even sold his wife Cindy—who was a Pittsburgh-area realtor when they met at a conference for RE/MAX's top agents—on relocating to The Garden State. Since then, the two have tapped into their mutually cultivated real estate know-how, shared passion for helping others and knack for cultivating infectious fun no matter what they're doing to not only flip houses but also utilize the marketing power of social media.
"Cindy thinks differently than me: She's really big on investment properties … and she taught me how to buy a property, renovate it, and then either sell it or put tenants in it," Cuccuini explains. "We started hiring videographers to come with us on like an HGTV-style video shoot so we could take people through the process of when we first buy a house, gut it and design it to that final offer. We just had fun with those and put them on our social media, and people saw that we were having these successes and putting ourselves out there, and our business just exploded. That was one way we really gained a lot of clients."
For Cuccuini, it's not about making a deal and making money, though: It's about making each and every one of those clients feel like they're the only client he has.
"I built my business one client at a time, and it's still that way because the only way to make a client feel special is to give them my attention and really listen to them," he explains.
It's that client-first philosophy that Cuccuini credits for his success, which includes a smattering of awards and industry accomplishments. Throughout a two-decade career of selling more than 600 homes, he's been recognized as a 5-Star Real Estate Agent from 2012-2021, received both a Platinum Circle Award and Hall of Fame Award from RE/MAX and has been named an America's Best Real Estate Agent recipient from REAL Trends, just to name a few.
But no accolade, he says, feel quite as good as his buyers' and sellers' rave reviews, or the confirmation that his clients are so pleased with his work that they've told their nearest and dearest to trust him with their own real estate journeys.
"Real estate is one of the biggest purchases a person makes in their lifetime, and people want to work with someone they like and trust: Getting a referral makes it a lot easier to work with a client because they already know they can trust you," Cuccuini says. "When we can talk because they trust me, it helps me to better understand what they're looking for. The most satisfying part is really working for a client's goals, and being there to see how happy they are when something they've wanted for so long finally happens."
RE/MAX The Mark Cuccuini Real Estate Group
Serving South Jersey
Office: (856) 616-2626
Mobile: (609) 923-3694
MarkGetsItSold.com