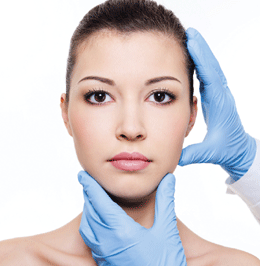 A Real Lift
There's no need to go under the knife. Get natural but noticeable results through these innovative, non-invasive cosmetic procedures.
With summer just around the corner, being bathing suit-ready is increasingly important—and the gym can only get you so far. But those who'd rather avoid the time, money and stress of surgical procedures are finding newer, non-invasive solutions to problems from stubborn belly fat to wrinkled, sun-damaged skin. These revolutionary procedures are typically much less painful than surgery, require little downtime and provide noticeable, natural results that don't scream, "I've had work done!"
Battle of the Bulge
Years ago, if you had some extra fat around your belly, waist, back or thighs, you would have had few options beyond liposuction. That requires general anesthesia and leaves your body feeling bruised and battered for weeks. Today, a popular alternative is SmartLipo, which uses a thermal energy laser to liquefy and remove fat, while simultaneously smoothing and tightening the skin. The procedure requires only a topical anesthetic, so patients are awake throughout and can go back to their regular routines in just a day or so. SmartLipo isn't a substitute for traditional liposuction in all cases, but it works well on targeted areas of fat.
When combined with a weight loss regimen, it can deliver impressive results, according to Dr. Jose Diaz-Jimenez, medical director and founder of Creations Medical Spa in Sewell. His practice is unusual in that he is one of few physicians offering patients cosmetic procedures and physician-supervised weight loss all in one place. "Patients come in and do the SmartLipo so they get the tiny waist, but they are still a size 12," Diaz-Jimenez says. "Now we can help them lose the weight as well, so they can go down to a size six. That's what the new niche is. I'm sure it's going to be catching on."
Diaz-Jimenez and his staff work with each patient to develop a personalized weight-loss plan; then, the patient returns for periodic follow-ups that help maintain the weight.
Depending on what is more important to the patient, he or she will undergo SmartLipo either before or after losing weight. "It's synergistic, because they feel that now their body looks fantastic, and they have a nice, tiny waist, and on top of that—the cherry on the cake—is now they are actually a size six or four," he says. "Now their body looks great, and they can wear the clothes that they want to wear."
For those people who are just a few inches from their goal waistline or can't seem to get rid of stubborn love handles, one of the newest innovations is Cool Sculpting by Zeltiq.
The technology suctions a patient's problem area between two small paddles that then freeze the area to a temperature that causes the fat cells to essentially self-destruct, while leaving the skin and other tissue virtually unchanged.
Dr. Sandra Elder brought Zeltiq to her practice, Aesthetic Dermatology in Marlton, three months ago, and has since been treating an almost constant flow of patients with it. "We've been keeping the machine pretty busy lately," Elder says. "This is definitely the time of year to have it done if you want to look good for the summer."
A single treatment lasts either one or two hours, depending on how many areas are being treated, and patients typically relax, read or use their laptops while the machine works. Afterward, they are free to return to their regular activities immediately, and will see results within a few weeks.
"There are many people who are working out and keeping themselves fit and just have small trouble areas that they can't see results in, and this is something that is easy, pain-free and completely non-invasive," Elder says.
Face Time
When patients used to complain about smile lines, sagging cheeks and jowls, plastic surgeons almost always recommended a facelift. But now, doctors are finding ways to treat the underlying cause of that tired, droopy face and neck without surgery.
"With aging, a lot of people will lose the collagen and fat in their face around their cheek bones," says Dr. Scott Greenberg of the Magaziner Center for Wellness in Cherry Hill. "When you lose volume around your cheek bones, your face falls, and you start to develop smile lines and jowls."
Greenberg uses the filler Radiesse to restore volume to his patients' face for a more youthful appearance. "It's something that has to be sculpted properly, because it's an area you don't want to over-treat and make it look puffy. It really has to be done artistically," Greenberg says. "But when it's done right, the results are amazing, and the patients are completely thrilled about it."
Another non-invasive procedure Greenberg often recommends is Thermage, which uses radiofrequencies to heat up deep layers of skin to stimulate the formation of new collagen and the tightening of existing cells. The treatment leaves patients with a rejuvenated look that continues to improve over time.
"You can basically give someone a mini facelift in under an hour and have the patient walk out of your office and go back to work," Greenberg says.
If your complaint is that your skin looks old or blotchy, lasers may offer a solution. In the past couple years at South Shore Plastic Surgery in Voorhees, Dr. Bhupesh Vasisht has been offering patients a one-two punch of laser skin resurfacing. His 45-minute procedure combines a Laser Genesis treatment, which improves skin tone, texture, fine lines and wrinkles, and a Limelight Facial, which targets dark spots, redness or sun damage. "You know it's the right treatment when people who know you say, 'Something about you looks different. You look less tired,'" Vasisht says. "It doesn't look like you had anything fake done to your face."
New You Cosmetic Health Care Guide
A Special Advertising Section from the pages of South Jersey Magazine
Aesthetic Dermatology
Dr. Sandra Elder brings 18 years of clinical and research experience to her practice in Marlton. The practice includes general adult and pediatric dermatology, skin cancer diagnosis and surgery, laser surgery and the latest in cosmetic dermatology. Evening hours available.
Marlton
(856) 596-3393
SkinRejuvCenter.com
Anthony Corrado, DO
An accomplished and highly trained surgeon specializing in facial plastic and reconstructive surgery, Dr. Corrado provides his patients with the latest advances in facial cosmetic procedures, while delivering natural appearing results.
Cherry Hill
(877) 481-3223
DrAnthonyCorrado.com
Anu Medical Spa
Laser Genesis is a no-downtime procedure that addresses texture, fine lines and wrinkles. It is recommended for acne scars or surgical scars anywhere on the body.
Voorhees
(856) 809-0909
AnuMedicalSpa.com
Creations Medical Spa
Led by Dr. Jose Diaz Jimenez, M.D., Creations Medical Spa delivers the most up-to-date cosmetic procedures. Services include: laser body sculpting (SmartLipo), physician-supervised weight loss, laser hair removal, Botox®, Juvederm®, spider vein therapy, medical-grade microdermabrasion, acne treatments, teeth whitening, chemical peels and more.
Sewell
(856) 589-1151
CreationsMedicalSpa.com
Davis Cosmetic Plastic Surgery
Dr. Davis performed the BodyTite™/NeckTite™ procedures on The Dr. Oz Show and The Doctors Show. These new reshaping techniques are joined by the totally non-invasive Pellevé™, also seen on Dr. Oz.
Cherry Hill
(856) 424-1700
DavisCPS.com
Garber Plastic Surgery
Dr. Brett A. Garber is a Board-Certified Plastic and Reconstructive Surgeon in Voorhees. He has been named a "Top Doc" in South Jersey since 2004.
Voorhees
(856) 616-9200
GarberPlasticSurgery.com
Magaziner Center for Wellness
The Magaziner Center for Wellness has been a nationally recognized leader in complementary and integrative medicine for almost 25 years. Our board-certified physicians help patients achieve optimum wellness through innovative natural and minimally invasive solutions to complex medical issues, as well as non-surgical cosmetic procedures.
Cherry Hill
(856) 424-8222
DrMagaziner.com
South Shore Plastic Surgery
Tired of sun-damaged skin, ugly brown spots and "tired" appearance of your skin? Dr. Bhupesh Vasisht has combined the beneficial effects of two different lasers in a revolutionary treatment with amazing results and no downtime. Come in for your consultation to see if you are candidate for this amazing treatment.
Voorhees
(856) 784-2639
DrVasisht.com
Published (and copyrighted) in South Jersey Magazine, Volume 7, Issue 12 (March, 2011).
For more info on South Jersey Magazine, click here.
To subscribe to South Jersey Magazine, click here.
To advertise in South Jersey Magazine, click here.