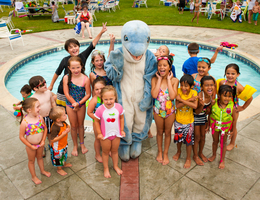 Celebrating Joy
At Chartwell Happy Day Camp in Marlton, the focus is on fun, family and friendship.
The past two years have been hard on everyone, and our children are no exception. That's why now more than ever, kids deserve a safe haven where they can leave worry behind and just be themselves.
"I can't think of a better time to have fun after what we've been through the last two years," says Sharon Damiano, executive director. "There's a sense of excitement in the air and we've been working hard to create a fun atmosphere for the kids."
Chartwell Happy Day Camp stands apart not just for its warm and welcoming spirit but for its 15 luxurious, beautiful acres that include six sparkling pools, a 25-foot waterslide and water spray park, courts and fields for sports of all varieties, and thousands of perennial plants.
"I've been a camp person since I was 6 years old," Damiano says. "I know camps well and when you look at Chartwell, you know right away that it's a unique, special place. It is more like a country club."
This boutique day camp offers children the opportunity to engage in arts and crafts, drama, music and "every sport you can think of," Damiano says. "Over the winter, we built eight pavilions and a big play court with space for games like hopscotch and pickleball."
In addition, the grounds feature fields for baseball, soccer, flag football and volleyball. They offer a variety of camp activities that encourage friendships, adventure, curiosity and creative expression. An on-site café offers treats such as ice cream and cotton candy.
"Chartwell offers something so different than the camp experience I had as a kid," Damiano says. "Here, the 15 acres flow together so kids have a feeling of family and connectedness. From the top of the site, you can see all the way to the back of the property."
While the manicured grounds are extensive and beautifully landscaped, kids do not miss the chance to connect with nature. In fact, the Chartwell staff includes a New Jersey forest ranger, who Damiano describes as "experienced and well versed in agricultural and wildlife of our surrounding environment."
The ranger brings his extensive environmental knowledge into a number of camp programs. One program, of which Damiano is particularly excited about, focuses on giving campers the opportunity to witness the lifecycle of the monarch butterfly.
"We're developing a large monarch atrium this season where we can raise these fascinating creatures," she shares. "This will all lead to a mid-September butterfly festival, where we will invite campers back to release the butterflies so they can migrate south for the winter."
Partnering with a local 4-H club, the habitat will feature copious milkweed plants, which provide the sole source of food for the monarch caterpillar.
"The process is going to be really exciting for the kids," Damiano says. "They'll get to see all the stages of the butterflies' lives and then ultimately them taking off in September."
Unlike last year, where restrictions for gatherings abounded, this year's roster will feature numerous nighttime activities including parents' nights and a talent show.
"You've got to focus on the good stuff," Damiano says. "The enthusiasm and positivity of youth makes it hard to get down when you see kids so excited about jumping in the water or getting a cotton candy from our café—we try to make them extra big—that's what keeps me motivated."
Camp weeks run from the end of June through the Friday before Labor Day. With the first camp open house scheduled for April 10, the roster of campers is poised to be packed and full of kids ready to have all the fun they have missed over recent years.
"We're all going to overcome these challenges and not get dragged down," Damiano says. "When people are here, they smile and are upbeat. We want good things for all our families."
Chartwell Happy Day Camp
136 Paragon Ave. | Marlton
(856) 983-8827
ChartwellHappyDayCamp.com