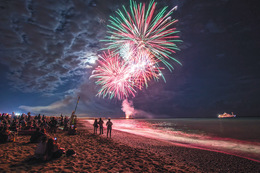 It's Shore Good to Be Back
With an optimistic hope that the worst of the pandemic is receding in the rearview, New Jersey's seaside towns are building on last year's gradual return to their pre-pandemic personae and looking toward an even sunnier 2022 season.
If 2021 was the tentative first step toward the return to a pre-pandemic "old normal" Jersey Shore, 2022 is already poised to be the year of enthusiastic, if not cautiously optimistic, full-fledged re-openings.
Event calendars are filling out, new businesses are cropping up, successful pivots have become mainstays and there is something for everyone to enjoy, regardless of their age, budget, interests and needs—and it's all less than a tank of gas away.
"People want to pick up where they left off in 2019 and make this the summer of reuniting with their friends and their families at the beaches," says Diane Wieland, Cape May County's director of tourism. "Even though masking isn't a concern now, people will continue to be a little wary—I think social distancing has become part of people's natural reaction to crowds, but there are so many outdoor activities and attractions to choose from. So there's still those underlying concerns but there's a lot of excitement and anticipation."
"The early restrictions are gone—safety is, of course, still on everyone's minds—and everybody is up and running and operating as they have been, and we all are just really excited to have a great season," adds Lori Pepenella, CEO of the Southern Ocean County Chamber of Commerce and president of the New Jersey Tourism Industry Association. "Last summer proved to be a little bit more of a return to normal: 2021 certainly felt much different than 2020 did, so we're moving forward, just with a little bit more caution because the pandemic is still unfolding."
Last year was nothing to sneeze at, of course: With international travel being any combination of off-limits and unpalatable for many vacationers, Shore communities have benefited from eager travelers wanting to get away while staying close to home. In fact, the New Jersey Division of Travel and Tourism's 2021 Summer Tourism Performance Report, which focused on Atlantic, Cape May, Monmouth and Ocean counties, reported record-shattering numbers, with a growth in bed taxes collected by the state skyrocketing to $19.2 million, reflecting respective 71% and 72% increases over 2020 and 2019.
The Returning Crowds
As excited as South Jersey's Shore towns are to welcome this year's season and visitors, they do note that day-trippers, seasonal residents and the folks who call each seaside town home year-round should brace for a crush of equally as excited visitors making their way back to their favorite oceanside escapes.
"I would expect that our visitors are going to have that back-to-normal experience here," notes Vicki Clark, president of the Cape May County Chamber of Commerce. "Everything is fully open, even more so than last year—and last year, we saw crowds that we haven't seen in years. I think you're going to see very high numbers of visitors this year."
She adds that the region's biggest international demographic will be able to visit for the first time since 2019. "With the reopening of the U.S./Canadian border, we're very excited to welcome back our Canadian visitors this year after two years without them."
Those who are accustomed to the availability that had previously made last-minute overnights or spur-of-the-moment long weekends down the Shore possible should keep in mind that hotels, motels and rental homes are all in high demand, meaning limited availability and premium pricing.
"The summer here is always a busy time, so if people haven't made their plans and hotel rentals or home rentals, now's the time to do it," Pepenella advises. "Inventory pre-pandemic was certainly limited and we're already feeling the effects of that."
"A lot of these rentals are people's second homes that they rent out when they're away: The interesting thing about Margate and COVID is that the people from New York and Philadelphia and D.C. who have second homes here, they spent more time at the Shore than back in those cities," notes Ed Berger, Margate Business Association president. "In a lot of cases, they found out how nice it is, so I think that not only are the prices going to be up, but there's going to be a more limited number of those rentals because people got so accustomed to spending more time in their second homes."
For those Shore-goers who want to get the most of the great outdoors, the region's campgrounds have skyrocketed in popularity as more and more families travel domestically and discover the joys of tent-camping and recreational vehicles being their own homes away from home.
"There's a lot of reservations already being made … it's not only the hotels and motels, but the campgrounds are especially popular right now, so we're really seeing that as an option," Wieland notes.
"Our campgrounds are doing outstanding!" adds Commissioner Joseph H. Vicari, Ocean County's tourism liaison. "People want to get outside, go camping and travel with their RVs."
Lots to Do, Plenty to See
No matter where you're staying, there is something for everyone nearby—and with the high price of gas the newest concern for travelers, the walkable nature of Jersey's Shore towns puts plenty to do within easy access.
Once you're done soaking up the sun and digging your toes into the sandy beaches between dips in the ocean, or if a rainy day has interrupted your stroll along the boardwalk, you can't go wrong with local offerings, from seasonal mainstays and special events to indulging in some sightseeing. Local officials suggest checking out your town's website or social media for up-to-date calendars, new-business announcements, sales and discounts, libraries' programming, restaurants' special offerings and information on the local must-see sites, like historical structures, lighthouses, monuments and more.
But with regular events that had been postponed, scaled down or had gone virtual, 2022 marks many of their triumphant returns.
"For many years, we've had a very busy, high-profile event schedule," Berger notes, citing the likes of Lucy the Elephant's late May reopening party and her July birthday, June's Beachstock, "which is the planet's biggest beach party," the Le Tour Downbeach Family Friendly Bike Ride co-hosted with Vetnor City, and even September's fall festival.
Of course, not all visitors and vacationers have an easy time getting around, and Vicari notes how Ocean County has endeavored to provide truly inclusive activities so no one feels left out.
"The Field of Dreams' grand opening will be April 30, and that is something for those with any physical challenges, from 5 years old to 105 years old," he says of the one-of-a-kind Toms River playground born of a father's vision for a place where anyone with mobility issues can enjoy recreational activities tailored to needs. "It is free and all-inclusive, so those with autism, Down syndrome, neurological damage, people who are blind or deaf, any family member with a disability can come and enjoy it. It's an opportunity that doesn't exist anywhere else."
Businesses' Booms and Bumps
With pivoting business models becoming a familiar hallmark of COVID, adapting a tourist haven to "the new normal" yielded some salient lessons that their owners took to heart.
"We've learned a few things, like how much people enjoy outdoor dining and shopping," says Berger. "Outdoors is really the key, and we're lined up to really give that to the people who come to Margate."
The region's businesses are still feeling the pinch of staffing challenges, however. For those who wanted to believe that the end of mask mandates signaled relief from all of the issues that came to a head during the pandemic, that diminished employment pool could create lingering service delays or unannounced closures some Shore-goers weren't expecting.
That could, however, be good news for those who need summertime jobs.
"Now is the time if you're looking for seasonal work," Pepenella says. "When we post jobs, we're able to get interested job-seekers, not just for seasonal work but any type of job. There is definitely a good opportunity to find employment down the Shore, so I would suggest researching what kind of work you're interested in and making those connections."
Still Shore to Please
While our seaside towns promise to be more popular destinations this year, those returning crowds do signal a celebratory return to the lively, vibrant Shore of before, and every town is ready to welcome back those visitors who've missed their quintessential Jersey Shore summers.
"I know prices are going up but, for the average family, it is still affordable to come to Ocean County," Vicari says. "One thing I can guarantee is that when people come here, they're happy, they're smiling—they don't want to see what's on TV, they want to go out and enjoy those personal experiences."
"People want to pick up where they left off in 2019," adds Wieland. "They want to make this the summer of reuniting with their friends and their families at the beaches."
Avalon and Cape May photos courtesy of Cape May County Chamber of Commerce, Margate photo courtesy of Margate Business Association, Wildwood photo courtesy of Craig Terry/Cape May County Tourism, Beach Haven and Barnegat Light photos courtesy of Southern Ocean County Camber of Commerce
Click here to subscribe to the free digital editions of South Jersey Magazine
To read the digital edition of South Jersey Magazine, click here.
Published and copyrighted in South Jersey Magazine, Volume 18, Issue 12 (March 2022)
For more info on South Jersey Magazine, click here.
To subscribe to South Jersey Magazine, click here.
To advertise in South Jersey Magazine, click here.