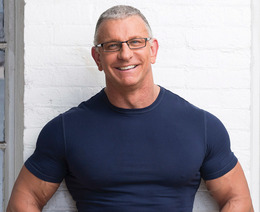 Savoring the Moment
Ever the busy man, notable chef and TV personality Robert Irvine shares his passion for food and philanthropy.
When asked if he embraces being labeled as a "celebrity chef," Robert Irvine is very diplomatic in his response, saying that while it's not exactly how he chooses to introduce himself, he also doesn't reject the term. But, while he may be one of Food Network's most familiar faces, he's quick to point out there's plenty of other ways to describe himself.
"The way I see it, it's just one part of what I do. I'm an entrepreneur, a philanthropist, and sure, a celebrity chef. I'll take it," Irvine says.
Lately, the man who wears many hats has been having no trouble keeping extremely busy. He currently operates two restaurants at two locations that couldn't be more vastly different—one at the MGM in Las Vegas and the other inside the Pentagon in Washington, D.C. He is co-owner of both a spirits company and a cleaning product business. He has his own line of nutrition bars and supplements, a line of food products found in grocery stores, four cookbooks to his name and his own magazine. Irvine also heads his nonprofit foundation, which focuses on supporting the military, first responders and their families.
That's not even mentioning the several television shows
he stars in, including the ever-popular Restaurant: Impossible, of which he's filmed more than 300 episodes over the years. In March, his latest show, Restaurant Rivals: Irvine vs. Taffer, debuted on Discovery+ and sees him pitted against Jon Taffer, of Bar Rescue fame, in a head-to-head restaurant makeover competition.
While taking a break from his hectic filming schedule, Irvine spoke to South Jersey Magazine about why he found a home in Tampa, his many business and charitable ventures, and why he'd put his culinary team up against anyone—celebrity chef or otherwise.
Q&A with Robert Irvine
You had formerly worked in Atlantic City and lived in Absecon. Now that you call Tampa home, what is it about that area that attracted you?
It's not a mistake that we once thought the Fountain of Youth was in Florida, and it's no mistake that of all the places I could've hung my hat, I chose Florida. My whole career has been marked by a tremendous amount of travel so I've only ever been home for a few days at a time here and there. Of course the pandemic changed all that, especially the early part of it. To be able to get outside and enjoy the warm weather and go biking with my wife Gail during that time, it saved my sanity, and confirmed for me that I made the right choice. In short, I truly love it here.
As an accomplished chef who travels extensively, is it hard for you to find places you enjoy and steer away from chain restaurants?
For starters, I have nothing against chain restaurants. I'm perfectly at home in a five-star Michelin restaurant or in a booth at Chili's. If you watch any of my shows, you know that I believe above all, food should bring people together. It should be fun. It should taste good! On the blue-collar side of things, it should never be careless, but on the other, say, fancier side, it should never be pretentious. I don't have a lot of other requirements. While I prefer to find special little small businesses and eat there—most of my career has been devoted to saving those places—I'm not above or beneath any type of food.
Tampa is the home for Robert Irvine Foods. How did it come about that the operation was headquartered there and what was the inspiration behind creating these products?
On the one hand, I live here, so that made sense. On another, my lawyer Dave Jeffries, who really helped advise me on business matters as I branched out from TV and tried my hand as an entrepreneur, is also headquartered here, so it made sense on every level.
As far as the inspiration behind the product—with everything I make, I first ask myself if it's something I'd want to buy. And during the R&D process, I ask myself if it would pass muster in one of my restaurants. Am I happy with the freshness, flavor profile, quality, and all that? After that, I ask myself if I were to experience that dish as the consumer does—frozen, then heated up, etc.—would I be satisfied with the result? If I can't answer yes to any of those questions, we don't pursue it. We've relied heavily on my instincts as a chef to guide the actions of Robert Irvine Foods, and it's been a good compass. It's still a very competitive business with a ton of variables, but the one thing we don't have to worry about is ever doing something for cynical reasons—chasing a category that's trending versus something that is personally exciting.
You are a co-owner of Boardroom Spirits and have your own line of labels. Was branching out into the world of liquor a natural progression or was entering into such a crowded marketplace a tough sell for you?
It was definitely a natural progression for me. As a chef, you're trained to curate a whole dining experience, which is where wine and beer pairings come from. Well, why not spirit and cocktail pairings? And why not produce the very thing you're serving? It's a dream to control as much of that process as possible. We've made a decent-sized splash in select markets so far; now it's a question of scaling up operations for nationwide distribution. We're well on our way and I'm very excited for people everywhere to be able to get their hands on Irvine's Spirits very soon.
You also operate Fresh Kitchen in the Pentagon, which is very intriguing. Having your own military background and your strong connection to men and women who serve, did that make this concept and its location especially appeal to you?
Absolutely. I know how hard all those people work and the incredible weight on their shoulders as they do that work, so I wanted them to have something that would be a little oasis—a place where they could kick back and fill up on something made with some love. Even if they just have to grab something to go and eat at their desks, I want it to be a part of their day they look forward to.
When you joined the British Royal Navy at age 15, did you expect that you would be applying the lessons and leadership skills you learned to your life these days?
I don't think you expect to get anything out of an experience like that as a teenager. You expect to get through it. Maybe you hope it makes you a little tougher or more capable, but it's hard to see too far into the future or hope for a lot. It was a job, an opportunity, and you're always grateful for those, but I can't say that I was able to see too far down the road at that point. I knew I wanted to cook. I knew I'd always work my tail off. It all came together in a beautiful way, which tends to happen for people willing to put in the work.
Because you are such a famous chef, folks have such high expectations for the food you make. What about the other side of things, is it hard for you to let someone cook for you? What are your expectations when you sit down for a meal?
Expectations vary depending on where you are, right? If I wind up at a friend's house and they say, "Hey, wanna stay for dinner?" and I've never seen them cook, well, I guess I have no expectations for that. [Laughs] I'm in for an adventure and I'll be surprised either way. If I'm sitting down at Morimoto's at the MGM Grand, those expectations are very high that I'm going to have an exquisite dining experience, and I'm certain those expectations will be met. If I'm on a road trip and I have to get a deli sandwich from a gas station, well, now the expectations are on the floor. [Laughs]
I want to talk a bit about your vast charitable efforts. The Robert Irvine Foundation has helped countless other organizations and individuals. What is the most rewarding aspect of being involved in making such an impact in other people's lives?
It's everything; it's the driving force behind all that I do. The foundation gives back to veterans and first responders in need and to date we've helped renovate veteran shelters, purchase mobility devices and provide a lot of other important services. All my companies contribute to the foundation, so the more business we can do, the more money we can raise and the more people we can help. It's incredibly satisfying to help someone in need. There's no other experience like it. My work with the foundation keeps all my little problems in perfect perspective, and the ability to make life better for someone who sacrificed for this nation brings tremendous meaning and purpose to my life.
For someone of your stature, it would be so much easier to just write a check. But you seem to be very hands-on with the foundation. Is it important to you for people to recognize that you are fully invested in the work and the outcomes it produces?
I think they recognize it. It's why I answered the "celebrity chef" question the way I did. I'm fine with being known for the thing I do on TV, but if I had my way I'd have people see me as a philanthropist first. By the time it's all said and done, I think they will, and it's my greatest hope that the impact of the Robert Irvine Foundation outlasts my time on this Earth.
Is there anything that you haven't done yet that is high on your list?
I've wanted to write a business book for a while, and now I'm almost done with one! You'll be able to read that soon.
How do you find time to unwind from always being on the go? You are obviously into exercise and physical fitness; what other kind of ways do you release stress and recharge?
Gail and I are both very active, but when we're spent, we love crapping out on the couch and having a good TV or movie binge. Billions is one of our favorite series.
Aside from catching you on television regularly, are there any new things you are working on that you can share with us?
There are a lot of irons in the fire this year. I'm dying to tell you about all of it, but you'll have to keep an eye on my social channels for all the announcements. There is lots to be excited about.
You are one of the Food Network's biggest personalities, but if you had to create an all-star team in the kitchen made up of a few of your colleagues, who are you choosing?
I did that already! The chefs who work for me—Shane Cash, Darryl Moiles, Brian Goodman, and Tito Marino—those are the guys I'd want with me to cook anything. They're all unbelievably talented and hardworking. If you've ever seen me at a food festival and sampled anything, they're the guys who helped. If you've had anything from Robert Irvine Foods, they were in the kitchen with me developing that. And now you get to see them; they're the guys who work side-by-side with me on Restaurant: Impossible and Dinner: Impossible. No offense to any of the other Food Network chefs, but I'd put these guys up against anybody.
Restaurant Impossible photograph courtesy of Food Network
Click here to subscribe to the free digital editions of South Jersey Magazine
To read the digital edition of South Jersey Magazine, click here.
Published and copyrighted in South Jersey Magazine, Volume 18, Issue 12 (March 2022)
For more info on South Jersey Magazine, click here.
To subscribe to South Jersey Magazine, click here.
To advertise in South Jersey Magazine, click here.