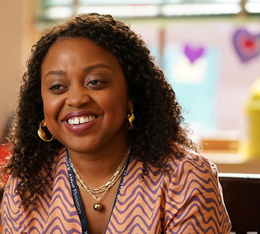 Teachable Moment
Quinta Brunson, the Philly-born star of the new sitcom Abbott Elementary, shines a light on the triumphs and tribulations of embattled schoolteachers. 
Quinta Brunson remembers being a self-described "scaredy cat" as a young child. She's no longer scared. Through her work on the new ABC prime-time sitcom Abbott Elementary, she has become an outspoken champion for teachers across the country. She credits her mother and other teachers from her formative years growing up in West Philadelphia.
Initially known for her BuzzFeed videos, the quick-witted Brunson has become known for her work as a comedian, an actress, a writer, and a producer. She has been "obsessed" with comedy since her days at Center City's Charter High School for Architecture & Design, and nurtured her interest by taking improv classes at the famed Second City in Chicago.
Abbott Elementary debuted in December and airs on Tuesday nights at 9 p.m. Brunson, 32, created the workplace comedy about a group of passionate schoolteachers—and a slightly tone-deaf principal—who work together in a Philadelphia public school. Despite the odds stacked against them, the teachers are determined to help their students succeed in life. Brunson found inspiration in her mother's stories from her time as a Philadelphia schoolteacher, as well as her own experiences with "the best teachers in the world, from elementary onward."
We spoke with Brunson about the challenges teachers face, how being "the shortest person in the room" influenced her comedy, and her obsession with Jim Gardner, who recently retired from his post as anchor of 6ABC's 11 p.m. Action News broadcast.
Q&A
What is the most Philadelphia thing about Abbott Elementary?
The most Philly thing about the show is news anchor Jim Gardner, who's featured in the show. I'm obsessed with him. I've been obsessed with him since I was a child. He is the most-watched news anchor on Philadelphia's 6ABC, and we got him on the show.
I'm not a person who gets starstruck often, but when I was talking to Jim Gardner on the phone, I thought I was going to pass out—and, wow, he is in our show. I think it is the most Philadelphian thing, to the point when I was telling people that in Philly, they're like, "You got Jim Gardner?!" It's like getting Gritty, the mascot for the Philadelphia Flyers. You can't beat that.
What are your hopes for this show?
My goal is to make people laugh, but also, I hope it will get people thinking. If it puts a little pressure on them to support our teachers and our schools, that would be great. … If there is a teacher in your life, I would ask you to give them support and listen to them. I'm excited to see the changes that can take place.
What are some of your favorite TV comedies?
My favorite comedies have been mockumentaries, like The Office and Parks and Recreation. I was impressed with what they did. What I love the most about the format is that it gives an opportunity for the audience to build a different relationship with the character. I think teachers deserve that. I had seen other teacher shows, and it's a lens on them that often can make them seem one-dimensional. I know that they are the last one-dimensional people out there.
How does a school comedy work at such a time of angst in our society?
Making a school comedy with the state of our schools, at a time when we have shootings, the gun crisis, and COVID—there's so many to name. At the root of it is the underfunding and lack of care for our teachers and students. It means that we have to be special about the kind of stories that we want to tell, and I think we did that with this show. Are we laughing at these problems, or are we laughing with the people who do the job regardless? I think there's a huge difference.
How did your mother's dedication as a teacher inform this show?
My mother, who was a teacher, is similar to the characters on the show who are going to do the job no matter what. Nothing can stop them. They know all the systemic issues that are there, but, at the end of the day, they have to teach your kid how to read. I think what is really important about this show is giving people a behind-the-scenes look at what teachers really do through humor and heart, you know, and straight-up comedy.
I feel that the important thing with a comedy is to make sure that you have that absurdist point, right? Like, you need to have that thing that goes a little bit further than what happens in real life. I think that balance also allows us to tell these stories. If we were just straight up telling people the reality of what's happening in these schools, that's not fun to watch. That's just a straight-up documentary. We get to have this absurdist humor that I hope, once people see it, I hope it gives them the opportunity to laugh and think. But ultimately, I want people to be able to laugh with us.
COVID-19 and other challenges of the past few years have been notoriously tough on educators. Are you going to incorporate more of that in the story?
As far as burnout, yes. I have friends who are teachers who have told me this will be their last year of teaching because they can't do it anymore. The circumstances of last year burned them out. In our story, we talk about burnout as it pertains to how much we extend ourselves. … It's about knowing your limits because knowing your limits is what allows you to keep doing the job.
This is a fictional show. In the real world, there is nothing those teachers can do to prevent burnout from the lack of support from the government or from our communities. That is not on them. I'd be burning out, too. … But, like we mention in the show, this is something people do because they are drawn to it. They are called to it. This is their path and their passion.
I hope you don't mind me asking, but did being short in stature inform your life or your comedy in any way?
Often, humor comes from people who perceive themselves as being a little bit different from everyone else. I didn't know if somehow you might walk into a room and feel just a little bit different because you're the shortest person in the room. I think that definitely set me up for success as far as where a lot of my comedy comes from. It's given me a completely different worldview, and I love being a representative for the other short people out there.
Click here to subscribe to the free digital editions of South Jersey Magazine
To read the digital edition of South Jersey Magazine, click here.
Published and copyrighted in South Jersey Magazine, Volume 18, Issue 12 (March 2022)
For more info on South Jersey Magazine, click here.
To subscribe to South Jersey Magazine, click here.
To advertise in South Jersey Magazine, click here.