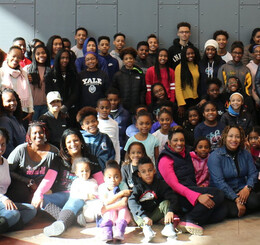 Today's Children, Tomorrow's Leaders
For nearly 70 years, The South Jersey Chapter of Jack and Jill of America's mother-members have given Black youth the character development, hands-on volunteer opportunities and education they need to become community-minded adults.
Some folks may seem born to lead but, as anyone who's been involved with the South Jersey chapter of Jack and Jill of America can attest to, a truly great leader is raised.
Surrounding a child with positive role models, including them in philanthropic projects, and offering them a supportive, nurturing environment comprising trusted adults as well as their peers all go a long way in helping today's youth become tomorrow's pillars of the community.
Since its official installment in 1954, the South Jersey chapter of the 84-year-old national nonprofit has invited mothers and their 2- to 19-year-old children into the warm embrace of an organization dedicated to the character development, charitable giving and volunteer service that show Black youth how developing a strong sense of compassion for others and respect for themselves are the crucial foundations of a community-focused mindset.
"It's a family organization committed to exposing children to educational, cultural, advocacy and civic opportunities they otherwise probably wouldn't have while nurturing future African-American leaders," says Jackie Lopez-Perry, president of the South Jersey chapter. "That was the allure for me to join Jack and Jill."
And Lopez-Perry should know: With one daughter who's graduated out of the group and two more poised to follow her lead in the next couple years, she has witnessed Jack and Jill's profoundly positive impact firsthand.
"It has been wonderful for their development," she says. "To see that evolution and growth, to see them build relationships and gain things like leadership skills, competency skills and public-speaking skills, I think that's what every mother wants for her children."
But while the organization does have a forward-thinking aim, it is very much focused on meeting every child wherever they are right now.
"It's all about the children," she says. "And it's not just our own children but the children within the communities that we serve wherever there's a need, and providing them with that same access regarding education and culture that we give our own children."
Each Jack and Jill chapter has the autonomy to develop their own programs, activities, service projects and more, but they're guided by the national chapter's "programmatic thrusts," or the five tenets each group must uphold and work into their offerings to deliver meaningful, character-developing experiences: cultural, education, health, civic/legislative and social/recreational.
"To build strong programs around our thematic thrusts, it takes a group of mothers that are dedicated to their children and doing that work: The planning really rests on them, since it is a mother's member organization," Lopez-Perry explains. "It involves a lot of planning, thinking ahead, creativity, imagination and thinking about the experiences you hope will help shape them into community leaders and civic-minded young adults."
Of course, reaching and shaping each child can't be done with a one-size-fits-all approach. Being mindful of local issues helps each chapter tailor their volunteer outreach to make most needful community-specific impact, while placing the mother-members' children in peer groups—pre-K to second grade; third to fifth grade; sixth to eighth grade; and freshmen to seniors—ensures that the message stays accessible, neither overwhelming young children nor boring older ones.
"The thinking is always about what will get the kids engaged, especially since we serve children 2 to 19," says Lopez-Perry. "We want to offer programming that appeals to all of them. By breaking it down into age groups, we're able to provide age-appropriate activities that still meet the thematic thrusts—that's where the creativity comes in, tailoring it to the needs of each age group."
She uses financial education as an example, which "we have to bring to the level of their understanding." While such a heady topic may be distilled in a basic introduction for younger children, middle schoolers might play The Stock Market Game while high schoolers learn actionable lessons guiding them to their rapidly approaching financial independence.
By the time children age into the teenage group, they're capable of "almost running autonomously, like how the local chapter itself runs." They have their own executive board, manage their own meetings, set their own programs and decide what kind of issues and organizations to fundraise for.
"They run independently but are dependent on our group," notes Lopez-Perry, who admits she has a soft spot for the teens' group, especially since she was their adviser before becoming chapter president. "It's quite beautiful to see because this is essentially the last group that every child graduates from."
Knowing how to confidently navigate their own lives and having faith in their individual futures gives all the children of Jack and Jill the maturity and perspective to identify needs within their communities, as well as the vocabulary, strategies and positive examples to share their knowledge and problem-solving skills with others, as well as the empathy to want to make a difference.
It's something that Dawn Garlic, The Salvation Army's Kroc Center volunteer services manager, has seen evidence of every time the South Jersey Jack and Jill chapter works with the Camden center, which also provides a variety of programs, services and assistance to their neighbors in need.
Garlic's relationship with Jack and Jill actually predates her involvement with The Salvation Army, going back to the early 2000s when their paths crossed while the chapter was assisting with the creation of a community garden. It's a partnership that has only strengthened in the years since the two organizations began regularly working together for the Dr. Martin Luther King Day of Service in 2015.
"Their teams of children and family members bring food to help stock our food pantry, which they would also help sort," Garlic explains. "It's been a huge blessing to have them. I remember one year, it looked like a raging sea of 80-some families and volunteers, and it was the kids who were rushing around delivering bags to families, bringing them out in their little pull-wagons."
In fact, the chapter has been previously recognized as a Service Partner of the Year for "being a wonderful Salvation Army partner."
"Every year we, recognize community partners and those that have been involved—[Jack and Jill] is a community partner but they're also hands-on with their service: They're our fundraisers, our community-service supporters, they donate their time and their finances," Garlic says.
Giving their time and resources to the Kroc Center isn't the only labor of love Jack and Jill members dedicate themselves to. Fundraising is a significant part of the Jack and Jill mission, and every chapter contributes to the national foundation "so that we can continue to do good nationally and globally."
But local volunteering efforts are where children can really see the difference they're making, as well as understand how much of an impact one person can have.
"I'll borrow from the Spider-Man movies: To whom much is given, much is required, and that's the way I see us and the service that we do," says Lopez-Perry. "We want our children to understand that they have a responsibility to their community, to uplift those who are less fortunate than themselves. And we do that not only for their own personal development but because it will help them become better leaders and better human beings."
Garlic certainly agrees that Jack and Jill has been successful in that mission, too, especially based on what she sees as she watches the chapter's children return to volunteer at the Kroc Center every year.
"When children and their families are working together collectively, children get a chance to see that, no matter their age, they can participate in civic engagement," she says. "When they're repeat volunteers instead of bystanders, it holds them accountable to be productive citizens and shows them how everyone has a talent and gift they can use to be active participants in making a difference."
Click here to subscribe to the free digital editions of South Jersey Magazine
To read the digital edition of South Jersey Magazine, click here.
Published and copyrighted in South Jersey Magazine, Volume 18, Issue 12 (March 2022)
For more info on South Jersey Magazine, click here.
To subscribe to South Jersey Magazine, click here.
To advertise in South Jersey Magazine, click here.