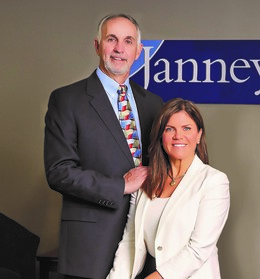 When Seeking Financial Advice, Two Minds Are Better
The father-daughter team at Begnaud Wealth Management Group of Janney Montgomery Scott uses their combined strengths to help clients reach their goals.
Father-daughter partnerships are not something you see every day in any business, let alone the financial services industry. Yet when Gary Begnaud was seeking a trusted collaborator/partner almost a decade ago, he kept coming back to the same person—his daughter Amy—even though she had started her career on a completely different track.
All these years later, there is no doubt that his instincts were spot on. Gary and Amy are proud to be working side by side as the principals of Begnaud Wealth Management Group of Janney Montgomery Scott LLC and have taken the business to new heights with their team approach.
"I was a schoolteacher and a reading specialist before I made this transition," Amy says. "My dad lobbied hard for me to look at this industry. It wasn't necessarily my background, but I've always had a mind for finance, the trust factor was there and I enjoy working closely with people and doing the right thing by them.
"People have asked me many times what it's like working with my dad and I always have the same answer: It's great working together, and if it wasn't, I wouldn't be doing it. He's one of my best friends. We bring different perspectives and we don't always agree, but we always come to an agreement in the client's best interest."
Gary is a Chartered Retirement Planning Counselor®, Amy is a Certified Financial Planner® professional and both have earned the rare Certified Divorce Financial Analyst® designation. They also share a passion for helping clients identify financial goals and then set about achieving them, which is why Gary knew Amy would be perfect for the role in the first place.
"It's important when you've been in the business as long as I have that you know there's some kind of succession with someone you trust to treat your clients the right way, so they'll continue to have someone looking after them whenever that succession happens," he says. "The biggest thing in working with Amy is that I trust her. It makes me comfortable knowing that whatever happens in the long run—and someday I will have to retire—that our clients will be in good hands."
In the meantime, the phrase "best of both worlds" certainly applies to Begnaud Wealth Management Group, in more ways than one. First of all, clients receive the personal attention and integrity of a family business, along with the capabilities and protections that come with being under the Janney Montgomery Scott umbrella. Secondly, they have two qualified professionals contributing to their portfolio and bringing their unique skills.
"We play off each other's strengths and we work together," Amy says. "I'm very analytical and Gary has more of a big picture, broad view of what's happening. I say it's like a belt and suspenders for our clients—they really do get the best of both of us."
Even as close as they are, they bring unique perspectives to the job. For example, Gary has been in the business for more than 40 years after ending his career as a professional baseball player who made it all the way to Triple-A in the Philadelphia Phillies organization. One of Amy's many strengths is working with women going through a divorce, since she has been in that situation herself.
"Being from different generations helps a lot because we see things from different angles, we see the world happening in different ways, and our personal experiences are different," Gary says. "We're much more diversified than most teams."
Clients who felt like a number at their previous firm appreciate how genuine and accessible the Begnauds are, and Amy stresses that getting to know each one on a personal level helps determine the best course of action. Recognizing their ultimate objectives and their risk tolerance in getting there is of the utmost importance.
"It's critical that we understand what's important to them and it's not a one-size-fits-all approach," she says. "Even with Gary having 40 years' experience in the markets, he's very approachable to our clients; we both are. Even in complex situations, we make sure that our clients understand what we're talking about. We want them to understand the process, what we're doing and why, and to be able to ask questions of us."
Keeping clients calm, especially during turbulent times in the market, is also key. "We always tell clients that our goal is for them to trust that we're watching over their investments and the markets, so they don't have to be concerned over the latest headline news," Gary says. "If clients are worrying about their investments, then we're not doing our job."
Before COVID-19, Begnaud Wealth Management Group would host regular events to bring clients together and educate them about financial planning, and those sessions have continued virtually. New clients are also welcomed to find out what the team is all about, and the Begnauds work with all age ranges and professions, from CEOs to schoolteachers. No matter what background someone comes from, they can expect integrity and honesty all the way through.
"We're protective of our clients and we're protective of their money, because we know how important it is for them to work with someone they can trust," Amy concludes.
Begnaud Wealth Management Group
of Janney Montgomery Scott LLC
Amy Begnaud, CFP®, CDFA® | Vice President, Financial Advisor
Gary Begnaud, CRPC®, CDFA® | Executive Vice President, Financial Advisor
701 E. Gate Drive, Suite 210 | Mount Laurel, NJ 08054
(856) 291-5032
Janney Montgomery Scott LLC
Member: NYSE, FINRA, SIPC