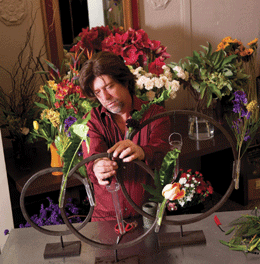 Petal Pushers
Local gardeners with a passion for making things grow find this quiet hobby yields a bumper crop of rewards.
The winter has been long, frigid and snowy but, as sure as the sun will shine again, South Jersey's flowers and trees will snap back and those frost-shocked lawns will become a distant memory.
This time of year—rich with latent possibility—is the season local gardeners love best. From extraordinary private gardens to greenhouses brimful with delicate orchids, dark warehouses where bulbs are forced to bloom contrary to the season to community gardening projects that bring whole townships together, our area's green thumbs are well acquainted with nurturing new life (and staggering beauty) from a mere handful of seeds and a great deal of know-how.
After all, says Collingswood florist Michael Bruce, "The more you know, the more you can do." He himself knows a thing or two about flowers, having won Best in Show twice at the Philadelphia International Flower Show (March 6-13 at the Philadelphia Convention Center) and placed third internationally at the Singapore Garden Festival. His advice is to check out different garden centers and see what's out there. "You really can create your own style," he says.
The gardening world has come a long way from the mundane in the last 30 years, Bruce says. His first job was in landscaping, after earning a bachelor's degree in ornamental horticulture and landscape design in 1978. "There was no Internet, no cable TV. Landscaping was, 'Look at what your neighbor did and copy it.' Everyone had yew bushes under the front window. It was not satisfying for me."
Fast-forward to today's landscaping trends and the public's much deeper interest in dressing up the outdoors. What has happened recently, Bruce says, is that the outside of the house has become another room, an extension of one's home. So it is not just about a green lawn but "a terrace perhaps under the picture window. People are becoming much more individual and expressive in their designs, and you see that everywhere you go now."
Whether it's HGTV that's fueling today's floral fixation or simply a desire to commune with Mother Nature, gardening for some has gone beyond mere hobby to a way of life.
Take Hammonton resident Chris Rehmann. Back in 1982, he had been busy helping build the family engineering business, when he took a pleasure trip to Hawaii. He and his wife happened to purchase a few orchids—and a new love affair sprouted. "I bought three plants," Rehmann recalls, "and now I have 2,000."
Nearly 30 years later, the 70-year-old civil engineer's passion for orchids is still strong.
"It's a lot different than what I do every day," he says, "so it gives me an opportunity to find a place to relax and enjoy myself."
But more than just puttering around in his backyard greenhouse, Rehmann has also earned numerous international awards for his carefully cultivated specimens. Today, he is president of the American Orchid Society and will be judging these beloved plants, as he has for the past 15 years, at the Philly Flower Show. He has also judged all around the world, in such places as Taiwan, Ecuador, Costa Rica and Brazil.
On Valentine's Day, Rehmann was preparing for a sojourn to Japan, where he was to pick out the best among, quite literally, a baseball stadium full of thousands of orchids in the Tokyo Dome Orchid Show.
There are many orchid varieties, says Rehmann, some of which grow naturally in the Pinelands. Still, the most spectacular orchids come from the tropics, he says, and require a greenhouse in our northerly climate. "They have more 'flower power' to them," Rehmann says of this foreign flora, "and when they flower, they're magnificent creatures of nature."
Of course, not all of South Jersey's avid gardeners maintain orchids by the thousands.
In towns like Haddonfield, where the Haddonfield Garden Club has been around for more than a century, gardening has become an act of civic engagement. In addition to setting out planters packed with blooms in their downtowns, and delivering flowers to family members of active military servicemen and women through the Blue Star Memorial Program, they also get quite competitive. In 2010, Haddonfield took home the blue ribbon for backyard design at the Philadelphia Flower Show for their gorgeous array of window boxes and hanging flowers. Additionally, they received a trophy for their whimsical tribute to the Florida Keys: a floral arrangement in the shape of a pink flamingo.
And dash any images of "persnickety ladies in pillbox hats," says Lee Renner, vice president of the Moorestown Garden Club. Their membership spans the generations—from 10-year-olds to octogenarians—and they all share their love of gardening by "getting their hands dirty and making good things grow."
Moorestown's Junior Garden Club offers mentoring opportunities: members work with fourth- and sixth-graders with a budding interest in botany. Both clubs offer $1,000 scholarship awards to high school seniors who plan on pursuing a college degree in horticulture.
"They are the next generation of stewards," says Renner. "We teach them and show them the love we have for gardening and conservation."
Published (and copyrighted) in South Jersey Magazine, Volume 7, Issue 12 (March, 2011).
For more info on South Jersey Magazine, click here.
To subscribe to South Jersey Magazine, click here.
To advertise in South Jersey Magazine, click here.