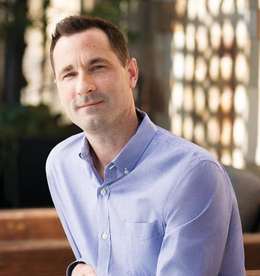 Coming Home
Behind the scenes with Berwyn native Brad Ingelsby, the creator of Mare of Easttown.
Perhaps, you can go home again.
Just ask Berwyn native Brad Ingelsby, who after 12 years in Hollywood is moving his family back home to where his roots run deep. Ingelsby says the move stems partly from his experience coming back to Delaware and Chester counties for the filming of the celebrated HBO miniseries Mare of Easttown, which he created. For anyone who has not yet watched Mare of Easttown, the multiple-Emmy-winning show stars Kate Winslet as Mare Sheehan, a no-frills police detective based in a small town in Delaware County.
Home, family, and the influence of close-knit communities are integral to the writer/director's personal and professional choices. Besides Mare, Ingelsby, 41, is best known for his films American Woman (2018), starring Sienna Miller and Christina Hendricks; Our Friend (2019), with Dakota Johnson, Casey Affleck, and Jason Segal; and The Way Back (2020) starring Ben Affleck. Each of these films focuses on richly drawn characters whose journeys stress the importance of not giving up on oneself or on others, no matter how difficult life becomes.
Ingelsby has a knack for capturing pain, loss, and grief, as well as love, and his characters are easily relatable. This is clearly the case in the seven-episode Mare of Easttown, which deals with death, divorce, child custody, and other difficult family dynamics.
"Mare is aimed at showing the importance of mercy, in all forms and in all ways," Ingelsby explains. "It is about how rejecting mercy can devastate you, and how accepting and giving mercy can save you."
We spoke with Ingelsby about how Mare changed him, "the Rolling Rock controversy," and what happens next.
Q&A
How did writing Mare of Easttown change you?
It impacted me immensely. My family and I are moving back to Pennsylvania after 12 plus years in California. Being home and shooting the show there made me realize that I should be back there permanently. I want to be around family and friends. I want my children to grow up with their cousins and spend time with their grandparents.
You had also set your movie The Way Back in Havertown. Why was coming back to where you spent your formative years so important to you?
It was my desire to write about home, how I grew up, and the rhythms and rituals of life in this particular part of the country. I am writing about ordinary people who are going to have to face extreme situations of trauma, and move ahead with the support of their family.
How did growing up here shape you and your mindset?
I think it impacts all of the writing that I do, in that where I was raised, how I was raised, is such a part of what I write. The dialogue that I write and the relationships that I write about, that sense of family and shared history with a community—it's something I grew up with. We also grew up with priests. My uncle was a priest, and my two great uncles were priests. The Catholic Church was a major part of our lives.
What are some of your fond memories?
It was all about going to my grandmother's house in Drexel Hill, every Thursday night. It was about spending time with my mom, her three sisters, and all their kids. Everyone would come together and sit around the table. I remember listening in on the conversations, the relationships, the way they supported each other, and the way they would voice their concerns to each other. That is the great stew that is the blood in my veins. I think about those things and how I was raised, even if it's part of a murder mystery.
If you hadn't gone to the American Film Institute, your life might have turned out quite differently.
True. I was born in Wester Chester and grew up in Berwyn. My two grandmothers and my wife's family live in Aston. I was selling insurance with my family when a script I wrote got into the hands of an agent. That script became the movie Out of the Furnace (2013) with Christian Bale and Woody Harrelson. So, sure, there is still a version of my story where I am selling insurance with my father.
What was going through your mind when you found out that the last episode of Mare was so popular that it temporarily crashed the site?
I was getting texts that the server crashed and people were desperately trying to log in. So, I had a bit of a panic because we had asked people to wait all these weeks to get the final reveal, and now the time had come and they weren't able to get it when they wanted it. So, I was a bit distraught, but it got remedied relatively quickly and I was happy that people could watch the finale.
Your leading lady, Kate Winslet, has said that she would be eager to step back into Mare's shoes, so could there be a Season Two?
I would love nothing more than to write these characters again, but I also want to make sure that if I ever went down that road again, that we had a story we were confident about that was really good and really emotional, and that we had fresh ideas, as opposed to repeating the ones in Season One. So far, I haven't come up with that story yet. Is it a possibility? Sure, if we could come up with a story. Mare's job as a detective certainly opens the door to another show, in a way. I just don't know what that is right now. But never say never.
I heard from the actors and the production assistants what a pleasant atmosphere you created on set.
Yes, we try. It's hard enough to make something that you care about and feels good and you try to make it as good as you can. So, it's better to be nice to each other while you're doing it. It's so much better when you can all get along, take care of each other, and be kind to each other. … It starts with Kate, who's just so lovely and kind, and when you have someone like that at the top, of course, it trickles down.
What kind of feedback did you get from local friends and extended family about Mare?
It was mostly positive. There were some little details people pointed out like they should be drinking more Yuengling than Rolling Rock. But my father-in-law who lives in Aston is a Rolling Rock drinker, and he has been for a long time. So, that was a detail from my own life that I wanted to keep in. Overall, we wanted to honor that way of life and to portray it with a level of empathy, honesty, and authenticity. I hope that they see it as a sympathetic portrait of a community that takes care of one another, even in very challenging and traumatic times. That was my hope when I was writing it, and I hope that it resonates with the audience.
You have a three-year deal with HBO to produce original content, so what are you working on next?
I'm kicking around some ideas of my own, looking at a couple of projects, and reading some books right now. I haven't committed to doing anything yet, but in the next couple of months, I hope to land on that next idea. It takes a bit of time to figure out what it's going to be. If I did a TV show, it would be with HBO. They've sent me some books to read, so I'm in talks with them about a couple of things. Hopefully, in time, we will find something that we both feel passionate about.
Click here to subscribe to the free digital editions of South Jersey Magazine
To read the digital edition of South Jersey Magazine, click here.
Published and copyrighted in South Jersey Magazine, Volume 18, Issue 10 (January 2022)
For more info on South Jersey Magazine, click here.
To subscribe to South Jersey Magazine, click here.
To advertise in South Jersey Magazine, click here.