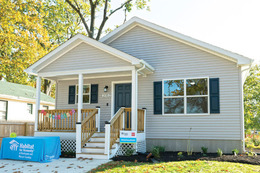 Many Hands, One Home
The volunteer-powered Habitat for Humanity of South Central New Jersey is dedicated to fulfilling its mission of building homes, communities and hope, one deserving family at a time.
Annie Fox, chief development officer at Habitat for Humanity of South Central New Jersey (Habitat SCNJ), is more than happy to clear up some misconceptions about the internationally operating nonprofit.
Some of those erroneous assumptions are harmless despite lingering for decades: "Everybody thinks that Jimmy Carter started Habitat," she laughs. "He and (his wife) Rosalynn are great advocates and he's our most popular and famous volunteer, but he did not start Habitat."
Habitat for Humanity was actually founded in 1976 by Millard and Linda Fuller, the missionaries and humanitarians widely credited for leading today's affordable-housing movement. The need for the organization's services was immediately apparent: The Atlanta-headquartered nonprofit, which provides affordable housing options by harnessing the power of volunteers, saw such an early explosion of growth that it had affiliates in 14 states and seven foreign countries within its first five years.
Burlington County got its own Habitat for Humanity in 1987; 30 years later, it joined forces with Trenton's to further their shared mission of bringing people together to build homes, communities and hope. It's a unification that hasn't slowed since that first 2017 merger, as the Maple Shade-based chapter now serves all of Burlington, Atlantic and Mercer counties, as well as the Middlesex County towns of Plainsboro and Cranbury.
Until recently, it was known as Habitat for Humanity of Burlington and Mercer Counties, the name change inspired by some creative economy of language "because we'd be listing out a million things if we were named for all of our regions now," says Fox.
Unlike a persistently misattributed origin story, other false impressions of Habitat can potentially but unintentionally present barriers to assistance.
"So many families don't think they qualify for our program, but we're here for the everyday, hard-working family, too: We get bank tellers, we get a lot of state workers, we get tollbooth workers who say, 'Oh, no, I'm not low-income enough for assistance,' but we are here for these families who just need a little bit of help," Fox explains. "A lot of people say that the middle class has been forgotten, but we'd love to see more of those households apply for assistance."
Habitat SCNJ's homes fall into three categories: from-the-ground-up "stick builds" where volunteers and construction crews build an entire house; "rehabs," those fixer-uppers requiring rehabilitation before they're fit for a new family; or modular structures, where pre-constructed homes are delivered right to vacant lots.
"Modular homes are what we explored and utilized more during COVID," she says. "We have a great modular partner who comes and literally delivers a house: There will be nothing on the property in the morning but by the afternoon, there's a full house there. It's amazing, and it speeds up our process so families get home quicker."
To date, Habitat SCNJ has built 273 homes, with 2021 accounting for more than a dozen throughout Palmyra, Springfield Township, Hainesport, Hamilton, Mays Landing and Hightstown. The team and its volunteers also completed 40 home repairs on owner-occupied houses, including the homes of six veterans and nine senior citizens. There's already plenty in the works for 2022, like a 10-unit project in Bordentown.
Habitat homes are not donated but rather offered at discounted rates accessible to families with household incomes typically 30% to 60% below the area's median. There are three key qualifications in applying for the Affordable Homeownership Program: a demonstrated need, which could be a current housing situation that's overcrowded, temporary or unsafe; a proven ability to pay; and a willingness to get involved.
"Our families have to do 250 sweat-equity hours if there's a single head of household or 400 if they have more than one applicant on the mortgage," says Fox, who explains those hours can be fulfilled by giving one's time back to Habitat in a number of ways.
Opal Vogt applied for a Habitat SCNJ home in early 2019—then a newly separated mother of two young boys—on the advice of a realtor friend.
"With the housing market and the budget I had, she knew it was going to be a challenge to find what we needed," Vogt says. "Another friend of hers had utilized the program, so she suggested I look into it."
She ultimately purchased a modular house in Springfield Township, which she and her sons moved into this past August after an already-lengthy process was complicated by COVID. Vogt had to get creative with her volunteer hours since most in-person options weren't available, but she was still able to take the requisite financial education courses, which she raves about.
"Going into them, I had a good credit score and budgeting experience so I was confident I knew a lot, but I was really surprised by how much I learned," she says.
The Affordable Homeowner Program, which includes financial education classes, isn't the only way Habitat lends a hand. Its Neighborhood Revitalization Program assists communities on a larger scale through exterior house improvements, critical interior repairs and helping elderly residents age in place safely. Veterans Build—which Fox says is always looking for applicants—utilizes both programs to ensure that service members and military families are safely housed.
Habitat's efforts require funding, though, which is where its ReStores come into play. The home improvement stores and donation centers sell new and gently used furniture, home goods, building materials and more at discounted prices, every dollar of which supports the chapter's mission. With ReStore locations in Maple Shade, Hamilton and Egg Harbor Township, Habitat SCNJ estimates it's diverted more than 20.7 million pounds of materials from landfills since 2006.
While COVID has put an indefinite moratorium on household donations of used items, plenty of donors have stepped up with an elegant solution for keeping the stores well-stocked without risking contamination.
"Luckily, our ReStore has some furniture companies as corporate partners," says Fox. "If they have an overstock of something or a newer version comes out, they'll donate those things to us."
Those resources are a huge boon to Habitat SCNJ, which, by its nature, has to accomplish a lot with a very small team: "What a lot of people don't know is that we rely entirely on our volunteers," Fox says. She adds that many volunteers' efforts are tied to one-time projects or their companies' annual community service efforts, though there are some stalwart constants.
"We have a group of regulars who always come out and are really the committed ones," Fox notes. "They see that our families are so deserving and, whether it's a repair or a new home, when they're there from the beginning to the end, they see the positive impact this has on someone. They're all so selfless—most of them won't even let us take their pictures because they're doing this for others, not for recognition."
Fox also promises that it requires no skill to volunteer and that Habitat SCNJ welcomes anyone who wants to help bring their mission to life. On-site construction crews teach those who want to be hands-on, the ReStores' "skeleton crews" always appreciate the assistance, and monetary or supply donations are gratefully received from those who can't volunteer their time.
"Get in touch with our volunteer coordinator and she'll walk you through every step of the way," she explains. "You can come out knowing absolutely nothing. Every little bit counts."
The nonprofit doesn't just work in its communities: It works with them, too. Fox says that most recently, Habitat SCNJ made "significant donations" to Joint Base McGuire-Dix-Lakehurst to help Afghan evacuees, as well as many other donations to Oaks Integrated Care, Cathedral Kitchen, Catholic Charities, the South Jersey Food Bank and mask donations to Virtua Health.
"There are so many causes out there that are just as important as ours, and we like to support them when we can," she says. "We're always looking to give back whenever we're in a state of abundance."
But the most important thing Habitat SCNJ is able to offer, according to Vogt, is homeownership's sense of security.
"There's a huge sense of relief knowing we'll be here for the next 30-plus years," says Vogt. "We're home now."
Click here to subscribe to the free digital editions of South Jersey Magazine
To read the digital edition of South Jersey Magazine, click here.
Published and copyrighted in South Jersey Magazine, Volume 18, Issue 10 (January 2022)
For more info on South Jersey Magazine, click here.
To subscribe to South Jersey Magazine, click here.
To advertise in South Jersey Magazine, click here.