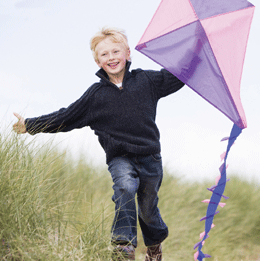 Caring Community
For local individuals with a broad range of special needs, Archway Programs provides the help they need to live full lives.
Most artists create art with their hands. Erica Barker uses her mouth. The Cherry Hill resident was born with Arthrogryposis Multiplex Congenita (ACM), a rare muscle and joint condition that affects Barker's limbs, giving her limited use of her arms and restricting her to a motorized chair orbited by her service dog, a yellow Labrador named Cyrus the Extraordinaire. But, with a little help, this woman is able to live independently.
For more than 15 years now, Barker has received assistance through Atco-based Archway Programs, Inc.—a nonprofit social services agency that offers a wide variety of programs and schools to help those with special needs. Barker takes part in the Archway program known as Resources for Independent Living (ReFIL), which is funded by the New Jersey Department of Human Services' Division of Developmental Disabilities. While the state provides twice-daily visits by a home health care aid, Archway covers the difference, providing 80 extra hours of assistance each month that Barker can use to help with daily routines such as trips to the grocery store and a much-needed third visit to the bathroom.
"I would not be able to live independently if I didn't have the ReFIL program," says Barker. "The ReFIL program is designed for self-directing people like myself, who are pretty severally physically limited…. It's really there to help those who need a little extra just in order to remain living on their own."
Archway Programs Inc. started in 1965, as Camp Happy Times, a summer day camp for children with disabilities. At a time when summer options for such children were limited, the camp provided an opportunity to swim in the lake and socialize. From there, the program took off. Now, "We employ 460 people [and] are a major employer in the lower part of Camden County," says Archway's chief executive, Dan Martin, a former school superintendent in Winslow and Westampton townships. Altogether, Archway serves about 3,000 people each year. "We're able to make their lives easier. We're able to enhance their family lives. We're able to provide relief to the families who have children they need to take care of and can't necessarily take care of by themselves," Martin says.
Archway offers an upper school for students ages 8 through 21 with behavioral and emotional disabilities, and a lower school for students ages 3 to 21 with multiple disabilities, communication disabilities and autistic spectrum disorders. Among the 18 programs at Archway, a "Step by Step" early intervention program, which includes an evaluation that devises a customized therapy plan, is offered for children from birth to 3 years old. A school-age childcare program, "Just Kids," offers before- and after-school care at 33 different schools within 13 school districts. As well, four residential homes, staffed 24-7, are available for adult clients to live in.
Like Barker, John King of Browns Mills has benefited from Archway's aid. King, 17, was diagnosed with autism at a young age and has been attending Archway's lower school since first grade. King's father notes that his son can read, write and do long division, and he's the go-to guy at home for computer and electronic problems. But, he needs helps in other areas such as buttoning and zipping his pants, swimming and riding a bike. King's parents credit Archway for his vast improvement. As part of his regular physical therapy at school, he was taught how to ride a bike. Now, he often hops on the NJ Transit bus to downtown Pemberton, where he rides his bike around town on his own.
The same goes for swimming, another basic skill that King's father, whose name is also John, says he never managed to teach his son. "As much as I would try and try, either it was the father-son relationship just is not the same or I didn't have the time, he wasn't getting it from me," King's father says. "But school taught him those things. Archway specifically taught him those things."
Through Archway's varied programs, people like King and Barker say they're able to do more than merely get by. They're given an opportunity to thrive.
Because of the support she receives, Barker is able to spend her time creating artwork in paint, watercolor, charcoal, pencil and ink. "Really it's my inner world, most of my artwork is my inner world: it's me working out my stuff. It's kind of a form of therapy in many ways for me," she says.
As for King, his father says the progress he's made has given them more hope than the family had thought possible. "We don't expect the school to do it all, they aren't miracle workers," he says. "It's a team effort; I'm glad they are there and part of our team."
Published (and copyrighted) in South Jersey Magazine, Volume 7, Issue 12 (March, 2011).
For more info on South Jersey Magazine, click here.
To subscribe to South Jersey Magazine, click here.
To advertise in South Jersey Magazine, click here