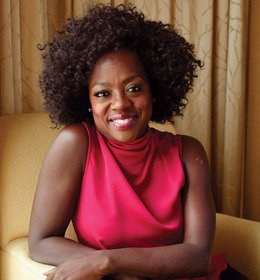 Playing By Her Own Rules
Much like the characters she portrays on screen, the formidable Viola Davis blazes a path for others to follow.
No less an authority on acting than Denzel Washington describes Viola Davis as "one of the greats of all time." That's high praise, indeed, but it's hard to argue when considering the wide-ranging career of the 56-year-old South Carolina native.
Davis is the first African-American to achieve the "triple crown of acting," winning an Academy Award, a primetime Emmy Award and two Tony Awards. Her Oscar and one of her Tonys came for her role as Rose Maxson in Fences, the August Wilson play she first tackled on Broadway. Washington produced, directed and co-starred with Davis in the film version.
She received her fourth Oscar nomination last year for her role in another Wilson adaptation that Washington produced, Ma Rainey's Black Bottom, also starring Glynn Turman, Taylour Paige and the late Chadwick Boseman. Poetic and filled with harrowing tales, the Netflix film follows the legendary "Mother of the Blues" Ma Rainey as she makes her own rules for her career in Jim Crow America.
Davis was the natural choice, if not the only choice, in the eyes of Washington, who says it was "an honor for me to be able to help in a small way and find roles that give all of us the chance to see how brilliant Viola is."
Best known for her work in films such as The Help, Doubt and Widows, as well as the TV drama How to Get Away with Murder, Davis is also remarkably versatile. She is comfortable with genres ranging from drama and romance to action and adventure, including last year's hit The Suicide Squad, in which she reprised her role as Amanda Waller in the follow-up to the 2016 DC Films superhero movie starring Margot Robbie.
Davis has used her considerable talents to make her mark in ways beyond her work on the screen. With her husband, Julius Tennon, she co-founded the production company JuVee Productions. She is also widely recognized for her advocacy and support of human rights and equal rights for women, as well as ending child hunger as a spokesperson for the nonprofit organization No Kid Hungry. As a keynote speaker at the virtual 2020 Pennsylvania Conference for Women, Davis inspired thousands of Philadelphia-area attendees and shared her remarkable journey from frightened little girl to formidable woman.
We recently spoke with Davis about her on-screen work, what she learned from Ma Rainey and how the challenges of her early life continue to inform her even today.
Q&A
Talk about portraying Ma Rainey, the jazz legend, a successful entrepreneur and a Black woman who is used to obeying no one's rules but her own. I understand that at first you didn't see yourself stepping into Ma's persona.
No, I hadn't initially envisioned myself in the role, but I quickly began to see the complexities inherent within Ma Rainey, and a deep emotional bond with this character grew. The more time I spent getting to know Ma Rainey, the more I recognized just how ahead of her time she was as a singer and entrepreneur.
In what way?
First of all, she knew her worth and she knew how to negotiate her worth. Ma Rainey knew how valuable her music was and how much her management and record label needed her. She understood it and she was unapologetic about it. I believe that makes her very much a liberated and modern woman.
You speak candidly about your own life and your humble beginnings.
Yes, I talk about my foundation and my background, and how I started. I speak my truth every chance I get, and I will continue doing so. I always feel that I am trying to heal my younger self; that little girl who grew up in poverty, who didn't have enough to eat and who grew up in abuse. She follows me everywhere I go.
How does that inform your career and your life?
I want to honor her with everything that I do. I'm always trying to heal that little girl, and she's always with me. I see the younger girl wanting to be embraced and squeal in delight about my future and all my possibilities. So, it's about reconciliation and restoration. It's about restoring the past and who we are going forward.
You have played a lot of different characters throughout your career. What is the best way to get to know who you are as a person?
If you want to know me don't ask me what I eat or how I comb my hair. Instead, ask me what I live for. I will tell you that I live for honoring my worth. Every day I have to balance my life with what I have in my hands to give, to create and also to fight all of the things that were injected in me as a child in terms of insulting and challenging my worth and my value. At some point, I know there will be a beautiful time period where they all mesh together and when I fully understand that I absolutely am worthy.
You're a mother in addition to all the work you're known for. What is it like spending time with your daughter, Genesis?
My daughter often feels like I don't have enough fun and will try to lighten my mood and say she yearns to laugh with me. So, she will tickle me. She does that often to get me out of myself, and it works.
Tell me your view of the future.
We have to harness the past and honor the women like Ma Rainey who had the courage and guts, endured the pain and dug their feet in the ground. And because of them the generation after them lived better for it, and they passed the baton. I always say, "You can preach a better sermon with your life than you can with your lips."
Click here to subscribe to the free digital editions of South Jersey Magazine
To read the digital edition of South Jersey Magazine, click here.
Published and copyrighted in South Jersey Magazine, Volume 18, Issue 10 (January 2022)
For more info on South Jersey Magazine, click here.
To subscribe to South Jersey Magazine, click here.
To advertise in South Jersey Magazine, click here.