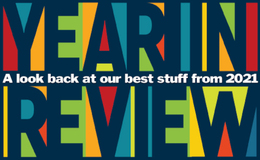 2021 Year in Review
A look at our best stuff from 2021
Before we can fully close the books on 2021 and move on to what we hope are much brighter days ahead, we wanted to take our annual look back at the year that was. In the following pages you'll read memorable quotes from our many celebrity interviews as well as find a comprehensive roundup of South Jersey's top attorneys, dentists, doctors and realtors in addition to the best shops, food, beauty treatments and much, much more.
They Said it!
Memorable quotes from our best interviews in 2021:
"I've had times where I've sat on a beach or gone horse riding or something else equally rewarding and relaxing … and pretty soon I sat there thinking to myself, 'Why am I doing this, why am I not working?' The truth is I love [making music] so much and I look forward to it. Performing is something I've always liked to do and of course I feel privileged to be able to do that for a living, and that is a feeling that never goes away no matter how old you get." — Paul McCartney
"I'm still 25 years old in my head. You just have to avoid mirrors. When we walk on that stage, we're 16; we're 22. You get back to that same feeling when you were a kid. That doesn't change." — Steven Van Zandt
"I ask a ton of questions in conversations with people because I think everyone is much more interesting than I am." — Marc Zumoff
"My mother has taught me the importance of not taking things too seriously and to try to be very open and free-spirited. Instead of letting things get you down, my mother thinks you need to learn to laugh even in bad times. I really believe in that. She's a great woman and she always inspires me. She's been my rock and has taught me so much about life." — Kate Hudson
"Anything that I can do to help people who need it, I've always felt that's something I should do and it's something I want to do. .... Seeing how excited people get and how appreciative they are, even if it's just some jackets for my high school team or whatever, I enjoy that. Fans can get some memorabilia out of it. I don't just want to sell my stuff, but you can make a donation and get [a jersey or ball]. It kind of pushes other people to do the right thing and help out where they can."
"I've missed touring and performing a lot. I was sitting on the bus in Omaha waiting to do a show the night when we had to cancel the tour because of COVID. And that was March of last year so I can't wait to get back out there!" — Blake Shelton
"My wife and I have a [baby] boy due in March. That's a major thing. I remember when my wife was pregnant with my daughter. I've never really told anyone this before, but back then I was really hoping that it was not a boy, because I wasn't ready to raise a Black man. I didn't know if I had the stuff yet. With [the pandemic] and life being on pause, I've learned that you have to have faith and keep walking. I've felt more ready, and I owe a whole lot of credit to the lessons my daughter taught me about what it means to be a father. It has made me a whole lot more ready to welcome my son in March." — Leslie Odom Jr.
"People talk about the choices we make in life and what road we take and where we could be now if we had tried something different. That's true, but I do always think we have the opportunity to start life over every day—every single day is an opportunity, and at each minute is a new path that we can take. You know, we are the captains of our ships and that's daunting but that's also exhilarating." — Idina Menzel
"My dad has said to me my entire life, 'You're only as good as your last gig, babe.' I really believe that to this day. It means that we all have to contribute, work hard and stay in the game. You've got to deliver on integrity every time. … Integrity is really important to me because I think audiences can tell." — Kate Winslet
"Adversity is going to come, it's going to come. That's the game, you know? How do you respond to it? Have a 'So what? Now what?' mentality with everything you do. Ten percent of life is what happens to you. Ninety percent is how you respond to it." — Jalen Hurts
"If you stick around long enough, you'll have a career where people know you from multiple things. Many people remember me from Whose Line Is It Anyway? and then there are people who are diehard Let's Make a Deal fans. Many international people recognize me from How I Met Your Mother, and sci-fi fans always ask me about Colony. One of the biggest things I get recognized for is the work I did on Chapelle's Show over a decade ago. What's so cool is that you could never have told me, growing up in Orlando, that I would have a career where people would know me from so many different things. It's awesome." — Wayne Brady
"I love acting in the movies I get to direct because it's much easier to speak up when you don't like the way a scene is being shot. Obviously, you have so much more control over the entire process and you can create the kind of atmosphere on the set that you feel is going to help you and the other actors do the best work possible. — Ben Affleck
"In all my songs I try to be honest and open. But much of the inspiration these days comes in me wanting each song to say something autobiographical about myself. Each song has a personal connection. — Lady Gaga
"Growing up I didn't really have any insight into Tony Soprano in any way, shape or form. Luckily, I played Tony and not my dad, and that was the distinction in my head; that I was not playing my dad. I think if I let myself go to those places, it would have opened a door to becoming so overwhelmed by his legacy, the fans and making the show's original cast members proud." — Michael Gandolfini
"The passion they have for the team is something we definitely feel and it makes it fun to come to the rink and play in front of them. We get a lot of support not only at home, but on the road too. That's what you love as a player, playing in those environments where people care." — James van Riemsdyk
"This new start of the tour has me on a tight schedule, thus demanding a strong vocal commitment and good health. But it is a labor of extreme love, because I can finally reunite with my audience again in person, as I had done for so many years. I can thank all of those who have been so kind to appreciate my music. To return to concert venues and sing is like finally being able to hug the many friends I was not able to meet for so long." — Andrea Bocelli
BEST OF THE BEST
Introducing the Best of the Best 2021 of South Jersey. Don't walk but run to try out these local restaurants, stores and many more!
AWESOME ATTORNEYS
Our annual list of the leading lawyers in the South Jersey region as chosen by their peers and our readers.
Click here
TOP REAL ESTATE
Meet all of the Top Real Estate Professionals in South Jersey.
TOP PHYSICIANS
Featuring an abundent of doctors from multiple disciplines who are making a noticeable impact in the health care world.
Click here
TOP PHYSICIANS FOR CHILDREN
The following list is full of names that were chosen for their skillful work and patient-focused care for children.
Click here
TOP PHYSICIAN FOR WOMEN
The following list includes all the top physicians for women in South Jersey.
TOP DENTIST
South Jersey's leading dental professionals are ready for their close-ups.
SUPER WOMEN
Recognizing 16 local women who inspire every step of the way.
Click here

MEN OF THE YEAR
Across our community people continued to show up for those in need, providing hope and support when it was needed most.
Click here
Click here to subscribe to the free digital editions of South Jersey Magazine
To read the digital edition of South Jersey Magazine, click here.
Published and copyrighted in South Jersey Magazine, Volume 18, Issue 10 (January 2022)
For more info on South Jersey Magazine, click here.
To subscribe to South Jersey Magazine, click here.
To advertise in South Jersey Magazine, click here.