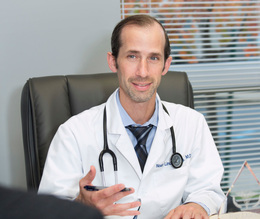 A Personal Touch
Lindenberg Cancer and Hematology Center offers alternative treatments to cancer in a warm and nurturing environment.
After hearing the words, "you have cancer," for most people—their world stops. They think about their loved ones and how they don't want to miss out on the rest of their lives. Going into treatment can be just as nerve-wracking, but there's one place in South Jersey that treats cancer on a different level in a comforting, soothing environment—Lindenberg Cancer and Hematology Center.
Conveniently located in Marlton, founder and oncologist Dr. Noah Lindenberg treats many different types of cancer and analyzes every patient's case, creating a specialized treatment plan for each patient based on the specifics of how the cancer has progressed.
"No two patients with the same named cancer behave the same way," Dr. Lindenberg explains. "In the olden days, if somebody was diagnosed with lung cancer, everybody would get the same toxic treatment. … Whenever I see a patient who has cancer, we want to try to understand it in terms of the molecular undertaking of cancer. Today we know there are certain mutations that occur in cancer that allow it to grow and spread, and it can be targeted specifically. When we understand it, we're able to give treatments that are specific toward that patient."
Dr. Lindenberg is also the medical director of the cancer genetic program at Virtua in conjunction with the University of Pennsylvania, and an investigator for clinical trials through Virtua and UPenn as well. He opened his private practice in 2017 so patients have other options for treatment besides chemotherapy and they receive individualized attention from not just him, but his staff, when going through cancer treatment without traveling beyond South Jersey. His caring, passionate staff, including their newest practitioner, Agata Kraszewska—who came onboard last year—is one of the main reasons why Lindenberg Cancer and Hematology Center stands out among hospitals and other treatment centers in this region. They make every patient feel welcome from the moment they arrive to the appointment and take their time getting to know them during each session.
"Our staff is incredibly intelligent, compassionate, caring and warm; it's something that really separates us," Dr. Lindenberg says. "There's a personal touch—the patients know everyone, we know everyone. It's a very warm and nurturing environment, as opposed to a very busy center where you don't necessarily know everyone."
That caring and supporting atmosphere is what helps patients get through each session and keep fighting their battle.
"Data shows when patients have more optimism, support, warmth and loving care, they do better. There's no amount of medicine that can replace that," Dr. Lindenberg says. "The medicine is part of the treatment, but it's the personal care that motivates patients to continue fighting, and pursuing successes and winning over patients' minds is critical. If they believe in their team, they believe in the process, they believe they can do better; the chances of them progressing go up immensely. It's completely independent of whatever treatment I'm giving them."
Additionally, due to the growth the practice has seen over the past year, the Lindenberg Cancer and Hematology Center recently expanded its facility and is currently close to 6,000 square feet with all state-of-the-art equipment that offers cutting-edge treatment in addition to chemotherapy, such as hormone therapy, targeted therapy and immunotherapy—a type of treatment that restores the function of the immune system.
"It's not chemotherapy; it doesn't have a lot of conventional side effects like toxic therapy," Dr. Lindenberg explains. "It links up the immune system and instructs to fight the cancer without introducing toxic substances. It's a highly effective strategy that works for a variety of cancers."
His facility is equipped with an infusion center that has a comforting, somewhat homey feel to it to put patients at ease.
"Everything in the facility is very soothing," he says. "There are colors and artwork, and our infusion center doesn't have typical hospital pastel colors. The chairs in the infusion center are La-Z-Boys with massage and heat. You almost feel like you're in a living room because the environment is very warm. It feels like you're not in hospital environment where everyone is sick."
Lindenberg Cancer and Hematology Center
773 Route 70 E.
Suite E-125
Marlton
(856) 890-7200