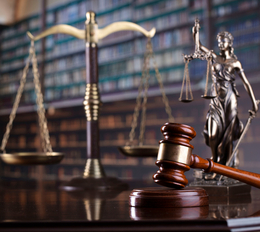 Legal Experts 2021
Find out more about South Jersey's finest attorneys.
David J. Karbasian, esq. | Personal Injury Law
For 29 years, David Karbasian Esq. has the skill, knowledge and dedication to fight for his injured clients, whether car, motorcycle or truck accident, slip and fall, nursing home, dog bite, malpractice or other injustice. He has continuedly been selected by the National Trial Lawyers as one of the top 100 Attorneys in New Jersey.
"Whenever any attorney promises you a great result like what you see on TV commercials, it creates a false promise or expectation" says Mr. Karbasian. Even though his law firm has collected millions of dollars on behalf of his clients over the years, it is not listed on his website as he believes it creates a false expectation for clients. "What I do promise my clients is once I take their case" says Mr. Karbasian Esq, "I will do everything I can to fight for them as reflected by our client's testimonials on our website. Which is why I believe my law firm has developed an excellent reputation for helping those injured in New Jersey."
He believes to be good at his profession, it must first start with a desire to want to help others. His passion in helping others stems from his personal life. He sits on the Board of a local nonprofit organization that helps provide shelter and employment opportunities to the homeless in Burlington County. He and his family volunteer at a local soup kitchen and they are in charge of helping to collect items needed such as toiletries, hats and gloves. Just this year another nonprofit organization presented him with the 2021 Men of Excellence Award for his service.
Affiliations: Board of Governor for the New Jersey Trial Lawyers, New Jersey State Bar Committee for Automobile Litigation and No Fault
Law Offices of David J. Karbasian, PC
900 North Kings Highway, Suite 308 | Cherry Hill, NJ 08034
(856) 667-4666 | (856) 667-7215 Fax | www.KarbasianLaw.com
---
Alan H. Schorr | Employment & Unemployment Law
Over the last three decades, Alan Schorr has been successfully representing employees in employment and unemployment disputes. Alan is certified by the Supreme Court of NJ as a Civil Trial Attorney and has earned many large verdicts at trial and appellate court victories which have established and expanded the rights of employees throughout New Jersey.
Understanding the challenges facing employees, Alan represents employees in a variety of employment disputes, including wrongful termination, sexual harassment, discrimination, unemployment claims, enhanced severance packages, and executive and complex employment contract issues. He is a civil mediator.
The Burlington County Bar named Alan the 2020 Professional Lawyer of the Year. He is a Past-President of NELA-NJ (National Employment Lawyers Association), and currently heads NELA-NJ's Legislative Committee. Alan is a frequent speaker and lecturer. When he is not fighting for employee rights, he loves photography, music, travel, and spoiling his grandson. Alan offers a free initial phone consultation to prospective clients.
Affiliations: Burlington County Bar Association, Camden County Bar Association, Certified Attorneys Supreme Court of NJ, The College of Labor and Employment Lawyers, NELA-NJ (National Employment Lawyers Association), New Jersey Association of Justice
Schorr & Associates, PC
5 Split Rock Drive| Cherry Hill, NJ 08003 | (856) 874-9090
AlanSchorr@schorrlaw.com | shereen@chengraylaw.com
---
Heidi R. Weintraub | Labor & Employ
Heidi R. Weintraub, Esq., a Partner in Javerbaum, Wurgaft, Hicks, Kahn, Wikstrom & Sinins, PC, has been representing victims of employment discrimination, sexual harassment, and whistleblowing for over 30 years.
Ms. Weintraub litigates claims to protect the rights of employees who have been subjected to unlawful treatment by their employers, including discrimination, harassment, and retaliatory discharge. Often, this results in termination, demotion, or similar adverse treatment by the employer. Unlawful treatment also comes in the form of sexual harassment, whether it is direct sexual harassment aimed at the employee, or in the form of general sexual conduct by other employees creating a hostile work environment. She is committed to protecting employees' rights and seeking recovery for damages arising from such unlawful treatment.
In addition, Ms. Weintraub has obtained one of the larger Conscientious Employee Protection Act (CEPA) verdicts ever in New Jersey. $1.6M was awarded against a government agency in favor of a former administrator who a jury found had been retaliated against for engaging in protected whistleblower activities.
Bar Admissions and Education - She is admitted to practice in New Jersey and Pennsylvania. Ms. Weintraub earned her J.D. from American University and her B.A. from the University of Texas.
Affiliations: New Jersey Association for Justice (NJAJ), American Trial Lawyers Association (ATLA)
Javerbaum Wurgaft Hicks Kahn Wikstrom & Sinins, PC
1000 Haddonfield-Berlin Road Suite 203 | Voorhees, NJ 08043
(856) 596-4100 | LawJW.com | hweintraub@lawjw.com
---
Michael A. Galpern | Personal Injury Law
Michael A. Galpern, designated as a Certified Civil Trial Attorney by the Supreme Court of New Jersey, has over thirty years of experience handling personal injury matters involving automobile negligence, premises liability, construction site workplace injuries, medical malpractice, as well as complex litigation in products liability, toxic torts, consumer class actions, nursing home abuse and other actions in State and Federal courts. He has recovered hundreds of millions of dollars for his clients over the course of his career.
Mr. Galpern has tried over 50 jury trials, bench trials and arbitrations in his career. He has obtained the first settlement in the State of New Jersey on behalf of a medical malpractice victim against an HMO. Mr. Galpern was lead trial counsel in a seven-week jury trial that produced the largest Fair Labor Standards Act verdict (FLSA) against a retailer in the State of New Jersey.
Mr. Galpern has been appointed as a member of the Plaintiffs Steering Committee in numerous mass torts or class actions across the United States. Mr. Galpern has handled cases with far reaching legal consequences in the New Jersey Supreme Court including a landmark rulings establishing allocation of damages in multi defendant cases, another ruling expanding the rights of injured workers, and rulings protecting the rights of consumers.
Mr. Galpern has served as President of both the New Jersey Association of Justice, a legal organization of over 2700 members dedicated to protecting the rights of injured New Jerseyans, as well Workers Injury Law and Advocacy Group, a national organization devoted to injured workers' rights.
Javerbaum Wurgaft Hicks Kahn Wikstrom & Sinins, PC
1000 Haddonfield-Berlin Road Suite 203 | Voorhees, NJ 08043
(856) 596-4100 | LawJW.com, | mgalpern@lawjw.com
---
Megan E. Smith | Matrimonial and Family Law
Megan E. Smith devotes her practice to matrimonial, divorce, and family law, and is a trained collaborative lawyer and divorce mediator. She works with clients in all areas of matrimonial and family law, including the developing area of LGBT law as it relates to children and families.
Her practice is concentrated in divorce, dissolution of civil unions, termination of domestic partnerships, custody, parenting time, child support, alimony, equitable distribution and pre-nuptial planning as well as related post-judgment issues, such as emancipation, support en-forcement, and implementation of settlement agreements. Ms. Smith has extensive experience in assisting clients in resolving their matters through mediation and the collaborative law process, both of which are non-litigation resolution options.
Affiliations: New Jersey State Bar Association, Pennsylvania State Bar Association, Burlington County Bar Association, Philadelphia County Bar Association, Thomas Forkin Inn of Court, The Nicholas A. Cipriani American Inn of Court, Villanova University School of Law Alumni Association, Penn State University Alumni Association
Offit Kurman attorneys at law
2301 E. Evesham Road, Suite 406, |Voorhees, NJ 08043
(267) 338-1378 | msmith@offitkurman.com
---
Jordan B. Goldberg | Workers' Compensation Law
After earning a Bachelor of Business Administration in Finance in 1989 from the George Washington University, Mr. Goldberg received his law degree from Seton Hall University Law School. He passed the bar in 1992, and by 1996 he formed his own firm. Mr. Goldberg specializes in civil litigation including workers' compensation, real estate both commercial and residential, commercial litigation, collection, and general corporate representation. He has successfully represented individuals over 29 years.
Prior to founding Goldberg & Wolf, Jordan had his own firm, the Law Office of Jordan B. Goldberg, LLC, in Voorhees, New Jersey and was previously an Associate with Elkind, Cohen, & Dimento, P.C. He was responsible for all aspects of commercial and civil litigation. He also served as an Intern for both Honorable Daniel J. Moore and Honorable Novalyn L. Winfield of the United States Bankruptcy Court, District of New Jersey. Mr. Goldberg also is active in real estate development in Southern New Jersey.
Certified by the Supreme Court of New Jersey as a Workers' Compensation Attorney.
Affiliations: NJ State Bar, PA State Bar, NJ District Court, Eastern District of Pennsylvania Camden County Bar Association
Goldberg & Wolf, LLC
1949 Berlin Road, Suite 201, Cherry Hill, NJ 08003
(856) 651-1600, jordan@goldbergwolf.com
---
Melissa Y. Hoffman Spears, Esq. | Family Law
Melissa Spears is the founding attorney of Hoffman Law Firm whose practice is propelled by her dedication and passion for alleviating the tension and anxiety commonly experienced by many individuals involved in family law cases while helping clients navigate the complexities of the judiciary and the legal system. Ms. Spears has collaborated with clients to achieve successful results in all aspects of family law matters and currently concentrates her practice in the areas of divorce, custody, parenting time, and domestic violence.
Ms. Spears offers clients the benefit of the wealth of knowledge and skill that she acquired, in related areas of law, including real estate, tax sale foreclosure, landlord tenant, and bankruptcy, which compliment Ms. Spears's present focus on exclusive family law and bankruptcy practice. While previously representing creditors in foreclosure proceedings, Ms. Spears gained an intimate understanding of the perspective, interests, and priorities of mortgage lenders and finance companies, which now enables Ms. Spears to develop creative and dynamic strategies to accomplish clients' goals for equitably distributing assets during divorce actions. Ms. Spears's former practice in these related areas of law particularly qualifies her to advise clients about financial options which are both realistic and sustainable long term, as well as to help clients effectuate their preferred solutions.
Affiliations: New Jersey State Bar Association, Gloucester County Bar Association
Hoffman Law Firm, PC
145 Trent Road |Turnersville, NJ 08012 | (856) 352-4905
Fax: (856) 827-0046
---
Aaron B. Aumiller, Esq. | Federal Workers' Compensation Law
Aaron B. Aumiller focuses on assisting federal workers with claims for work injuries. He advocates for clients both nationally and internationally for injuries sustained during federal employment or under federal jurisdiction.
Aaron served as Judicial Law Clerk in the Superior Court of New Jersey for the Honorable E. Stevenson Fluharty, J.S.C. and the Honorable Samuel L. Supnick, J.S.C. Upon completion of his term, he has been engaged in the private practice of law.
Aaron has provided expert legal testimony and has lectured on Federal Workers' Compensation issues. Many unions refer their members to him for assistance with perfecting claims for injuries. Aaron resides in Southern New Jersey with his wife and four children.
Aumiller Lomax LLC.
1763 East Marlton Pike, Suite 300 | Cherry Hill, NJ 08003 | (856) 751-0440
www.aumillerlaw.com | fedcompinfo@aumillerlaw.com