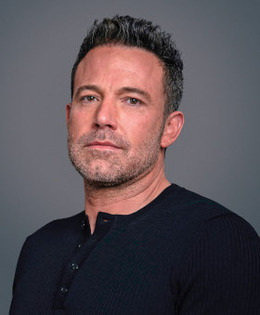 Back on Top
After experiencing some real lows in his personal life, Ben Affleck is riding high once again.
Ben Affleck looks tired. And a little fed up. Usually in a relaxed manner, he's tense when we meet. And slightly anxious. Today, his gatekeepers are ardently keen to keep idle chat to a minimum, yet his slightly somber expression disguises someone actually emerging from the darkness with considerable optimism.
After a bitterly difficult stretch in his personal life, he has his health and his sobriety. And since our conversation, he's reunited with one of the most talked-about women in entertainment, actress and pop star Jennifer Lopez.
On top of that, he has two films on the way—The Last Duel and Deep Water—which will undoubtedly see him back up at the top table of entertainment.
Affleck comes across like a genuinely good guy. Handsome in a blue sweater and jeans, there's clearly a touch of dark circle underneath the eyes. We'll put it down to childcare for his three kids—Violet, 15, Serafina, 12 and Sam, 9.
The Oscar winner requires little introduction these days—from Good Will Hunting through Pearl Harbor onto Gone Girl, it was really his ascent into the role of Batman in 2016 that cemented Affleck's status as a full-time member of the Hollywood elite for another decade or two, rather than one of those actors who was going to let the issues of his private life float him away from relevance and into miserable, regretful obscurity.
Many point to winning the Oscar for Argo in 2013 as the moment when Affleck set the very highest standard for himself to maintain. But that's nothing new for a man who resurrected his Hollywood career by branching out into directing when his acting fortunes took a nosedive. While acting in Gone Girl, he used his time on set to learn more about filmmaking technique from the legendary David Fincher.
Now Affleck gets another chance to apply some of that acquired knowledge in The Last Duel, for which he is producer. Outside of that, the small matter of lead roles in films whose subject matter could not be much different will undoubtedly keep the 49-year-old safely back on the much-celebrated road to restitution.
First up is The Last Duel, Ridley Scott's historical thriller, which sees the star lead opposite Adam Driver and Jodie Comer in a drama set in 14th century France. In Deep Water, a film that is based on Patricia Highsmith's novel, Affleck and Ana de Armas star as on-screen husband and wife. It's billed as a drama-thriller in which Affleck's character, the well-to-do Vic Van Allen, allows his wife to have affairs in order to prevent a divorce—before he then becomes the prime suspect when his wife's lovers begin to disappear.
While the pandemic has forced delays in the release of these films (and many others), it remains true that there are few actors who can be assured of the relevance Affleck continues to shine over the industry. Here, he tells us about how his career has evolved, his personal struggles and why his kids help keep him grounded when faced with adversity.
Do you enjoy pulling double duty as director and actor?
I love acting in the movies I get to direct because it's much easier to speak up when you don't like the way a scene is being shot [laughs]! Obviously, you have so much more control over the entire process and you can create the kind of atmosphere on the set that you feel is going to help you and the other actors do the best work possible.
As an actor, you're entirely dependent on the vision of the director and the lines you have to do when you go to work in the morning. And I've done enough films to know what it's like when you're not happy with the way things are going. That's why if you're the director you can make those creative decisions even though there are times when you worry about those choices.
What's the best part of directing?
One of the best things is being able to work at a comfortable pace. I don't like it when on some film sets you feel like you don't have the time to get things right because you're worried about losing the light or you need to move to another location.
When you're the director, you have the power to take as much time as you need to shoot a scene the way you want. And in my case where I'm also acting in most of the scenes, you also have an added perspective where you know right way that you feel you can change a line or do something different that makes a scene play better.
What is it you want out of the next slew of movies you take on now that the Batman experience is over?
It's simple—I don't ever want to do movies if I don't feel passionate about them. That's the way I felt with the role as Batman and I still think that I definitely made the right decision to choose not to carry on. That obviously opens up the opportunity for someone else who can play Batman the way it should be and with the passion it deserves.
You know, Batman is such an unbelievably huge character in film, TV and comic book circles and I'm much more comfortable that a great actor like Robert Pattinson is getting the chance to show what it can be.
I'm sure that Robert will be over the moon with the chance and the fact that you also endorse his appearance as Batman.
[Laughs]. Well, maybe, maybe not. I mean, who cares what I say about anything?
Seriously, Robert is a great actor and he will make a great Batman and he will do it in his own way. Because that's what it is; each person who has played Batman has done so putting their personal stamp onto it. Once you've been in that suit, you know how you want to pull that role off, and you have that determination to make yours different to the one that's gone before. Maybe like a [James] Bond.
I didn't seek out advice from the actors who played Batman before I did, but when I did speak to them, they offered good advice and I think everyone just wants the next person to be a success. Batman is a legendary character and for it to carry on being performed on film, the [actor] has to make people want to see the next instalment, which after Robert's portrayal and performance, I'm sure they will.
Are you putting yourself further out there for criticism when taking on multiple roles in a film project—actor, producer, director, etc.?
I've been in the business a certain length of time and I've experienced highs and lows, criticism, all that—there comes a point where I just don't give too much oxygen to the critics, personally. Not through any animosity or anger, just because I can't take that all on board anymore. It's too much pressure. So if you make something and it lands, or whether it doesn't, you have to be content with that within yourself. Maybe the fans will like it, maybe the critics won't, maybe it'll be the other way around. There's a lot of variables and I know now, after 20-odd years, it's rarely black or white.
How do you pick yourself up from the setbacks?
It's not easy, but having kids focuses you onto the things that really matter, and work isn't it.
The birth of my children has been the most beautiful and important thing that has happened to me. Watching my children grow up has changed me in many ways and made me a better person. I see it as my role and privilege to be able to help them become good people and to teach them to be respectful, thoughtful and caring.
But you must have to reflect on yourself a fair bit.
I would say my 40s haven't been the years that I might have hoped they would be in some ways, but I've won another Oscar, which I am so proud about, for Argo getting Best Picture. That was amazing and to have gotten one for directing just my third film after Gone Baby Gone and The Town, it made me feel so at home with it. So, that's one of the positive sides.
Obviously, there are always negatives in everyone's lives—I don't think a perfect life exists, no matter how perfect some people think their life is. But I've had some harsh realities that I have come to face and there were no two ways about it, I had to be truthful to myself and admit that I was an alcoholic or certainly had a problem with drinking.
I was able to deal with similar problems when I was younger, and I've always been a person who is quite harsh with himself or certainly has a self-deprecative nature. That's certainly part of my makeup as a human being and I think it can help me deal with some less-than-positive situations, but not everything.
Alcohol dependency was something that I felt was getting out of control and I didn't feel I had a good grip on my faculties and senses, but I must have had enough to know that what I was doing on an almost daily basis, wasn't good for me or those around me. At this stage in my life, I feel a lot stronger with regards to my health and my tendency not to drink.
Do you believe your father's alcoholism had an influence on your own?
It has to, doesn't it? When you see your father drinking every day and drunk it's got to affect you in some way. I honestly never thought that would be me, but here we are.
I would be getting back home after working and then just drinking until I passed out sitting there. That's not a good thing at all, but I never once attributed it to my own childhood experiences of my father doing the same.
When you have things going on in your own life at the time, you never stop to think that what you're doing is wrong, how it's perceived by others or if it's affected by something in your past—because what you're trying to do is block out what's happening in your own current day-to-day. I enjoyed the taste and it wasn't always as if I was forcing myself to just black out and forget everything.
Overall, do you think you've been lucky?
I think we are all lucky and all unlucky in different ways. I mean, look, my father and mother were divorced when I was 11 and I lived with my mom after that—there's nothing lucky growing up like that.
My mom was working from morning to night so I grew up being very much on my own. No one ever forced me to do anything but grow up quickly, but I'm glad I did.
Do you plan things more carefully these days?
I wish I could say I do that but I really don't approach this business thinking about my status or how this might affect my career down the road. I look for projects that interest me and inspire me in some way. I couldn't be happier or more grateful or feel more fortunate than I do now for all the opportunities that I have.
Click here to subscribe to the free digital editions of South Jersey Magazine
To read the digital edition of South Jersey Magazine, click here.
Published and copyrighted in South Jersey Magazine, Volume 18, Issue 9 (December 2021)
For more info on South Jersey Magazine, click here.
To subscribe to South Jersey Magazine, click here.
To advertise in South Jersey Magazine, click here.