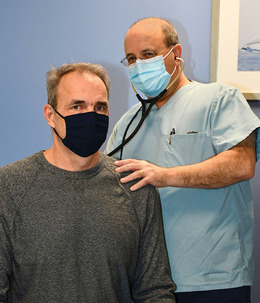 Paying Tribute
A special dedication to the people who are helping patients recover while advancing care in the South Jersey medical world.
January 2021 greeted us with hope in the health care community. COVID-19 vaccines were becoming available to more segments of the population and it felt like the tide was changing. However, variants and vaccine hesitancy have continued to place hardships on medical professionals across the country. New Jersey does seem to be doing its part, with nearly 70% of the population fully vaccinated as of mid-December. Yet, even while COVID is still the top story as 2022 approaches, the health care field hasn't slowed down when it comes to innovation and patient care. From expansions and new technology to improving patient outcomes here in our backyard, there is a lot to celebrate when you take a closer look. As we wrap up the year, we're recognizing the achievements being made locally and the positive impact they'll have on the community well into the future.
An Expanded Level of Care
There is much growth to announce for Jefferson Health - New Jersey's Washington Township campus, beginning with The Silvestri Tower, a $222 million expansion that opened in July. The seven-story, 240,000-square-foot patient tower has all private rooms, where patients can control room environment (temperature, lighting and window shades, etc.) at their fingertips; a same-day surgery unit, recovery room, rooftop helipad and more.
Brian Sweeney, president and CEO of JHNJ, says this project brings more services to Gloucester County, where residents can access advanced programs close to home.
Within The Silvestri Tower is the Vickie & Jackie Farber Institute for Neuroscience, providing advanced neurosurgery and spine surgery. The center recently acquired a 3D Surgical Image Guided Surgery (IGS), also known as a surgical navigation system, which is used during spine procedures and offers high-definition visualization of intraoperative patient data, giving surgeons a process of "checks and balances" throughout the case. Not only does it improve accuracy and efficiency for surgeons, the need for traditional fluoroscopy, which exposes patients to continuous radiation, is eliminated.
The neurosciences program is also partnering with the Sidney Kimmel Cancer Center in Washington Township to launch a brand-new Brain Tumor Clinic. Historically, brain cancer patients seek treatment in Philadelphia, says Sweeney, but this clinic will build synergies between radiation and medical oncologists and neurosurgeons locally, allowing patients a seamless experience that keeps them here in South Jersey.
"Traveling is hard for someone undergoing chemotherapy or radiation already not feeling their best," he says. "Driving around doesn't help with recovery and our goal is to keep them local and make sure their care is well coordinated."
Sweeney continues to say that all of these developments fit with the goals laid out when Jefferson merged with Kennedy Health. "Kennedy wanted an academic partner that could offer robust programs with clinical trials and research where we can train the health professionals of the future. Our goal is to have people come from across the country to train here and then stay in South Jersey and within the organization," he says.
Post-COVID Patient Recovery
Soon after the first surge of COVID-19, Deborah Heart and Lung Center's pulmonary team began seeing many patients with symptoms long after they had received their negative COVID test results.
Steven Magnotta of New Egypt contracted COVID at the end of December 2020. "I was sick for seven weeks," he says. "I had pneumonia for four weeks, constant chills, loss of smell and insomnia."
In response to what are being called "long haul" symptoms, Deborah launched its Post-COVID Recovery Program in February 2021, and Magnotta was one of the first patients. "I wanted to feel better, and I wanted to get checked out to make sure I have no long-term damage. By taking the step to come to Deborah's Post-COVID Recovery Program I gave myself a boost to fully heal," he says.
The program addresses the continuing health problems of those who never fully recovered from their initial bout of the virus, as well as those who post-infection had developed brand-new, previously undiagnosed medical problems. A multi-disciplinary team led by Deborah's pulmonary experts draws in cardiologists, hematologists, radiologists, cardiac rehab, pulmonary rehab and physical therapists to create customized treatment plans for long haulers. Since the program launched Deborah has seen over 300 post-COVID patients.
Here to Serve
Earlier this year, Virtua Health started a new program called "Here to Serve," to better address the distinct health care needs of the local military community.
Medical testing and approvals can affect deployment scheduling and status, and Here to Serve expedites access to specialty care, supplementing services that both veterans and active military members have access to when stationed at Joint Base McGuire-Dix-Lakehurst. This multidisciplinary program includes a dedicated personal health navigator who coordinates care, and Virtua Health & Wellness Center - New Hanover, located less than a mile from the base, will also play a role in providing advanced imaging and physical therapy.
Demand for the program is already huge, reflecting a real need in the community. Dr. Reginald Blaber, executive vice president and chief clinical officer at Virtua Health, says, "Our military heroes and their families have always been there to serve our nation. It's important that we, in turn, serve them by providing personalized, easy-to-access medical care. … Our process is simple: Call us and we'll handle the details."
Blaber's deep connection with military care helps Virtua address the unique needs of veterans, active-duty military members and their families. He served as an internist in the U.S. Army for six years and achieved the rank of major while working at Walter Reed Army Medical Center, Fort Benning and Fort Meade.
Neutralizing the spread of COVID-19
Identified as one of the safest and most effective treatment options available to high-risk COVID-positive patients, monoclonal antibody therapy is more accessible than ever, yet many providers don't know where treatments are available or how to enroll their patients.
Monoclonal antibodies are lab-developed molecules that mimic the functions of the immune system targeted toward specific receptors. "COVID-19 infects the body by binding to the ACE2 receptor," says Craig Sastic, PharmD, B.C.P.S., M.B.A., antimicrobial stewardship pharmacist for Inspira Health. "The monoclonal antibodies prevent this binding from occurring, so the virus is unable to spread throughout the body."
This treatment, which requires a physician referral, is ideal for patients who have tested positive for COVID-19 and are at high risk for a progression of the virus. "High-risk candidates for the treatment include those who are over the age of 65, are overweight, immunosuppressed or have conditions such as diabetes, cardiovascular disease or lung disease," says Sastic. There are also groups of people considered high-risk who don't fit into these set risk factor categories, which means it falls on providers to determine when to recommend this treatment to patients.
Gregory Breen, M.D., a pulmonary and critical care specialist at Inspira Health, says it's important to know that monoclonal antibodies aren't meant to treat symptoms, but rather to combat the spread of the virus within the body—so it's most effective when patients come in for treatment within five days of testing positive for COVID-19. Patients are eligible to receive treatment up to 10 days after testing positive.
"This treatment reduces the risk of hospitalization and potential death, so if a high-risk patient tests positive for COVID-19, they shouldn't wait to come see us," says Breen. "Even patients who are vaccinated, especially if they haven't gotten a booster and are older or immunocompromised, should come in for treatment."
Monoclonal antibody treatment is currently available at Inspira Medical Centers Mullica Hill and Vineland via intravenous infusion. "Infusion only takes about 20-30 minutes in our dedicated outpatient infusion rooms," says Breen. "We've been offering this to patients for almost a year, and the high-risk patients we've treated have tolerated the therapy very well. To date, we've observed no significant adverse effects at the time of treatment or afterward."
In addition to treating high-risk patients who test positive for COVID-19, monoclonal antibodies can be used in post-exposure prophylaxis as well. "If someone has been exposed to the virus but hasn't tested positive yet, they can still get monoclonal antibody treatment," says Breen. "For instance, if a high-risk patient lives with someone who tested positive for COVID-19 and they receive this treatment, they have a 70-80% less chance of developing the virus themselves."
"At Inspira, we've seen firsthand that the monoclonal antibody treatment works. A very small percentage of patients who receive treatment still require hospitalization. And, even more importantly, the treatment is safe," says Breen.
Vaccines for the Underserved
Rowan University School of Osteopathic Medicine (RowanSOM) was awarded a grant from The New Jersey Department of Health (NJDOH) for more than $720,000 for a program that will increase COVID-19 testing, education and vaccination rates to the underserved in South Jersey. The program is led by Dr. Richard Jermyn, professor and chair of the Department of Rehabilitation Medicine at RowanSOM and director of the NeuroMusculoskeletal Institute.
When RowanSOM began "Operation Saves Lives" Vaccination Center late last year, Jermyn helped extend its reach to include homeless or housing insecure individuals by partnering with the Atlantic County Sheriff's Department. The grant will allow Jermyn to expand this even further, targeting 10 predominantly African American and Hispanic communities in Atlantic, Gloucester and Camden counties identified by NJDOH as having low vaccine rates as well as poverty, opiate addiction and chronic health conditions.
"Undocumented patients feared they would be turned away or arrested. Others couldn't sign up for vaccination because they were homeless. Still others distrusted health care providers, having faced judgment before in connection with substance use disorder. … We are having success getting people vaccinated in our pop-up clinics who wouldn't otherwise be vaccinated," Jermyn says.
Funds will support the infrastructure needed to run this large program, including increasing staff and providing transportation to those seeking vaccinations. There is also a plan to establish pop-up clinics at farms in Hammonton, as well as domestic violence shelters, substance use agencies and faith-based organizations. Community partners in the program include Rowan Medicine, the Spanish Community Center, the Atlantic County Sheriff's Hope Exists Foundation and Maryville Addiction Treatment Center.
"We know that the most vulnerable in our communities do not trust the medical profession," says Jermyn. "By getting into their communities and having the discussion where they are was tremendously helpful when we started this program. Being able to dialog about their fears around vaccination breaks down the barriers. … If we can convince them to get the vaccine in spite of these barriers, maybe we can get them into care for substance use disorder."
'I am meant to do this work'
Susan Steinberg MD, MBA, MSCE, medical director of Penn Medicine Princeton House Behavioral Health's Moorestown outpatient site, was honored this year as a Distinguished Life Fellow of the American Psychiatric Association, an elite group of distinguished psychiatrists who continue to make significant contributions to the field of psychiatry. She works with individuals who have suffered from trauma/PTSD, substance use disorders, eating disorders, and "borderline" personality disorder, and has noticed increased psychiatric symptoms in patients related to COVID. "It's a huge undertaking for those suffering from depression, anxiety and other mental health issues to set up appointments, attend therapy sessions and deal with a global pandemic," Steinberg says.
She feels very honored and humbled to have received the recognition, adding that she could not have done this without many mentors all along her journey. "I am fully committed to my patients. One of my many goals for them is to de-destigmatize mental illness so they will feel less shame and to have them to be ombudsmen for the field. I want my patients to feel empowered to ask for the best that health care has to provide. They know this. It is why they come to see me for help, especially on their worst days. I believe in truly listening to them, so they know I really care, and they have a voice. … I am living my life's passion, my calling. I am meant to do this work and I am very fortunate."
Click here to subscribe to the free digital editions of South Jersey Magazine
To read the digital edition of South Jersey Magazine, click here.
Published and copyrighted in South Jersey Magazine, Volume 18, Issue 9 (December 2021)
For more info on South Jersey Magazine, click here.
To subscribe to South Jersey Magazine, click here.
To advertise in South Jersey Magazine, click here.