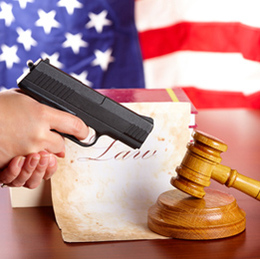 Shock to the System
Two months after the assassination attempt on U.S. Rep. Gabrielle Giffords, leaders in South Jersey uneasily wonder if they, too, are in danger.
Friday, Jan. 7 was a typical day on Capitol Hill for Rep. Rob Andrews. He spent part of the day in a lengthy meeting with the U.S. House Democratic Steering and Policy Committee, where he serves with his friend, Rep. Gabrielle Giffords.
Less than 24 hours later, everything changed.
Andrews was back home in Haddon Heights with his family on Saturday morning when he learned that Giffords had been shot point blank in the head. The popular Democrat congresswoman was at a supermarket in Tucson for one of the public events she calls "Congress on your Corner," when a gunman shot her and 17 others—six of them fatally. "Honestly, it was ... numbing," Andrews recalls. "It was numbing because this is a person who I had been talking to less than 24 hours earlier. I saw her at one in the afternoon that Friday. We had talked like always."
Two months after the massacre, that horror is still fresh for many across the country—including in South Jersey. Looking back, the warning signs were scarce, and the motivation for the crime remains somewhat obscure. All of which raises the question: What's to stop something like that from happening again? The incident has caused South Jersey lawmakers, including Andrews, to take a long look at their own personal security measures.
"There is a history of this," says Bruce Caswell, an associate professor at Rowan University specializing in elec­tions and political participation. "We have a history of violence against legislators—in particular against members of Congress—that goes back 50 years. And every time there is an incident, there are increased security measures."
Caswell says it is likely that—at least in the short term—there will be extra security at any public events in the area. "Anyone who's done public meetings is aware that sometimes, strange people show up at these things," he adds. "I suspect they'll be a little more sensitive to the person who says crazy things. I don't think anyone will stop doing events, but they will give a little thought to the security for these events."
Just one example
The incident in Arizona—while ex­treme—was hardly isolated. Even township officials, from the local mayor to the newly elected school board member, have reason to take safety precautions. In December, a 56-year-old man entered a school board meeting in Florida and took several members of the board hostage, enraged by his wife's recent firing. The man eventually fatally shot himself after a shootout with a security guard, and no school board members were injured.
Incidents like that were in the back of Cherry Hill Township Mayor Bernie Platt's mind when security was beefed up at the municipal building. It presents a challenge, he says, because he and other township officials have to strike a balance between being accessible to residents and protecting themselves from potential harm.
"We've had some irate people who, in our estimation, got out of hand," Platt recalls. "All of our doors are open all of the time, but we've had some incidents where secretaries felt threatened and called police."
Today, the municipal building has panic buttons installed inside every desk, Platt says. "You never know when something might happen … so this is what we're doing," he adds. "Fortunately for us, our chief of police is always at our council meetings. There are only two ways to get into the building now. We locked all the doors. Some of us have keys, and some do not have keys."
When threats are realized
For New Jersey Senate President Stephen Sweeney, threats from angry constituents have turned personal more than once. In one incident, he recalls, a person intentionally cut him off while he was driving with his young son. Sweeney barely avoided a car accident.
In another incident, someone came to Sweeney's home to confront him. He was forced to alert police. "It's real," Sweeney says, referring to potential security problems. "It's scared the hell out of me."
Sweeney gets state police security through his state government position. But beyond remaining alert and vigilant, he says, there isn't much he can do. Still, Sweeney doesn't plan to change the way he conducts business. "You can't put a bubble around yourself 24/7," he says. "I'm in a job that I know attracts interesting people from time to time. I took this job with my eyes wide open."
The same goes for freshman Congress­man Jon Runyan. He may be new to Congress, but he is used to life in the public eye from his 14 seasons in the National Football League, nine of them with the Philadelphia Eagles. He has faced personal threats before.
Still, for Runyan, news of the Arizona shootings was not only upsetting, but un­nerv­ing. The lawmaker was away at a congressional retreat in Williamsburg at the time, along with his family. As the news broke, details were sketchy. No one knew who was or wasn't a potential target, or why. "It was a heightened sense [of awareness] for me," Runyan recalls. "You feel vulnerable. But, you have plenty of Capitol Police there doing their security details, so it was a matter of being reassured that the proper measures were in place at the time."
Runyan has become more conscious of his surroundings when he is out in public. "There are people out there like that who are out to harm you," Runyan says. "When there are people who don't care about the consequences of their actions, there's not a whole lot you can do to stop them. You can't walk around in a glass box. That's not the way the world works. So you have to have a plan. Other people have to have eyes out for you. It's that whole thing of not being complacent, but going out and being aware."
Looking forward
South Jersey leaders say they're concerned, but not deterred. Runyan sums up the common sentiment: "Being elected to Congress is something I signed up for"—not to mention fought hard for. It's a title local representatives won't be frightened into abdicating.
Currently, Giffords is recovering in a rehabilitation facility in Texas. Andrews received a call from colleagues when Giffords said her first word weeks after the shooting: "toast"—after receiving a bowl of hospital oatmeal. "It's fabulous news, because it shows that she's aware of all of her circumstances, and she can form a thought and speak, and not just react [in]voluntarily," Andrews says.
Andrews views Giffords not as a victim, but as a symbol of triumph. "She's a strong woman—I truly believe that there is a healing quality with willpower," he says. "What has been a horrific and tragic experience is turning into an uplifting one."
Published (and copyrighted) in South Jersey Magazine, Volume 7, Issue 12 (March, 2011).
For more info on South Jersey Magazine, click here.
To subscribe to South Jersey Magazine, click here.
To advertise in South Jersey Magazine, click here.