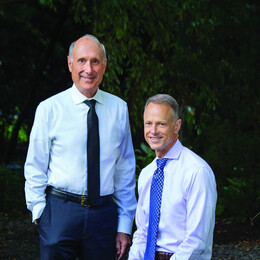 A Shared Vision
The father-son team at Kresloff Eye Associates believes in providing the most advanced care in a warm and compassionate manner.
The youngest of Michael Kresloff's three sons, a 5-year-old, is currently going through a phase where he dreams of becoming the next Spider-Man. Kresloff can relate, since he also had a hero he looked up to as a boy. His did not shoot webs or climb walls, however, and he certainly didn't fight crime. He was just the friendly neighborhood eye doctor, and he also happened to be Kresloff's dad.
Forty-five years ago, Richard Kresloff started his own practice in Collingswood, Kresloff Eye Associates, and it was quite common for Michael to be seen hanging around the office, watching and admiring his father's every move. To those who knew him then, it is no surprise that Michael followed his dad's example and became a board-certified and Wills Eye-affiliated ophthalmologist and a respected surgeon specializing in laser cataract and refractive surgery.
For the past 20 years, father and son have worked side by side at Kresloff Eye Associates, bonded by their shared passion for the field and their desire to provide personalized care to families across South Jersey.
"Some of my earliest memories are going into the office with my dad on the weekends to see emergencies," Michael says. "I was always struck by the pleasure my dad got in helping people and the deep appreciation his patients had for him.
"I've loved practicing with my dad," he continues. "We have always been close personally but working together has allowed us to be close professionally as well. My dad is not only the best ophthalmologist, but also the best physician I've ever known."
Richard Kresloff was not the type of father who pushed any of his three children in a certain direction. Their happiness was his No. 1 priority, but when he learned of Michael's interest in ophthalmology, he was of course encouraging.
"I really never dreamed this would happen," he says. "I simply always wanted him to find a profession that he would love and give his life meaning. When it turned out that he was going to become an ophthalmologist, it was one of the most amazing, gratifying things that has ever happened to me."
Richard's goal when he started the practice was to build meaningful relationships with people in the community and be of service to them. Though much has changed over the years, and Kresloff Eye Associates embraces the most up-to-date technological advancements and evidence-based medicine, the foundation remains warm, compassionate care for patients of all ages.
"We strive to treat every patient as we would want ourselves or our families treated," Richard says. "We strive to give the most comprehensive, up-to-date care in a warm environment. We are available 24 hours a day, 365 days a year for emergencies and we have evening and weekend appointments available for those who are unable to make appointments during regular business hours."
Eye care may sometimes get put on the backburner during hectic daily schedules, but keeping up with routine checkups is crucial, even if there don't appear to be any vision concerns. Kresloff Eye Associates is happy to help no matter what issues may arise.
"Regular eye exams are as important as any other health maintenance," Michael says. "We need to check for amblyopia (lazy eye) in children, which will lead to irreversible poor vision if not treated early enough, and glaucoma, cataracts, retinal tears, vascular health and a myriad of other diseases in adults. Many times we are able to detect a potentially life-saving problem early just by examining a seemingly healthy person's eyes. And certainly, life without vision is something none of us would want."
Fortunately, Kresloff Eye Associates has been a fixture in the community for nearly half a century, ensuring that local residents have access to the best care available. It is still too soon to tell whether any of Michael's children will enter into the family business, but for now, he and his father are going to savor the time they have together.
"So many of our patients remember Michael when he was a little boy and I would bring him into the office with me to see emergencies," Richard says. "They often laugh with me, seeing him now and remembering him years ago.
"It has been wonderful to look at your son not just as your son but as a peer who is so highly trained both as a general ophthalmologist and a cataract surgeon. I've really benefited from his breadth of knowledge and he has helped me to stay current with many of the new advancements."
Michael clearly holds his father in the same regard and has been proud to model his career after Richard's. Having him down the hallway to provide guidance has been a treasure he won't forget.
"He is totally dedicated to his patients," Michael says. "I love that I can ask him for advice at any point throughout the day. I'm glad that he doesn't plan on retiring any time soon."
Kresloff Eye Associates
900 Haddon Ave., Suite 102, Collingswood
(856) 854-4242