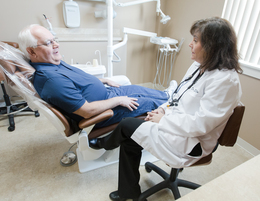 Changing Smiles and Lives
Recognized as one of the top dentists in South Jersey, Dr. Elizabeth Fox says the secret to success with patients is all about listening.
When she was about 5 years old, Dr. Elizabeth Fox had a painful toothache. She recalls going to the dentist, who removed the tooth, and the pain disappeared. Her takeaway from the experience was that the dentist helped her, and it was a pivotal moment in her life that set her on the path to dentistry as a profession.
"I hear from so many patients who are afraid of the dentist because of a bad experience. They remember being hurt by the dentist," she says. This fear is often carried throughout their life and their dental health suffers as a result. Easing those fears and anxieties has been the guiding principle of Dr. Fox's 30-year career.
"It's interesting because a lot of my younger patients don't have these fears because of technology. It has improved and contributed to more comfortable treatment. When we do meet those patients who present with bad experiences, the first thing we do is listen to them. We try to connect with the patient on a variety of things: hobbies, family, sports. They'll show us pictures of special events and grandchildren. People want to feel listened to and cared for. When we listen and engage, that's how they become more comfortable," she says.
Dr. Fox doesn't believe in forcing treatment on them either, not until they are ready for it. "They might need several teeth worked on, but only want one in particular fixed [at first]. We're not going to come at them and try to do it all until we've gained their trust and made them feel comfortable. We reassure them that we have the experience to handle their problems and let them know we'll get them the beautiful smile they desire."
When it comes to transforming smiles with implants, almost no one in South Jersey can match the credentials held by Dr. Fox. She is a diplomate of the International Congress of Oral Implantology, putting her in the company of less than 1% of general dentists, and one of only 30 in New Jersey. Achieving this status required extensive case work and rigorous academic work as well, which she pursued with Dr. Carl Misch, a leader and pioneer in oral implantology, in 1999.
Since then, she has become the go-to choice for those who need implants or smile rehabilitation, utilizing the latest technology to ensure patient comfort and the best results possible.
"The technology and products have evolved to benefit patients who do have to go through this type of dental work, making it less invasive and with a quicker turnaround. We are always looking to invest in equipment that will make things easier for patients," Dr. Fox says. This includes cone beam tomography, which is a special X-ray that produces 3D images of teeth and the underlying bone, tissue and nerve pathways. Essentially, the technology allows Dr. Fox to map out the surgery step by step on the computer.
"It's great for patients because they don't need to hop around and visit different types of dentists and make multiple appointments; I do it all in my office. And because I've pre-planned the surgery, we don't run into surprises, saving the patient time and money. And they end up with a great smile that looks more natural than implants from years ago," she says.
Although they may have been fearful of dental treatment before, Dr. Fox's patients aren't afraid of singing her praises after the fact. She has over 600 reviews online and averages a five-star rating on Google, Healthgrades, U.S. News Health and Facebook.
Her heart is warmed by all of the comments but says it all goes back to listening and caring. "From the moment they call or walk in, our team is caring for them. We even pay attention to things in their life happening outside of dental treatment. We'll send sympathy cards or get well cards if they have some other sort of procedure. We go above and beyond and my team is outstanding in making this a great experience for all patients and it's rewarding to receive the positive feedback," Dr. Fox says.
It also reaffirms that dentistry was the right path for her. As someone who is a little self-deprecating and funny, Dr. Fox says she doesn't take herself too seriously, but she does take her work very seriously. "I see a lot of people who avoided addressing their dental issues because of fear or lack of money, but they come here because they can't handle those issues anymore and we find a solution that fits their life and budget. That's important to me," she says. "It's very rewarding to see how it changes their life."
Dr. Elizabeth Kilpatrick-Fox
1507 Kings Hwy.
Swedesboro
(856) 997-2767