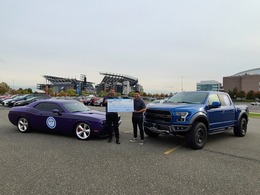 Family Values
Brothers Shai and Asi Fellah have built Fellah Auto Group on the principles of treating customers and employees with respect and giving back to the community.
Finding a partner who has the same values, work ethic and passion for a particular industry can be a challenge for aspiring business owners. When Shai Fellah decided to pursue his own venture a few years after earning his degree from Temple University, however, discovering the perfect running mate was never a concern. He was right there by his side the entire time.
Shai and his younger brother Asi, a graduate of Penn State University, teamed up to start Fellah Auto Group in 2005 with their first car dealership in Philadelphia. Sixteen years, two additional locations and thousands of satisfied customers later, the partnership continues to thrive.
"We were always around the car business and we loved cars, so it made sense for us to do this together," Shai says. "We have two different roles in the business and we trust each other's role to be handled perfectly."
Thanks to their varying skill sets, the siblings are able to complement each other well, with Shai focusing on the big picture and the analytical side of the business while Asi oversees the day-to-day operations. That dynamic has allowed their relationship—both personal and professional—to be stronger than ever.
"We have separated ourselves in what we do and it has worked out great," Asi says. "The decision to partner up was the best thing I ever did in my life. I've never had any issues with my brother. People say family is tough to work with, but in our case because of the different tasks that we have in the business, it works out perfectly."
It is no surprise that the family atmosphere that forms the foundation of Fellah Auto Group trickles down to customers, employees and the surrounding communities. As an independent dealership offering a wide range of quality used cars, their aim is to make the process as seamless as possible for anyone in need of a vehicle.
"Everyone drives" is not just a company motto but a sentiment the brothers stand behind by assisting customers of all stripes, from those looking for a luxury vehicle to those just seeking a dependable car to drive to work.
"Everyone is welcome here—it doesn't matter their credit status, lifestyle status or if they're looking for a certain kind of inventory," Asi says. "We want to help and see if we can work something out, and we believe in second chances for those who have struggled in the past. Every customer who buys a car we tell them they're now part of the Fellah family and it's nice to be able to say that."
The philosophy with the team at Fellah Auto Group has been the same from the very beginning. The owners wholeheartedly believe in work/life balance and are constantly stressing to their employees that family events come first.
"We have tried to establish a long-term team and I think that's part of our success," Shai says. "If you have good employees and take care of them, they take care of you. We treat them like family and we treat everyone the same whether they're the sales manager, the finance manager, the lot person, the service manager or the mechanic. They all get the same respect."
One of the most rewarding aspects of the business has been giving back to the communities they call home. For example, this past summer they raised more than $3,000 for Cradles to Crayons to provide supply-filled backpacks for impoverished students in the area, and the Fellah team packed 400 backpacks during a volunteer shift.
In September and October, they held a food drive at all three locations to gather donations for Philabundance and Preston & Steve's Campout for Hunger, and also contributed $2,400 from vehicle sale proceeds in October to the effort. Fellah Auto Group's current cause is Toys for Tots, and they are collecting gifts for children at all of their locations and again adding proceeds for each car sold to that organization.
"We're at the point where we can give back, and through the years we have always found ways to do that," Shai says. "It's been great because we know where the shortfalls are and we're able to help the community. Not only do we donate money but we enjoy getting involved as volunteers. You don't realize sometimes how bad the situation is for families out there, and to be able to help is very fulfilling."
That will continue to be their focus moving forward, along with expanding their business. Whether that means adding physical locations to go with their dealerships in Bristol and Springfield or just enhancing the car-buying experience for customers in Pennsylvania, South Jersey and beyond, the brothers know they will find the right approach together.
"If it wasn't for my partner, we would probably still be in one location doing the same old thing and not really growing or expanding," Asi says. "It was in his mind and he had this vision, and with us pushing it together, it worked out to where we are now."
Fellah Auto Group
Locations in Philadelphia, Bristol and Springfield, Pa.
(844) 777-9376