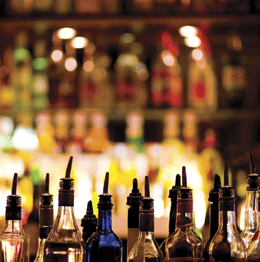 Dry Spell
Nearly a century after Prohibition, some South Jersey towns are alcohol-free—and proud of it.
When Moorestown officials recently paved the way for the forthcoming John's Incredible Pizza Company location at the Moorestown Mall, they were willing to bend local rules to allow for indoor rides, go-karts and arcade games in the family-focused establishment. One regulation however, was never open to discussion: the ban on alcoholic beverage sales.
More than a decade into the 21st century, the legal codes of South Jersey towns including Haddonfield, Collingswood, Moorestown, Haddon Heights and Pitman still reflect the mores of the 1960s, if not the '20s. Founded on religious roots and family values—and determined to stay that way—a handful of local communities have adamantly refused to back down on so-called blue laws. While towns around them—including, in the past decade, Gibbsboro, Willingboro and Stratford—have opted to reverse bans on alcohol sales in search of the fresh revenue of liquor licensing, these towns have held firm.
You could call these legal relics anachronistic, but that doesn't exactly describe what you'll find on Haddon Avenue in Collingswood on any given Friday night. You'll spot diners waiting in small clusters on the sidewalk, hoping to grab a table inside some of South Jersey's most popular restaurants.
The town's decade-long redevelopment effort brought in numerous shops and restaurants, but not a single bar. Collingswood Mayor Jim Maley says the small, walkable downtown does just fine on its own without any booze on offer. There was, he notes, a push some 15 years ago from local proprietors who were thirsty for more business. But the town wasn't willing to stray from its conservative Protestant roots, Maley says. So when the government started to work on redeveloping the area, the focus shifted to offering financial, rather than alcoholic, incentives to the businesses.
"We bumped out the street so they could put in outdoor dining. We did things like that and gave incentives that led us to have about 15 restaurants in the past seven or eight years. It's created a hub of BYOBs," Maley says. "Having alcohol is not the magic wand…. Offering incentives helps make it all work. We're evidence of it."
Just up the road, Haddonfield is similarly thriving, with a 95 percent occupancy rate downtown, according to Mayor Letitia Colombi. Here, the staunch liquor sales ban is less about promoting a puritanical lifestyle than it is about highlighting other strengths, she insists.
"Other towns depend on restaurants to make it work," she notes. Haddonfield has invoked different strategies, like using proceeds from a business tax to help advertise and promote local businesses. "Every town has its own thing," Colombi says. "We're a small town. I'm glad we've been able to maintain that reputation."
Still, other towns in South Jersey haven't been so fortunate. Some, after avoiding the sale of alcohol within their borders for decades, have repealed their laws to stem revenue shortfalls or attract new businesses.
In Stratford, for one, officials twice attempted to wipe a decades-old alcohol ban from the books. "It's always been a dry town, ever since it was established back in the '20s.
That's the way it was back then," Mayor John Gentless says. Attempts to overturn the ban failed in the 1980s and again in 2000. Then, in 2007, a stronger campaign by the business association to educate the public about the benefits of selling a liquor license was successful. "We were going into redevelopment and we wanted to use the liquor license as a catalyst to promote businesses to come to town," Gentless says.
Based on state laws, any town that approves selling alcohol is entitled to one distribution license per 7,500 residents and one consumption license for a bar or restaurant per 3,000 people. Shortly after the laws changed, 30 Strikes Bowling Alley on the White Horse Pike purchased the license for $300,000—money that was used to balance the borough's budget and provide tax relief, Gentless says.
With a few more licenses left to sell, Stratford is still hoping to draw new establishments, including ones that might have gone elsewhere had prohibition remained in place.
But one town that won't be welcoming a new tavern anytime soon is Pitman. The tiny Gloucester County borough boasted in 1905 that it was without mosquitoes, malaria and saloons. Today, two of those things are still true, (mosquitoes being, after all, a summertime inevitability). But not everyone wants to live in the past.
In 2007, small-business owner Alan Forte pushed for a referendum on the liquor sales ban. Hundreds of residents signed petitions in favor of holding the vote, but when it came time to pull the lever, the majority of voters were against it. Forte, who owns Vanity Health Club in town, says allowing bars and liquor stores could have jumpstarted the local economy. "We need the tax money from the alcohol sales. It's a no-brainer," he says. Why would a cash-strapped town turn that away? "I just don't get it."
He called prohibition "a curse. Honestly, it's the curse of Pitman." But Forte is optimistic that in a few years, the borough could revisit the issue, with different results. "There's a lot of new families moving in, and with it comes change," he says.
Still, the fact that locals are adamant enough to turn out and vote "no" on such repeals is proof that South Jersey's dry spell is far from over. Just look at Ocean City, which, after over a century staking its reputation as an alcohol-free family resort, is only now facing a push to allow for BYOB dining. But, despite the outpouring of support from restaurant owners and some residents, the proposed change has been met with loud protest. It appears that while some remain optimistic, residents' enthusiasm for change could well run dry.
Published (and copyrighted) in South Jersey Magazine, Volume 7, Issue 12 (March, 2011).
For more info on South Jersey Magazine, click here.
To subscribe to South Jersey Magazine, click here.
To advertise in South Jersey Magazine, click here.