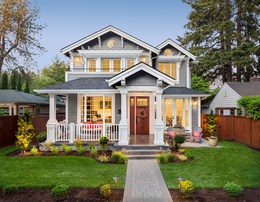 From Refugee to Realtor
With hard work and a willingness to jump at every opportunity America offered him since coming to the country as a teenager, Dmitry Dombrovsky has climbed the ladder of success—and endeavors to use his can-do attitude and love of South Jersey to help buyers and sellers find the next place they'll call home.
When a teenaged Dmitry Dombrovsky and his family came to America in 1990 as political refugees from the former Soviet Union, he had no way of knowing that being placed in South Jersey would lead him to his permanent home.
But as he doggedly worked his way up from being a busboy to a waiter to a bartender, and then a graduate of first Drexel University and then Rutgers University–Camden, he wound up falling in love with the region.
"I love the area," he says. "I love being close to major cities like Philadelphia and New York, and I love being close to the Jersey Shore. That's where we spend a lot of time, and it's where a lot of my clients are: They're mostly in the Cherry Hill/Voorhees area or toward the Shore, like Ventnor and Margate, all the way down to Atlantic City."
Now raising two young children with his wife in Cherry Hill, Dombrovsky has lived in South Jersey for more than 30 years. He draws upon his passion for and knowledge of the area to benefit those who come to his Weichert, Realtors branch trusting him on their journeys to find the next place they'll call home, whether they're buying or selling.
His background is a unique asset he's proud of, and he's thrilled to tap into the experiences he's had over the decades to best assist his clients—including a stint as a soccer referee that made him intimately acquainted with not only southern New Jersey but also the region's recreational offerings, giving him a neighborhood specialist's competitive edge.
"Throughout the '90s and for the better parts of the early 2000s, as I was transitioning from a college student and a part-time restaurant employee to a full-time professional, I refereed youth soccer for about 25 years, so I've been to every town, every soccer field, every stadium throughout most counties in South Jersey," Dombrovsky says. "I think that gave me a little bit of an advantage, as far as having a knowledge of the area before the internet, before Google Maps, before smartphones."
But real estate isn't Dombrovsky's first career. He received both his bachelor's and MBA degrees in finance, and had been recruited by the Fortune 500 company Ameriprise, where he remained as a financial advisor until real estate began calling to him about eight years ago.
Armed with his strong work ethic and a desire for greater professional autonomy, he made the occupational leap into a new industry—and hasn't looked back since.
"Around that time, the financial advisory business was getting killed by the market and there were a lot of corporate changes going on," he recalls. "I wanted to be more in charge of my own career."
That same hard work he devoted to getting where he is today is exactly what he gives his clients.
"It's the same with almost any immigrant who's coming to this country: When we came here, we saw all the opportunities that are out there as long as you work hard," Dombrovsky explains. "I'm always a student of the business, I'm always attending various seminars, conferences and events so that I can apply whatever I learned to every client's situation to help them get a better deal and come out ahead."
His previous work experience in the financial sector is another benefit he offers his clients, too.
"My background is in finance and accounting and financial services, and I haven't come across a lot of realtors who have that experience," says Dombrovsky. "I can talk to my clients knowledgably about things like investments and tax consequences."
Dombrovsky has, in turn, gotten back what he's poured into the real estate industry, in terms of both professional recognition and personal satisfaction.
"When I first started out, I was named Weichert, Realtors' Rookie of the Year for the entire South Jersey region," he recalls. "Little by little, I kept advancing: In my local realtors' association, which is NEXUS Association of REALTORS, I was named a Superior Performer. And then I was voted by the readers of South Jersey Magazine as one of the top 100 realtors in South Jersey, specifically for Cherry Hill and Voorhees."
But what matters most, Dombrovsky says, is knowing that he's made a difference to his clients.
"It's very rewarding to see that the clients are happy with the work that I do, that's one of the most rewarding things," he says. "This profession allows me to have the mind of a capitalist but the heart of a social worker."
Weichert, Realtors: Dmitry Dombrovsky
1909 Route 70 E., Suite 1, Cherry Hill
(609) 230-6695
Dmitry-Dombrovsky.Weichert.com