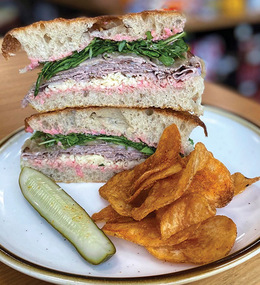 Sandwich Supremacy
From chicken cutlets to signature hoagies and everything else between two slices of bread, our picks for the 30 best sandwiches in South Jersey.
It's no secret that our region is full of expert sandwich makers, folks who understand that everything from the quality of the bread to ingredients used inside are of the utmost importance when constructing a memorable handheld. And so now that it's been a few years since our last expedition to find the best sandwiches in the area, we decided it was a fine time to once again to reveal some of our current favorites. You won't find any cheesesteaks here (we've given those their own spotlight already), but what you will find is a great mix of cold and hot sandwiches that show culinary creativity comes in many forms.
REUBEN at Marino's of Mullica Hill in Mullica Hill
The star of the show is the corned beef made in-house and sliced just thick enough for you to be able to savor every morsel of the tender, well-seasoned brisket. It's piled with sauerkraut, Swiss cheese and Russian dressing into a hearty toasted and buttered marble rye.
WAKE UP at Nene's Market in Marlton
We didn't really anticipate including any breakfast sandwiches in this spotlight, but who wouldn't set their alarm early for eggs, home fries, melty provolone and chef Mark Berenato's vaunted braised beef short ribs hugging it out inside a long roll? Talk about a "wake-up" call.
GF GRINDER at Good Foods to Go in Mount Laurel
Chicken tenders—both delicious and homemade, we might add—are covered with this eatery's signature honey mustard sauce, mixed with bacon and then baked in the oven with muenster cheese on a hoagie roll for a gooey, chewy, crunchy delight.
TRIPLE B at Cluckwerks in Haddonfield
Slung out the side of Haddonfield fine-dining spot Wanda, the 3 B's represented here consist of bacon, Brussels sprouts and balsamic glaze, all of which are combined with your choice of grilled or fried chicken and finished with parmesan.
FRENCH ONION SIRLOIN at Haddon Culinary in Collingswood
Rotisserie beef is shaved ruler's edge thin and stacked with silky caramelized onions and gruyere before being placed between two slices of focaccia—courtesy of Philadelphia's Merzbacher's bakery—that's been smeared with an artisanal cabernet roasted garlic butter.
EGGPLANT VEGGIE at Pal Joey's in Sewell
Those who know, know that some of the best hoagies this side of Philly come out of Pal Joey's unassuming strip mall location. That includes this tantalizing medley of thinly sliced fried eggplant with a biting sharp provolone and roasted red peppers on a seedy Sarcone's loaf.
HOT VEGGIE at Abbruzzi and Giunta's in Mount Laurel
You don't have to be a vegetarian or participate in "meatless Monday" to appreciate this wonderful blend of sautéed spinach, mushrooms, tomatoes, onions and bell peppers. It's a standout sandwich at a place that has a menu full of them.
FIG AND PROSCUITTO at Tucci's Mini Hoagies in Voorhees
Forget the big belly-busting sandwiches you may find elsewhere; this joint specializes in smaller handhelds that do more than hold their own. We love this offering with salty prosciutto and peppery arugula enhanced with a fig spread and balsamic glaze.
THAI SHRIMP PO BOY at Bistro at Haddonfield in Haddonfield
A taste of New Orleans in New Jersey, this twist on the Bayou's staple sandwich is made up of panko fried shrimp lined into an Italian roll with lettuce, tomato, onion, fire roasted red peppers and drizzled with a Thai-flavored remoulade.
DEVIL'S DEN at Amato Brothers in Oaklyn
For those who like to crank up the heat, this one's for you. A fiery blend of capicola, Santa Fe turkey breast, pepper jack cheese and long hots are only slightly tamed with the additions of lettuce, tomato and splashes of vinegar and oil.
BREADED VEAL AND PROSCUITTO at Jake's on Greentree in Washington Township
People often talk about Jake's can't-miss onion rings, and rightfully so. But this sandwich also deserves to be part of the conversation as a crispy fried veal cutlet is wrapped with prosciutto and outfitted with a winning combination of roasted peppers, garlicky spinach and provolone cheese.
CUBAN at 322 BBQ in Mullica Hill
There's a lot to like at this offshoot location from barbecue masters David and Sons, especially their version of the classic Cuban sandwich. Succulent pulled pork melds with fresh slices of ham, Swiss cheese and pickles prior to being pressed to perfection on bread with mustard.
PIG AND PASTURE at Crumb in Haddonfield
The menu at this buzzed-about sandwicherie tucked just off Kings Highway changes frequently, but if we had a say this creation would stick around forever. Homemade bread sets the stage for familiar dance partners in shaved pork and broccoli rabe which are accompanied by provolone and a long hot aioli.
DEATH BY JEFF at Phil's Deli in Cherry Hill
At some point, we are going to need to hear the backstory on how this sandwich was named, but for now we'll settle for sinking our teeth into this combination of roast beef, American cheese, fried onions and Russian dressing stuffed between slices of rye bread and grilled.
GARLIC BREAD CHICKEN CUTLET with VODKA SAUCE at Peter and Sons Sandwiches in Glassboro
It's worth waiting alongside the Rowan University co-eds and knowledgeable foodies who flock to Peter and Sons for the chance to sample their latest creations. Here, garlic bread and vodka sauce elevate the standard chicken cutlet, but if you want to take things even further, add some mozzarella squares.
COWBOY CHICKEN at Hogback Deli in Bordentown
This one is a real mouthful with grilled chicken breast being robed by sautéed mushrooms, bacon, Monterey jack cheese and honey mustard, all inhabiting space between two pieces of sourdough bread, the tanginess of which adds further flavor.
BLACKENED CHICKEN PORTOBELLO at Rexy's in West Collingswood Heights
The earthiness of the meaty portobello mushrooms and the spice of the blackened chicken are a match made in heaven. Added touches of sautéed spinach, roasted red peppers, fresh mozzarella and a house-made ciabatta further seal the deal.
CHERYL GREEN'S CHICKEN CORDON BLUE at Nixon's General Store in Tabernacle
Inspired by the classic dish, this sandwich certainly earns a "blue ribbon" from us for being extremely crave-worthy thanks to the trio of grilled chicken breast, ham and Swiss cheese with creamy blue cheese dressing for good measure.
PORK CUTLET at The Local in Mount Holly
This inviting gastropub is the perfect place to grab a pint of local craft beer and munch on this breaded and fried pork tenderloin topped with fresh mozzarella, marinara sauce, roasted red peppers and spinach.
BUFFALO CHICKEN at Home Stretch Deli in Camden and Cherry Hill
Wing lovers will find the usual suspects represented here—buffalo chicken and blue cheese dressing—along with extra elements like white cheddar, iceberg lettuce, tomato and cucumber on a 10-inch roll.
BBQ PORK PANINI at Bacio in Moorestown
Bacio translates to "kiss" in English and chef Robert Minniti definitely puts a chef's kiss on every dish coming out of his kitchen. And that extends to the sandwich portion of his menu that contains this mouthwatering panini that showcases barbecued pulled pork along with smoked gouda.
THE GODFATHER at Bagliani's in Hammonton
No trip to this favorite Italian marketplace is complete without a sandwich to go. We're quite partial to this headliner of prosciutto, soppressata, dry-cured capicola, Bagliani's own sharp provolone and marinated eggplant with lettuce, tomato and onion.
MONTE CRISTO at F&M in Mount Laurel
Sweet, savory and oh-so satisfying, F&M's Monte Cristo always puts a smile on our face. Honey smoked ham, sliced turkey breast and Swiss cheese are slid in between hunks of Challah French toast, dusted with powdered sugar and crowned with sliced pineapple.
PAPA RON at Carmen's Deli in Multiple locations
Parked inside a Del Buono's hoagie roll, slightly spicy, slightly smoky hot capicola harmonizes with salami and milky fresh mozzarella, before being polished off with lettuce, tomato, onion and drizzles of balsamic vinegar.
UNCLE PAULIE at Cacia's Baery in Multiple locations
Don't let the seeming simplicity of this hoagie fool you, it's very deserving of being exalted onto this list. A fresh loaf of Cacia's stellar bread is the perfect vessel for roasted turkey breast, roast beef, American cheese and all the fixings.
STEVE AND VAL at Don Franco's in Washington Township
Though we don't know Steve or Val personally, we feel like we do after eating their eponymous offering so many times. Homemade meatballs are fried and nestled into a seeded roll with sharp provolone and long hots for a little extra punch.
FARMSTEAD at Bricco in Westmont
Already one of our must-visit spots for pizza in South Jersey, Bricco also wows the crowd with their thoughtful lineup of sandwiches. We suggest the Farmstead—organic roasted chicken layered with pancetta, avocado, arugula, tomatoes and rosemary aioli on fresh bread that's been cooked inside the restaurant's coal-fired oven.
MADOANE at Boaggio Bread in Mount Laurel
It figures such skilled bread makers as Boaggio would also make some seriously quality sandwiches as well. This number features a crispy chicken cutlet topped with salami, provolone cheese, broccoli rabe and sweet peppers.
CAPRESE at Arnie's Gourmet Butcher and Culinaria in Cherry Hill
You may come to this butcher shop for the extensive selection of meats, but don't overlook this enticing Italian specialty comprised of Roman tomatoes, mozzarella which is made on-site, arugula and a topnotch pesto dressing.
DRUNKEN MEATBALL at Mama's Meatballs in Pennsauken
The homemade meatballs cooked up here come in a few different varieties, each delectable in their own right. But they are taken to a different level when topped with vodka sauce, sundried tomatoes, spinach and mozzarella, then slide into the oven and finished with olive oil and balsamic glaze.
Click here to subscribe to the free digital editions of South Jersey Magazine
To read the digital edition of South Jersey Magazine, click here.
Published and copyrighted in South Jersey Magazine, Volume 18, Issue 8 (November 2021)
For more info on South Jersey Magazine, click here.
To subscribe to South Jersey Magazine, click here.
To advertise in South Jersey Magazine, click here.