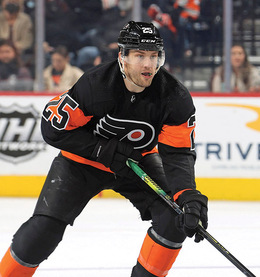 One Last Thing: Off the Ice
Catching up with Philadelphia Flyer and New Jersey native James van Riemsdyk
After playing his first few seasons in the NHL with the Flyers—the team that drafted him with the second overall pick in 2007—James van Riemsdyk was traded to the Toronto Maple Leafs in 2012 and would go on to spend six seasons north of the border. But in 2018, he returned to the Flyers as a free agent and fans of the orange and black welcomed him home with open arms. During a break from practice at the Flyers Training Facility in Voorhees, we spoke to van Riemsdyk about the season, being a new father and why after his appearance in Judd Apatow's 2012 film This is 40 he thinks there may be a future for him in Hollywood.
A new season…
After each season, I try to think about the year overall and the different things that I liked that I did and the things I'd like to do better and come up with a plan for the next year. It's always something that you're trying to continually evolve as a player and get better at little things and expand your range.
The bond between the Flyers and their fans…
The passion they have for the team is something we definitely feel and it makes it fun to come to the rink and play in front of them. We get a lot of support not only at home, but on the road too. That's what you love as a player, playing in those environments where people care.
Connecting with the community…
I've thought a lot about this as a player, especially over the last few years. People generally remember how you made them feel [when they met you], and how you treated them—more so than some of the stuff on the ice. We're obviously here to do a job and we want to be a successful team and win a championship, but at the same time we want to be involved in the community we live in and leave an impact there too.
Being a first-time father…
It definitely changes you in ways you never knew imaginable. Every day it brings a smile to my face to see my daughter. Especially now after the times when I'm out on the road, it makes it that much more fun to come home.
That was one of the silver linings for me about the whole pandemic. Our daughter was born two months into the whole lockdown starting and so you got that extra time at home that you wouldn't get otherwise and it really allowed me to be way more present and involved early on.
A Jersey Boy…
I'm proud to be from Jersey and it's nice to be able to share this journey with my parents. They still live in Middletown and so they can come down and see a lot of games and be a part of my day-to-day family life too.
On scoring his 500th point last season…
I got the puck at home in my little office area where I keep a lot of that stuff. After getting drafted 14 years ago, that is a cool little memento to have. I feel like I have a lot of stuff to accomplish, but when I look back on my career, that will be something that is memorable.
His current playlist…
I listen to al ittle bit of everything. I really like Mt. Joy [right now], a local Philly band.
On his cameo in This is 40…
I'd have to say I'm the only one [on the team currently] with the acting experience, so by default I get the nod for being the best actor.
It was cool to do something out of my comfort zone and something I never really expected I would get to do.
What he wishes he knew as a rookie…
I would say as you get more experience, you learn to manage the highs and lows of the season better. So just having that even keel approach—you want to learn from things, good and bad, but you want to also flush them because in pro sports you are judged on the day in front of you and that's what you have to try and focus on.
Click here to subscribe to the free digital editions of South Jersey Magazine
To read the digital edition of South Jersey Magazine, click here.
Published and copyrighted in South Jersey Magazine, Volume 18, Issue 8 (November 2021)
For more info on South Jersey Magazine, click here.
To subscribe to South Jersey Magazine, click here.
To advertise in South Jersey Magazine, click here.