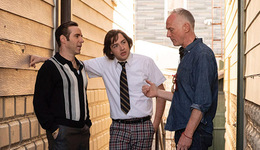 Joining the Family Business
Michael Gandolfini steps into the shoes of his late father to portray the iconic role of New Jersey mobster Tony Soprano in The Many Saints of Newark.
When Michael Gandolfini was a young boy, he had his own stash of toys on the set of The Sopranos, and on occasion, would take naps on Tony and Carmela's bed.
So, it's especially serendipitous that he is now stepping into the shoes of the iconic Tony Soprano. A television role that was made famous by his late father, James, the complex character was a brash and ruthless mobster one moment and a tender-hearted father and uncle the next.
The 22-year-old actor, clearly a rising star, was born while they were filming the first season of the groundbreaking series that was honored with 21 prime-time Emmy Awards during its six seasons (1999-2007) on HBO.
The series, which was considered way ahead of its time, is filled with cynical, dark humor, well-drawn characters and great drama. The show demonstrates universal themes of family and good and evil.
In addition, the appeal is broadening now that a new generation is devouring it on HBO, bringing even more admirers to its global fan base.
Gandolfini recalls that he would come to the set to see his father while he filmed "funny, goofy scenes, but he would never let me see scenes that were really violent. To me, Tony Soprano was some chubby guy walking down a street, getting the paper," he explains during our recent interview.
Ironically, Gandolfini had never watched any episodes of the series before he was invited by The Sopranos creator David Chase to audition for the role of the teenage Anthony Soprano in the new crime drama, The Many Saints of Newark.
After James became the star of The Sopranos, his son became curious about his dad's work. "My dad and I were driving, and I was like, 'What's The Sopranos about?' And he replied, 'Oh, it's about this mob guy who goes into therapy.' But I was 11, and the show was [already] over."
But once Gandolfini decided to pursue the role for the prequel film, he tackled the research with great gusto. "I'd watch it the first time through, and then I would go back to my house and rewatch it," he explains.
"I think there's a lot of different layers to the character and a lot of specific mannerisms. There is just a plethora of ticks. I have 86 hours of literal therapy sessions into the character's mind. I think Tony's a very physical character in the way that he moves and looks at someone," the actor explains.
"So, physically it was a very important thing. I wanted his slouch. I wanted Tony to feel like the weight of the world is on his back. I worked on his breathing a lot; that iconic breathing that my dad had," he says. "And I worked on how he would always touch his face. I knew that I wouldn't have to worry about manifesting Tony Soprano emotionally as long as I could capture his accent and his physicality."
To work on the memorable Jersey accent, Gandolfini spent time with respected dialect coach Kohli Calhoun, who has previously worked with actors on Grey's Anatomy, The Walking Dead, Billions, and True Detective. "I started listening to it 24/7, and we really worked on the nasality, because I wanted it to be even more nasal than it was in the show because he's younger. We worked on it every day."
Taking on the iconic role of Tony Soprano was huge for the younger Gandolfini, whose father, James, died of a heart attack at age 51 in June 2013.
But Gandolfini says he never saw the challenge of the role, which felt terrifying at the outset, as following in his father's larger-than-life footsteps.
The movie is a family crime drama—involving the backstory of many names and faces we recognize from the HBO series, including Livia Soprano, Uncle Junior, Silvio and Paulie "Walnuts."
At the heart of the film is the story of Tony's uncle, Dickie Moltisanti (the last name means "many saints" in Italian), who is played by Alessandro Nivola and takes young Tony under his wing, trying to keep him out of trouble. But instead, the boy is drawn to his uncle's glamorous-looking life—complete with a nightclub and other criminal enterprises.
"My dad raised me just like any other dad, so I had never met Tony Soprano before I started watching the show and auditioning. But when I got to the set, I started spending so much time with Alessandro and we really began developing this world and these characters," Gandolfini says.
He continues, "All I wanted to do was be able to show up and do my job as best as I could. Know my lines, have ideas, help my fellow actors as best as I could. Checking in with David [Chase] to ask, 'Am I doing my job?' That's really what was in the center of my mind.
"Growing up I didn't really have any insight into Tony Soprano in any way, shape, or form," he explains. "Luckily, I played Tony and not my dad, and that was the distinction in my head; that I was not playing my dad. I think if I let myself go to those places, it would have opened a door to becoming so overwhelmed by his legacy, the fans and making the shows' original cast members proud."
Figuring out the paradoxes of Tony Soprano was part of Gandolfini's job in Many Saints. "While doing my research I would say to people, 'Look at Tony Soprano—that guy's the worst. He's super mean; he kills people. He's a serial cheater and he's not a great dad. He's a sociopath.' And I would say that to people and they got offended. They were like, 'He's a great man! He's loyal and loving.'"
Not only Tony, but other beloved characters like Tony's mother, Livia, and Uncle Junior resulted in a visceral reaction from the fans hearing there was going to be a prequel with the origin story.
"Most of the time when you talk prequels or sequels everyone just goes, 'Oh no! Don't do that!' We really didn't get any of that with this," Gandolfini recalls. "People are just so supportive; it's such a special thing. I feel truly honored to be a part of it, and for David to allow all of us to be a part of it."
The young actor also saw that the young Tony was not yet the man he would become. "I started to fall in love with the fact that he's different. This is not the Tony that people saw. He's sensitive, curious and very open to things that everyone else is closed off to."
Gandolfini says he pursued every avenue to get in shape for this iconic role. What was of monumental help in getting Gandolfini into character was spending six months with co-star Nivola. The pivotal character's influence over his nephew helped make the impressionable teenager into the all-powerful mob boss.
Nivola and Gandolfini often shared meals and watched movies recommended by Chase; just getting to know each other. "We watched Dirty Harry," Gandolfini recalls, "because of a reference in the movie that Uncle Dickie makes."
According to Chase, all of this hard work paid off. "It's actually kind of eerie," Chase says. "I noticed during the read-through when he didn't have a line, Michael had his arms on the table and was looking around. Michael started to do this thing with his shoulder and I thought, 'That's Jim.' It was incredible."
Nivola wholeheartedly agrees. "The talent and the drive of the father were evident in the son," he says. "Michael has certain things that just remind you of his dad that are both thrilling and heartbreaking. You just look in his eyes and see his dad."
While learning from the older actors in Many Saints, Gandolfini also had the opportunity to serve as a mentor to 14-year-old William Ludwig, who plays Tony Soprano as a young boy.
"I learned a lot from Michael, because the second I booked the role he reached out to help me understand who Tony is as a character," Ludwig recalls. "He helped me adopt his mannerisms, the way he talks and how he acts. And he helped me understand the innocence of Tony."
Ludwig says he took this iconic role to heart and appreciated his mentor. "I know it's really important to a lot of people, so I wanted to make sure that everything was set and correct. I wanted to do right by The Sopranos fans. I also wanted to make Michael proud."
There is a myriad of recognizable characters in the movie. In addition, the state of New Jersey itself is like another character, as it was on the television series.
The movie takes place in one of the most tumultuous eras in Newark's history—a time when young Anthony Soprano was becoming a man just as rival gangsters begin to rise up and challenge the all-powerful DiMeo crime family's hold over the race-torn city.
Gandolfini grew up in North Jersey and Manhattan but said he never had the true sense of "Jersey pride," or ownership of The Garden State—until recently.
"Ever since I finished the movie, I know it sounds so cheesy, but when I drive under the tunnel," he says, "I feel so proud to be going into Jersey and to be part of this thing that is so important to so many."
He said at the heart of all of this is family. "In many ways, my family is a lot; I'm half Italian and my mom is Polish and Russian. There are aspects of The Sopranos; those familial sorts of arguments, the food and the drama that my family has. So, to be a part of something that means so much to the people of New Jersey and the entire Sopranos fan base, there's just such a love for all of it."
Before Many Saints, Gandolfini had small roles in the movie Ocean's 8 and TV's The Deuce, so this was a major acting challenge and monumental career opportunity.
When asked how the role has changed him, he replies, "I'd say it changed me the most by being able to walk away becoming a better actor. Getting to work with Alessandro, David and the incredible cast—Jon Bernthal, Leslie Odom Jr., Corey Stoll and Vera Farmiga—was such a gift for a young actor."
And the most important lesson? "That listening is a really important thing for an actor. And when you go to acting school and acting class, you don't really get what that means.
"I remember, I think on the second day of [a particular] scene, it just really clicked. Like all I have to do is look at Alessandro and he'll take me along with him," Gandolfini recalls. "And that has remained one of the greatest acting gifts I've ever had, so I believe I've walked away knowing how to do my job correctly."
So, did Gandolfini keep any treasures from the set? He smiles and replies, "I kept my letterman football jacket, and I wear the necklace that my dad wore as Tony—I also wore it in the movie."
Shortly before the release of Many Saints, Chase signed a five-year first-look deal with HBO that opened the door to expanding The Sopranos universe. For the first time in 14 years, HBO released new original Sopranos' content, and Chase's new agreement means he will develop more movies and shows for HBO, HBO Max and Warner Bros. Pictures.
Chase, considered to be a truly gifted storyteller, recently revealed that he may be more open to the idea of expanding The Sopranos story than he was previously. Chase has said he would consider a sequel to The Many Saints of Newark, following Tony's journey into his 20s.
How does Gandolfini feel about expanding Many Saints in the future?
"It's David's characters and his world," he replies with a smile. "If there's something more, another two hours to talk about something new with Tony, then yeah, I'd be crazy not to join in. As long as Dickie comes back in dream sequences. I love working with David Chase and everyone else. Why not?"
Click here to subscribe to the free digital editions of South Jersey Magazine
To read the digital edition of South Jersey Magazine, click here.
Published and copyrighted in South Jersey Magazine, Volume 18, Issue 8 (November 2021)
For more info on South Jersey Magazine, click here.
To subscribe to South Jersey Magazine, click here.
To advertise in South Jersey Magazine, click here.