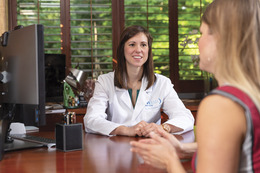 Where Life Begins
At RMA Marlton, Dr. Emily Osman and Hayley Rapp work tirelessly to achieve positive results for South Jersey residents who struggle with infertility issues.
No other feeling quite compares to the one that comes from holding a newborn baby for the first time. The feeling is even more special for anyone who has had to overcome infertility issues in order to experience that precious moment.
Emily K. Osman, M.D., and Hayley Rapp, DNP, WHNP-BC, would know. As key members of the clinical team at RMA New Jersey's 41,600-square-foot facility in Marlton—Dr. Osman as a reproductive endocrinologist and infertility specialist, and Rapp as a nurse practitioner—both women have devoted their lives and careers to helping patients become parents.
"There's nothing in the world like having a child," Dr. Osman says. "In the same breath, there's nothing quite like the frustration and disappointment that comes from thinking that might not be possible. As a mother and as a clinician, I'm grateful for the opportunity to help other women build their families."
Rapp agrees, adding that she considers helping patients get pregnant her "greatest joy."
"I love being present during ultrasounds and pointing things out to curious patients," she adds. "To share a scan with a parent seeing their baby for the first time, to be there when they see the heartbeat, that's one of the happiest moments you can share with someone."
Since RMA Marlton opened its doors in April 2019, both women have helped hundreds, if not thousands, of individuals and families reach an elusive goal: bringing new life into the world. And they say their work has only just begun.
Happily Ever After
Few people have a keener understanding of the challenges that stem from an infertility diagnosis better than Dr. Osman. After all, she and her husband endured some of the same struggles when trying to conceive their second child. Naturally, they turned to RMA Network for help.
"We had our first child without any trouble, but we experienced some difficulties when we tried to have our second," she says. "Only after going through an IVF (in vitro fertilization) cycle and preimplantation genetic testing were we able to get where we needed to be. Through that experience, I gained a deeper appreciation for what some patients have to go through in order to build a family."
Dr. Osman and her husband welcomed the arrival of their second child, a girl, in the summer of 2020.
Such personal experience adds another dimension to Dr. Osman's education and clinical training. She completed her residency training in obstetrics and gynecology at the Medical University of South Carolina, where she became an administrative chief resident. She joined RMA as a second-year fellow through the Jefferson-RMA Fellowship Program, a program designed to hone the skills of next-generation reproductive endocrinologists.
In addition to working directly with patients, Dr. Osman contributes to RMA's culture of groundbreaking research, with an interest in areas such as embryo vitrification (freezing), the optimization of IVF laboratory techniques to enhance clinical outcomes, and fertility preservation. She has been deeply involved in a research project investigating revolutionary methods of embryo cryopreservation—specifically, whether the use of super-cooled liquid nitrogen in embryo vitrification may lead to higher survival rates—which she says has shown promising results in clinical trials.
Dr. Osman has accumulated a number of awards and accomplishments throughout her career, including the Coastal Fertility Specialists Award for Outstanding Care and Compassion for Women Seeking Pregnancy (2017), The Lawrence L. Hester Award for Outstanding Academic Achievement in Knowledge, Teaching, and Research (2017), and the Medical University of South Carolina Medical Student Educator Award for Obstetrics & Gynecology (2014). She has also authored and contributed to numerous scientific papers in peer-reviewed journals.
While she appreciates the awards and accolades, she says helping RMA patients brings her the most satisfaction. She enjoys listening to people's stories and then utilizing every resource to help them achieve their "happily ever after."
"If someone is having difficulties conceiving or wants to preserve their fertility options for the future, I always say it's never too early to contact us," she says. "Whether someone is looking to have a healthy pregnancy now or wants a future 'insurance policy' through cryopreservation, we offer both options here in Marlton. Our goal is to listen to each person's story and then address it as the individual situation that it is."
'Better Positioned Than Ever'
Dr. Osman and Rapp work primarily out of RMA's center in Marlton, which is one of 10 fertility clinics that comprise RMA New Jersey, including the organization's flagship location in Basking Ridge. It's also a part of the IVI-RMA Network, a global organization whose reach extends across the Delaware Valley, the United States and Europe, providing patients with a comprehensive lineup of treatment options, including a world-class IVF program.
Earlier this year, the Marlton center opened its embryology and andrology laboratory and on-site ambulatory surgery center. As a result, patients who live in South Jersey and surrounding areas can stay close to home to offer all aspects of reproductive surgery and address every other need related to their infertility issues. In addition to IVF cycles, egg retrievals and embryo transfers, the lab enables RMA Marlton to provide preimplantation genetic testing of blastocysts—embryos aged five to six days after fertilization—to test embryos for specific genetic disorders, as well as screening to ensure the embryo has the correct number of chromosomes. The center also has the capability to perform male-related procedures, such as sperm retrieval for use in IVF treatment.
Jason M. Franasiak, M.D., FACOG, HCLD/ALD, a reproductive endocrinologist who serves as the lead physician and laboratory director at RMA Marlton, says the facility was designed to offer "every aspect of care" in a seamless, state-of-the-art environment. Dr. Franasiak suggests the demand for personalized and innovative fertility care has only increased since the early days of the pandemic.
"What does that tell us?" he says. "It tells us that no matter what's happening in the world around us, people will always want to build a family; it's an innate desire that all of us share. We're going to ensure that our patients can build a family safely and securely, delivering success rates that are at or above the national average. A safe pregnancy has always been our No. 1 priority, and it always will be."
Led by Drs. Osman, Franasiak, and nurse practitioner Rapp, the team at RMA Marlton is excited about what the future holds, in regard to the center's ongoing growth as well as in its ability to help local families start or add to their families.
"We want to continue to grow and help families in and around southern New Jersey," Dr. Osman says. "We have been busy with patients all year, and we feel so fortunate to be able to help people overcome their issues with infertility. Our goal has always been to provide patients with the resources they need to experience the joy that comes from growing a family, and we're better positioned than ever to make that happen."
RMA Marlton
95 Old Marlton Pike, Evesham
(856) 267-8100