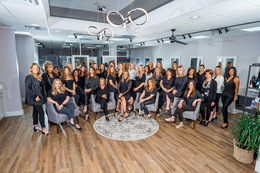 'It Takes a Village'
The team at Artistre Salon & Spa endeavors to ensure that every client leaves looking their best—and returns feeling like they're part of the family. 
Alicia Conenna knows how powerful a good support network can be. After all, her own has rallied around her for decades, cheering her on and helping out as she chased her dreams across decades, from styling her friends' hair since she was 14 to launching her own business, Artistre Salon & Spa.
Conenna recalls how her single mother "did everything she could" to ensure Conenna attended cosmetology school and her "very, very encouraging" husband helped get Artistre up and running, and she is quick to credit the growing staff she wholeheartedly refers to as family for making it a success. Conenna's gratitude for her nearest and dearest is palpable when she speaks of how the Mount Laurel salon—and her career—came to fruition with their help.
"I didn't do it on my own," she says. "We've been through so much as a team, and we've conquered so much as a team. We've grown so much that we expanded into a new location after about six and a half year, going from a 1,000-square-foot salon to a 3,000-square-foot one."
The services offered at Artistre reflect the team's range of talents and what clients want. In addition to haircuts, styling, coloring, extensions and hair repair, the salon offers a variety of nail services, hair removal options and even facial-hair grooming. Its spa menu includes classic and modern facials, skin care, body treatments and massages. The salon and spa approaches every service with the utmost professionalism and the artistry its name reflects, welcoming every client into the supportive, nonjudgmental space that Conenna has always endeavored to create.
Creating an environment that prioritizes being a safe space for clients and employees alike was a significant motivator driving Conenna to branch out on her own after about 10 years as a working stylist.
And she is beyond proud of how well Artistre lives up to that goal.
"I knew I always wanted a salon of my own because I wanted to create my own culture and vibe, and that's exactly what we did with Artistre," Conenna notes. "It allows people to feel the comfort of their own personal space when they come in."
Developing an authentic atmosphere of trust not only guaranteed Artistre's success but also allowed it to evolve over the years.
"My clients have had my back since Day 1," says Conenna. "That allows for a lot of flexibility because they trust us and our integrity. They know that if we're trying something new, it's always for the better."
That culture of respect goes well beyond the salon's walls and into the community. Conenna, a graduate of Rancocas Valley High School, hasn't forgotten her roots and how "the extraordinary teachers" supported her as a student. Artistre recently established the Beauty Within cosmetology scholarship at the school, one of the many ways it strives to spread the love and support.
"We're very involved in the community," she confirms. "We are doing non-stop donations to local charities. We recently started picking clients of the month and are making donations in their names to charities that support abused women."
Like every other business, Artistre changed how it both interacted with the community and tended to clients' needs throughout COVID's ebbs and flows, still always putting people first. "We implemented every little thing we could just to be safe," Conenna says. "We're at 50% capacity and wearing masks because we want our clients to feel safe and comfortable in the salon."
But Artistre is already well-acquainted with taking care of its own, which is a sentiment that starts with Conenna herself.
"It takes a village," she says. "I can't say enough good things about my employees. I do believe that every team needs a leader, but my stylists, my spa employees—they don't work for me, I work for them. And I just want to do whatever I can to create the best space for them."
And that village is here for everyone who walks through Artistre's doors.
"We pride ourselves on making that client feel like they're part of our family and that this is a peaceful place for them," Conenna explains. "We don't care if they come in in their Sunday best or their Sunday football casual-wear or they're coming from the gym. We don't care about their social status: The client who can afford to come in once a year deserves the same respect and care as the client who can come in multiple times a year."
Because to Conenna, everyone who walks through Artistre's doors deserves nothing less than the best.
"It's rewarding when people want to be a part of what we love and what we're doing," she says. "We want them to be part of the culture we have at Artistre. This is a very competitive industry: There's a lot of good hairstylist out there, so we feel very lucky when people choose us."
Artistre Salon & Spa
3131 Route 38, Mount Laurel
(609) 845-3161
Artistre-Salon.com