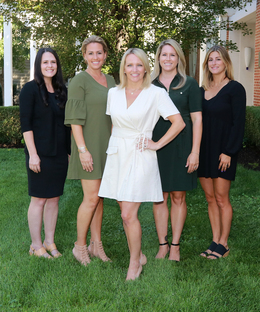 Remarkable Realtors
For the past 16 years, realtor extraordinaire Erin Lewandowski has been providing first-rate service to the area. Now, with the addition of four elite sales associates, The Erin Lewandowski Team is ready to meet and exceed all of South Jersey's real estate needs. 
Born and raised in Merchantville, Erin Lewandowski has always loved South Jersey. It is no wonder that after receiving her real estate license in 2005, she honed her skills helping the buyers and sellers of that area. At that time, real estate did not have the social media platforms it does now. Recalls Lewandowski, "It took a lot of dedication. It was early mornings and late nights of pounding the pavement, conversing with neighbors and establishing a presence in the community."
Lewandowski's dedication quickly began to pay off and her client base expanded into all of South Jersey, including Burlington, Camden, Gloucester and Salem counties and services for many Shore town clients as well. Her reputation for being personable, reliable and resourceful helped lead to numerous client referrals as well as repeat business. Through the years, Lewandowski has represented many reputable developers, adding both new construction and restoration projects into her résumé. Additionally, she maintains great vendor relationships, which are paramount in being a full-service salesperson.
Working with Berkshire Hathaway HomeServices Fox & Roach for her entire real estate career has been a dream partnership, says Lewandowski. "Fox & Roach is highly regarded with a long history in real estate. Their values and goals align with mine and match up with how I want to represent myself to current and future clients."
In 2020, while in the midst of the pandemic, many real estate agencies temporarily closed as the number of available properties lessened. Undeterred, Lewandowski chose this time to create an adept team, consisting of four additional sales associates, and the group quickly got to work. "We started with Zoom conferencing and virtual tours, which really helped to drive the buyer and seller markets. It has actually made things much easier for our clients as we can carry the entire transaction, if need be, and streamline everything in any which way possible."
The dynamic all-female team began with the addition of Megan Mignano, a former client of Lewandowski's. "Initially, Megan took on an administrative role. She quickly understood the business and had quite a knack for it. I suggested she get her real estate license, which she did, and since then her career has taken off like lightning. She not only continues to lend to the administrative role but she is actively involved in assisting our clients in the 55-and-over community. Megan is extremely detail-oriented, quick and responsive. Our clients have found her to be extremely resourceful as she leaves no stone unturned."
Lewandowski says JoAnn Poehls "brings vast experience in sales to the team. She also has ties to Atlantic County, where she is originally from. JoAnn has incredible intuition and can read people very well. She specializes in educating first-time homebuyers and is an excellent communicator."
Sales associate Lauren Napoli is a "stellar networker who builds very strong, lasting relationships with our clients," raves Lewandowski. "Lauren is determined to meet her clients' expectations. She is very hard-working and has actually owned a lot of properties in several towns throughout South Jersey. She is constantly in the know because she keeps in contact with a lot of these communities and the people who live there."
Maura Rosato "was a small business owner in Collingswood for a decade and has many connections to people there as well as in the Oaklyn and Haddon Township areas. She has lived in Camden County her entire life, which allows her to be able to circle back and reach out to the people there and work in all different price ranges. Maura is really passionate and connects easily with people. She works well with clients who are new to real estate as well as seasoned buyers and sellers."
Lewandowski, who is also a certified relocation specialist, describes her team as a "well-oiled machine. Everybody brings something unique to the table. We work so well together because we see each other as a family. While we may have our own clients and areas that we service, we are always there to assist one another, which greatly benefits our clients."
Last year the team was awarded with the NJ Circle of Excellence Sales Award-gold level. This year, they were recognized for being a top real estate producer. Lewandowski says she is honored and proud to lead her associates and "continue to educate and watch them grow." Lewandowski even created a real estate toolbox for her team of "how to successfully secure listings, get them under contract and sell at asking price, or above, in a short amount of time. We also offer creative options for our buyers when crafting an offer to secure the property that they want."
Their commitment to quality and consistency is unmatched. From first-time renters and buyers to real estate veterans, quaint properties to sprawling estates, small businesses to large commercial spaces, The Erin Lewandowski Team is ready and able to meet and exceed the needs of their clients.
The Erin Lewandowski Team
Berkshire Hathaway Fox & Roach Realtors
123 Chester Ave., Moorestown
(856) 234-0011