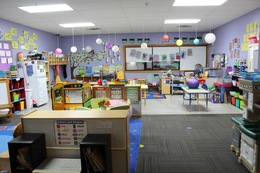 A True Family Feel
Since 2007, local parents have been trusting Future Scholars Early Learning Center to provide enjoyable and educational care for their children.
Pre-K graduation is always a bittersweet day for Jennifer Tenner and the rest of the staff at Future Scholars Early Learning Center. On the one hand, it brings them great joy to see their 4- and 5-year-old students dressed to the nines in their caps and gowns, overflowing with confidence as they head off to kindergarten. On the other, the teachers have a difficult time moving on from each class, and can only hope the children will return in the future for afterschool care or summer camps
"We're always a mess during the ceremony," Tenner says. "It's really hard watching them leave and it becomes emotional. We're already talking about this year's pre-K because so many of the students have been here since the infant room in this particular class, and it's going to be heart-wrenching to see them graduate."
That kind of dedication may be rare at other preschools or daycares, but it has formed the foundation at family-owned Future Scholars since it was established in 2007. Originally founded by Tenner's in-laws, she and her husband Kris were part of the team from the onset and took over ownership five years ago when his parents retired.
Choosing the right preschool for your child is one of the most important decisions a parent faces, and the Tenners certainly understand the awesome responsibility they bear in caring for these kids and getting their educational journeys started on the right foot. That is why they have always strived to create a safe environment that feels like home, and they see everyone at Future Scholars, from the teachers and staff down to the students, as family members.
"When children are spending that many hours in someone's care, the parents want to feel like they're leaving them with someone they can trust and someone they enjoy spending time with," Tenner says. "So it has been important from the beginning to make sure it feels like an extended family and the kids enjoy their time here. A lot of them are crying on the way out rather than the way in, because they're not ready to leave. It shows that they're having fun while they're here. We try to be creative and offer a more family-oriented experience so it doesn't just feel like dropping them off at daycare."
Of course, education is also emphasized along with fun. Future Scholars participates in a program called Grow New Jersey Kids, which aims to raise the quality of early learning above licensing standards. The center utilizes the Creative Curriculum, which aligns with the curriculum in the area's public schools, allowing for a smooth transition.
"Our goal is to challenge the children and allow them to learn through play but still focus on the cognitive skills that they need going into kindergarten and beyond," Tenner says. "It's really important for them to be able to play and get hands-on social and emotional skills as well."
Future Scholars has nine classrooms, starting as young as six weeks in the infant room, continuing with toddler groups, preschool, pre-K and full-day kindergarten, and going up to 13-year-olds for before- and afterschool care, with busing provided to and from Hainesport Elementary School. The center only closes for a few major holidays and is open from 6:30 a.m. to 6:30 p.m., and those extended hours are a godsend for busy local families.
"We're not a corporate franchise so we're able to think outside the box when it comes to different things we offer the families as well as the staff," Tenner says. "We offer them flexibility, which is huge. The before-and-after program also helps out a lot on those school closings and early dismissal days that often pop up on the calendar and parents will forget about."
The fun continues year-round with birthday parties and summer camps, and children love the field trips offered during the warmer months to places like the Philadelphia Zoo, the Franklin Institute and Funplex
It is no wonder that Future Scholars sees multiple generations from the same family return to take advantage of everything the center has to offer. All three of the Tenners' children have been part of the community as students themselves, and their oldest daughter Alyssa is now a teacher at the center.
"A lot of people will bring their younger children here after their older children had a great experience, and they also recommend us for their nieces and nephews," Tenner says. "That proves to us that they're happy with what we offer and nothing could be a better compliment. We're thrilled to keep providing that family feel."
Future Scholars Early Learning Center
1351 Route 38 W., Building B, Suite 1, Hainesport
(609) 518-1333