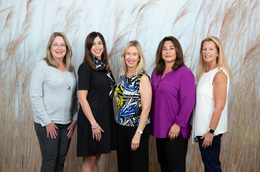 Women's Health Care at Any Age
With a recent move into a new location and the addition of Dr. Rachael Fisher to the team, Advocare Center for Specialized Gynecology has strengthened its focus on providing safe, comfortable health care throughout women's lives.
Throughout the course of their lives, women's health care needs change, especially as it pertains to their reproductive health. From adolescents figuring out changes in their body to mature women experiencing menopause, Advocare Center for Specialized Gynecology provides a continuum of care, including routine exams and contraception management, as well as treatment for more serious conditions such as cancers and other diseases, under one roof.
Finding a provider that focuses specifically on gynecology, as opposed to the joint OB/GYN, is rare, and even more unique is one that specializes in pediatric and adolescent gynecology.
This relatively new sub-specialty of gynecology requires extensive training for proper evaluation and treatment of these age groups. Only a limited number of physicians have this expertise, one of whom is Susan Kaufman, DO, FACOG, who has been training others in this field for years. As a provider at Advocare Center for Specialized Gynecology (ACSG), she brings her experience to our own backyard. "It has been my honor to care for people throughout their lifespan, from children to adulthood. We strive to create a welcoming, safe environment for all our patients. We believe in listening to people and working cooperatively to achieve health and wellness," she says.
Along with fellow providers Jodi A. Benett, DO, FACOOG; Helen Gorlitsky, MD, FACOG; and Faith Tiver-Foran, NP, the newest addition to the team is Rachael Fisher, DO, MPH, FACOG.
Dr. Fisher (nee Polis) is board certified by the American Board of Obstetrics and Gynecology (ABOG), a Fellow in the American College of Obstetricians and Gynecologists (ACOG) and has been recognized by ABOG with a Focused Practice Designation in Pediatric and Adolescent Gynecology.
"I was excited to join Dr. Kaufman and have the opportunity to work with another colleague with a similar background. That was central in making my decision to come here," she says.
Dr. Fisher always imagined she would be a pediatrician, but as she completed her rotations as a medical student, she found herself drawn to OB/GYN. It was her exposure to the pediatric and adolescent gynecology subspecialty that merged her interests into working with younger patients. "At the time of my fellowship, there were only about 10 programs, and now there are more [fellowships] emerging that focus on the gynecological needs of pediatric and adolescent patients," she says.
Many in the general population are not even aware of this specialty, she continues, and the fact that conditions can present differently in this age group than their adult counterparts.
"It's a unique role to bridge the gap between pediatrics and adult gynecology. It's helpful to have another provider in addition to a pediatrician to help fill in the gaps, especially when it comes to reproductive health care," says Dr. Fisher.
First and foremost at ACSG is making patients comfortable. After all, this is a population that may not know how to articulate changes in their body or know what's normal. Among the biggest misconceptions she finds herself clearing up is when to first visit the gynecologist and what that entails. "Some people think they don't need to see the gynecologist until they are 18 or until sexually active, but ACOG recommends the first visit between the ages of 13 and 15," she says.
Patients can often be nervous because of rumors they've heard and are worried about an exam, however, Dr. Fisher reassures them that an exam isn't needed most of the time unless there is a medical indication. "Patients don't need their first PAP until 21. … One of the things that brings me fulfillment is putting patients at ease. Then I get to build a rapport over time, and watch them become more comfortable coming into the office," she says.
Parents can play a role in patients' awareness about their bodies. "It starts from an early age by using correct names to describe their genital anatomy and not slang terms. We encourage parents to start talking to kids before they notice pubertal changes and we can recommend some books to help. When girls do get their period, we recommend tracking it on an app or calendar so when they do come to see a provider they have a record of how often they are getting it and how many days it lasts," Dr. Fisher says.
Educating adolescents is an important part of Dr. Fisher's relationship with patients. Topics such as the HPV vaccine Gardasil, contraception—which is often used for regulating periods—relationship abuse, internet safety and pre-college health visits, are among some of the sensitive areas she covers with patients in a comfortable and confidential environment. "It's important for adolescents to have some confidential time and it allows them to take ownership of their own health and participate in their care," she says.
Fellow physician, Dr. Benett, says Dr. Fisher is helping to usher in a new standard in care at ACSG. "With our beautiful new office and Dr. Fisher joining our team, we hope to improve comfort and the overall vision for women's health," she says.
Advocare Center for Specialized Gynecology
Staffordshire Professional Complex
1307 White Horse Road
Suite A100
Voorhees
(856) 424-8091
AdvocareSpecializedGynecology.com