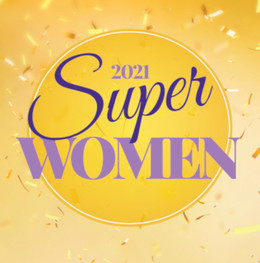 Super Women
Meet some of the ladies who are making South Jersey a better place thanks to their selfless efforts and passion for giving back to the community in various ways.
If the pandemic has taught us anything, it's the importance of lending a helping hand to those around us, and that gestures both large and small can go a long way toward impacting our community. For these local ladies, standing up for what they believe in, assisting people in need and trying to lift up others just seems to come naturally. And while they may not have gotten involved in giving back for recognition, they are certainly worthy of it.
WOMAN OF THE YEAR
JUDY GREENBERG
It's no surprise that Greenberg believes in giving back considering she was born into a family that recognized the importance of public service. Her late mother was a Holocaust survivor who rose to prominence as a state legislator and championed causes of social justice, while her father was a college professor and one of the founders of the NAACP in the family's native North Carolina. After her career in publishing and marketing, and raising two children—who along with her husband, she cites as her greatest source of pride and joy—the now South Jersey resident immersed herself in the local community. She spent time as PTA president at both Central School and Haddonfield Memorial High School, and then continued her advocacy as vice chair and then chair of the Haddonfield Municipal Alliance, a community-based organization dedicated to raising awareness and preventing underage alcohol and drug abuse. Eventually her path led to becoming involved with Impact100 South Jersey, a women's collective giving group that seeks to donate hundreds of thousands of dollars a year through high-impact grants to worthwhile nonprofits in the area. After becoming a charter member in 2017, in the years that followed she also served and co-chaired the Education Grants Review committee and was appointed president of the organization in 2019. In the past three years, Impact100 South Jersey has awarded more than $620,000 to organizations across the region. Greenberg says the women involved in the group are collectively changing the world for the better and understand that to drive change, their efforts must encompass both empathy and action. "The passionate and inspiring women of Impact100 South Jersey are all changemakers," she says. "Each and every one of them moves our community forward, and works in partnership to raise up local nonprofits to even greater success."
EILEEN DILLON
Dillon first became involved with Gilda's Club South Jersey—a nonprofit named in honor of the late comedic actress Gilda Radner and focused on providing emotional and social support to cancer patients—in 2010 when she joined its board of directors. In 2018, she became further involved after joining the staff as development director and last year she took over the reins as CEO. As the organization marks its 20th anniversary, it will now be known as the Cancer Support Community New Jersey at Gilda's Club (CSCNJ at Gilda's Club). With locations in Linwood, the AtlantiCare Cancer Care Institute in Egg Harbor Township and Inspira Health's cancer centers in both Vineland and Mullica Hill, CSCNJ at Gilda's Club offers an array of educational and support services to participants at no cost. And as CEO, Dillon is leading the charge to expand the group's services beyond the eight southern counties and into other parts of the state. After running her own business for two decades, Dillon says she finds the work she's currently doing to be extremely rewarding, whether it be at the grass roots or executive level, and she also lends herself to various other charitable organizations.
JANICE WARDLE
Wardle touches many lives in many different ways. For the past 15 years, she's been an assistant professor and chair of sports management at Wilmington University. A little closer to home, many would recognize her from her time spent as head track coach for Glassboro Parks and Recreation and as president of the South Jersey Track & Field Alliance. And she's further engrained into the local community thanks to her work as president of Continental Societies Inc.'s South Jersey chapter. The organization's mission is "to create environments within our communities that empower children to have access to quality and appropriate opportunities to reach their optimal potential." The local chapter has served thousands of children in South Jersey in several ways, whether helping secure college scholarships, participating in the African American Read-In, sponsoring kids for summer camp, exposing youth to the performing arts or promoting various health and wellness initiatives. This past June, Wardle was named a board member for the Boys & Girls Clubs of Gloucester County and she is also a member of Delta Sigma Theta Sorority Inc., South Jersey Alumnae Chapter.
SUZANNE GHEE
Ghee is an award-winning community health leader with more than two decades of experience in the health care sector and in nonprofit work. Two years ago, she created her own business Thrive with the goal of bringing her social impact talents to companies looking to make a lasting impact in the communities and with the people they serve. Known for her creative approach in addressing the social determinants of health, Ghee spends a great deal of her time in the service of others. Prior to starting Thrive, Ghee led Virtua's Community Health division, activating many groundbreaking programs in healthy food access, medical transportation and housing. She also serves as chairwoman to the Cherry Hill Free Clinic, a nonprofit primary care center that provides free care to the uninsured. The married mother of two daughters is also passionate about addressing food insecurity in our region and has served on the board to the Food Bank of South Jersey since 2017, currently as its chair of philanthropy.
MARLA MEYERS
Meyers has been the executive director of Samost Jewish Family & Children's Services (JCFS) of Southern New Jersey since 2013 and under her leadership the organization has grown to new heights. Thanks to her efforts, JCFS has grown its counseling program, offered new supportive services for seniors and veterans, created programming for the LGBTQ+ community and several teen outreach programs addressing addiction and suicide awareness/prevention. In the midst of the pandemic, she oversaw the opening of special needs housing at Weinberg Commons, where 19 individuals with developmental disabilities are living in a safe and structured environment that fosters independence while also providing opportunities for socialization, recreation and engagement. She also oversaw the purchase, renovation and opening of the agency's brand-new Rhona Fischer Family Assistance Building & Betsy & Peter Fischer Food Pantry in Cherry Hill. Guided by the Jewish principle of tikkun olam (repairing the world), Meyers believes that each person has an important role to play in the evolving story of our community. She currently serves on the Camden County Addiction Awareness Task Force as well as on the board of directors for the Girl Scouts of Central & Southern New Jersey.
CHARLOTTE "CHICKIE" HOLCOMBE
Holcombe is the president and CEO of the Moorestown Visiting Nurses Association (VNA) and during her 37-year tenure she has developed and expanded a variety of home-based clinical programs, including cancer care at home, palliative care, mental health care, IV therapy, cardiac telemonitoring and private duty. What's more, she launched The Hospice of Moorestown VNA; established The Community Counseling Center of Moorestown VNA; created and developed Camp Firefly for bereaved children; and started South Jersey's only LGBTI grief support group. She has also championed Moorestown VNA's annual holiday giving tree and Thanksgiving food basket drive and during the pandemic she has been a calming force for the many nurses, therapists, aides, medical social workers and counselors working to meet the complex needs of home-bound individuals in Burlington, Camden and Gloucester counties. Holcombe has also served as a member of the boards of several organizations, such as the Home Care Association of New Jersey and The United Way of Burlington County. She is co-chair of the American Heart Association Walk in Burlington County and on the Health Issues Committee of the Chamber of Commerce Southern New Jersey.
SONYA HARRIS
If Harris can impart one prevailing lesson to children, it's how to turn "I can't!" into
"I did it!" It's a drive that the lifelong South Jersey resident channeled into her 25 years as a special education teacher, and one that she's harnessed to spearhead the award-winning Bullock Children's Garden at the Dorothy L. Bullock Elementary School in Glassboro since 2015. Combining her natural talents as an educator with her passion for gardening has changed the lives of countless children and their families, providing fresh, organic produce to the local low-income community while helping diminish the impact of the food desert in which the school is located. The children's garden also provides a hands-on education that extends far beyond the traditional four walls of a classroom, empowering young gardeners to grow their own food, understand the value of agriculture and share what they've learned with their families to grow healthy produce at home. Of course, there's no such thing as a former educator, and Harris even shows her fellow teachers how fun and easy it is to incorporate garden-based education in their own curricula.
KIMBERLY BORGMANN-HAYES & JENNIFER KAMINSKI
Speech pathologist Borgmann-Hayes and special education teacher Kaminski were horrified by CDC reports reflecting that the number of young people dying of suicide jumped 56% between 2007 and 2017, outpacing any other age demographic. So in 2019, the Mount Laurel residents and educators started testing an idea for a safe space that offered area teens and young adults a place to connect while learning about the importance of connection, empathy and resilience. After taking into account those early days' feedback, Borgmann-Hayes and Kaminski launched the nonprofit Mind Café amidst the pandemic, first as a virtual meeting place and then as its intended in-person model—an important milestone, as Mind Café was always meant to be a more emotionally fulfilling alternative to a world driven by technological communication that doesn't always foster a warm, personal connection. With the two co-facilitators now joined by a growing team, Mind Café has found incredible success with weekly evening gatherings where teens and young adults can make new friends, learn mindfulness tools and share their thoughts in a friendly, inclusive environment that helps them feel seen, heard and supported.
NATALIE FORTUNATO
Both Fortunato and her husband, Rev. Joseph Fortunato, know what it's like to struggle to make ends meet. Natalie's former husband left her to care for a 10-month-old alone, and Joe was a widower with an 18-month-old. Groceries and meals delivered from neighbors helped get them through, and that experience inspired the formation of the South Jersey Dream Center, a 501(c)(3) nonprofit organization modeled after the Los Angeles Dream Center, in 2010. What began as a food pantry run out of their church, Faith Fellowship Ministries, the South Jersey Dream Center receives and distributes over 120,000 pounds of donated food, personal hygiene products, baby items, clothing and household items, serving over 10,000 low-income and struggling families in Gloucester and Camden counties. Assistance was more than doubled during the height of the pandemic, including three distribution events at a local elementary school for over 150 students and their families. The organization is in the process of leasing a 28,000-square-foot retail space where low-income individuals and families can "shop" for free. To further its mission of breaking the cycle of poverty, SJDC also offers life and professional development workshops and faith-based classes.
SHELJA TOURI, SHERRY GOLDEN LEE, NICOLE LUCAS & CORIELL VOKOUN
It takes a village to be a powerful force for good but it starts with leaders who see the urgency of taking action. So when Touri, Golden Lee, Lucas and Vokoun decided to do something about the overwhelmingly hateful backlash to Black Lives Matter sentiments they witnessed and thwarted attempts at addressing a void of inclusive education in Burlington County, they rallied some like-minded diversity allies and advocates to be the change they wanted to see by creating the Diversity & Equal Opportunity Network, or DEON. Since its introduction last year, DEON has continually provided a platform for marginalized students and communities to discuss their experiences and concerns while working closely with other social justice groups in the region. By partnering with local schools, as well as speaking at regional town council and school board meetings, they also aim to provide long-overdue education that highlights how the history of Black people, indigenous people and people of color is inherently part of American history's rich tapestry of experiences. The goal, they all agree, is to meet ignorance with information and cruelty with kindness.
SPRING WILLIAMS
To anyone who knew her, Williams was the picture of health. In addition to her career as an eighth-grade science teacher in Moorestown, she also taught fitness classes locally. In 2019, when Williams was diagnosed with breast cancer, she leaned on her health and wellness experience to get through treatment, and realized she couldn't have done it without her community's support and encouragement. She was compelled to pay it forward and collaborated with others to create Inspiring Life Together during quarantine in 2020. The organization strives to provide the same practical items and services that Williams received to those currently battling the disease, including treatment baskets, toiletry and grocery gift cards, house cleaning, tutoring, holiday gift cards and even milestone gifts as women complete phases of treatment. Williams believes in building relationships with each client and has a goal to welcome one new client and her family every month and provide complete support "during their journey through the hardest time of their life." Now that COVID mandates have been lifted, the organization is excited to be able to deliver care packages to breast cancer care centers, which include inspirational books and notes, as well as coloring and activity books for the whole family.
MARY JEAN STRONG & JENNA RICULFY
If you ask these two teachers, there are three "seeds" that families can plant to grow lifelong learners: reading to your child starting at birth, limiting screen time and encouraging conversation. Access to books, reading books and talking about books have been proven to make a difference in a child's reading development and the mission of The Magic Seed Project is to provide tools and resources to promote literacy. Strong, who has taught at several districts in South Jersey and is currently pursuing a doctorate in educational psychology, and Riculfy, who has been an educator in the Lindenwold School District for 14 years, founded the organization in 2019, along with Strong's husband Scott, also an educator. One of their biggest undertakings is delivering book bundles to Virtua Hospital, containing books and an informational brochure inviting families to sign up for a monthly e-newsletter full of tips and strategies parents can do with their children to enhance literacy development. The organization holds an annual pickleball tournament, the most recent of which raised over $5,000 to put toward new book bundles. As mothers themselves, Strong and Riculfy have passed on their love of reading to their own children, and Riculfy will be self-publishing her first children's book by the end of the year.
Click here to subscribe to the free digital editions of South Jersey Magazine
To read the digital edition of South Jersey Magazine, click here.
Published and copyrighted in South Jersey Magazine, Volume 18, Issue 7 (October 2021)
For more info on South Jersey Magazine, click here.
To subscribe to South Jersey Magazine, click here.
To advertise in South Jersey Magazine, click here.