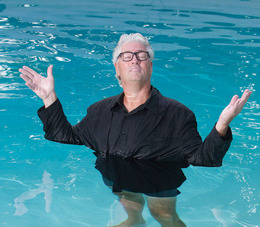 A Big Loss
Friends and colleagues offer their tributes to the man who left a lasting impact on their lives.
I have known Big Daddy Graham since 1997. It didn't take too long for the two of us to become the best of friends finding that we both loved music, movies, books, comedy and sports. I was immediately in awe of his talent and incredible work ethic. He was a renaissance man. His WIP overnight talk show was the best of its kind…ever. He was a fantastic stand-up comic who was so humble, you probably didn't know he worked with or opened for the likes of Ray Charles, Smokey Robinson, Dennis Miller and Rodney Dangerfield (the actual list far exceeds this). And let's not forget that he was a critically acclaimed song writer, actor and playwright. Quite frankly, there was nothing in the entertainment field he could not do. But his greatest gift was that he was the best friend anyone could have. And I miss him every day.
--Mike Romano, friend and listener
The 1974 "Energy Crisis" found myself and Laddy Graham (Graham, his radio school name and Laddy, because he was 22 days my junior) transporting a vehicle from Philly to Fort Lauderdale with a gas rationing exemption card.
Gas lines affected us but not rationing.
Then, in Georgia, an attendant refused.
Laddy wouldn't have it. I saw arms a-flailing in the rearview mirror as he towered over the attendant. Suddenly, gas flowed into the car.
I said, "Friend of yours?"
Authoritatively he said, "I told him we were government carriers and if he didn't want this place closed while we went through his records, THEN HE'D BETTER FILL 'ER UP!
I screamed, "Nice move, Laddy."
He screamed, "That's no Laddy move. That's a Daddy move!"
I screamed, "That's no Daddy move, that's a Big Daddy move!"
And so Big Daddy Graham was born.
-- Spins Nitely, friend
I met Ed Gudonis at a West Catholic High School freshman football team practice in 1967 at 49th and Chestnut streets. He got stuck practicing against a guy that went onto becoming an All-City Defensive lineman, who smashed his head in everyday while centering the ball. And that is when I got attracted to the guy with his bell rung, yet always telling jokes and having this gift for humor. For the past 54 years—Ed to me, Big Daddy to his Philly sports fans—had this passionate need to make you laugh. We could be personal and sensitive to each other's life circumstances … good times, bad times, ups/downs, heavy or light discussions of family, friends and work. And he could not leave your presence without a joke. As you belly laughed, you could see the joy in his eyes, the pure pleasure he got from his observation of your moment to smile. Most times I was close enough to his altruistic connection to fun to know it wasn't his eyes that projected his mission to make you laugh, it was coming directly from his heart. That big Lithuanian heart. Man I'm gonna miss the heart!
--Jimmy Nestor, high school friend
Big Daddy Graham was an extraordinary talent and an even better friend. His first goal in life—other than being a devoted family man—was to make people smile. All of his jokes onstage, on the radio and among friends were designed to make lives a little bit better that day. And he did it all with a style like no one else. He never said hello or goodbye when he called, he often sent recycled holiday cards with the original sender's name crossed out and his written in, and he occasionally even sent a one of his gas or electricity bills to an unsuspecting friend—with no explanation, of course. The final years of his joyful life were grueling ones, but he handled adversity with the kind of grace and humor that only the strongest people can achieve. If you were lucky enough to cross paths with this Philadelphia icon during his 68 years on this Earth, congratulations. You met a man like no one who ever existed, or ever will.
--Angelo Cataldi, 94 WIP
Big Daddy Graham was already a legend when I started comedy. And I only started doing comedy after he "discovered" me. Back in the mid-1980s they didn't have "open mic" nights. There was always something similar—call it "talent night" or "amateur hour" etc. BDG grabbed me after one of these shows and told me I could do this professionally. It meant a lot because he was huge. He was on the radio all the time on WMMR singing his song parodies.
We became friends. He championed me as he did so many other young comics and he "showed us the way." He always showed us the way. He was kind of the unofficial leader of the Philly comics. He led by example, he was a workhorse.
He would always dispense advice. "Hey, how much are you getting for that gig?" I'd say, "I did two shows, he gave me $50 a show." "You could've told me you were getting $100 a show! I wouldn't have known. I'd think you were getting paid $100 a show! That's how you get your money up." He told me to always lie about the attendance. "By the way, if anyone ever asked how that show went, tell them it was sold out." "How was the show? SOLD OUT!" I didn't have to lie about the shows we did together. SOLD OUT. Miss him dearly.
--Joe Conklin, 94 WIP
After Eddie could no longer work overnights, Ray Didinger and I made him a part of our weekend shows, asking him call in with a list and a few jokes. We'd open the segment playing his theme song ("Who's that man? It's Big Daddy Graham.") I know he enjoyed hearing the song. And I know our listeners enjoyed the opportunity to hear his voice.
But let's be honest about one thing: He probably had the worst voice in the history of radio. Nasal, raspy, with an accent somewhere out of Southwest Philly. Still, it was endearing. And everybody—I mean everybody—could do a decent impersonation of Big Daddy Graham.
His quirkiness came out in the legendary stories that he told again and again. Hiding atop the toilets in the Palestra men's room as a kid to avoid paying for Big 5 tickets. Driving naked—I think it was to the Flyers parade. Most of the stories started with the same opener: "Hey, dig this …" Who else in the world still says "dig this?"
Big Daddy had a lot of tough breaks in his life, battling and beating throat cancer a few years back, and then sustaining the spinal injury in 2019 when he was walking on the beach with Deb.
The best break he caught was certainly convincing Deb to marry him. That was always the case, and made abundantly clear as she heroically helped him through the last two years. Eddie cherished her, as well as their two daughters, Ava and Keely, their sons-in-law and their two grandkids. I know how proud he was that Ava is on WIP, because he boasted about it every time we talked, always adding, "But why don't they pay her more?" My heart goes out to all of them.
I'll miss my friend in so many ways, as will all of the people who knew him personally, or anyone who just had the privilege of hearing him on air. He was special in so many ways. There is no one else on Earth like Big Daddy Graham.
--Glen Macnow, 94 WIP
I once told Big Daddy he was the Last Great American Storyteller. He laughed but I was serious. Big Daddy's overnight show on WIP reminded me of Jean Shepherd, a writer and humorist who was popular in the '60s. He had a show that aired on Sunday nights and my parents tuned in every week.
Shepherd would tell stories about growing up in Chicago, going to his senior prom, getting his first car, things anyone could relate to. I became a huge fan but that kind of long form story telling went out of fashion. Big Daddy brought it back when he began doing overnights at WIP.
He talked about going to Catholic school, playing ball on the Southwest Philly sandlots, working as a door man at a Center City hotel and traveling the country doing stand-up comedy. He shared so many wonderful stories that his listeners—people driving home from work or just listening at the kitchen table—felt like they knew him. He was that friend who got them through the night.
Big Daddy knew many things—sports, music, movies—but most of all, he knew people. He knew what made them tick and he knew what made them laugh. He was the guy we all wanted to hang out with. He left us laughing, just like always.
--Ray Didinger, NFL Hall of Fame writer
Big Daddy was Philadelphia through and through and one of the rocks that 94 WIP was built on. For those of us who are lucky enough to have a radio career in our hometown, it is more than just a job to talk Philly sports with our listeners. It's a passion. And he had that passion for the teams and all things Philly. He was a strong voice of the Philadelphia fan.
--Howard Eskin, 94 WIP
Big Daddy truly was a unique, larger-than-life character. I had the pleasure of guest hosting his one-man play four years ago. It was an exceptional performance. The next day, I received this text: "Rob it's Big Daddy—thank you so much for coming out last night—you did a terrific job—if there's anything I can ever do for you."
It was typical Big Daddy—warm, appreciative, generous.
--Rob Maaddi, Associated Press NFL Writer
Click here to subscribe to the free digital editions of South Jersey Magazine
To read the digital edition of South Jersey Magazine, click here.
Published and copyrighted in South Jersey Magazine, Volume 18, Issue 7 (October 2021)
For more info on South Jersey Magazine, click here.
To subscribe to South Jersey Magazine, click here.
To advertise in South Jersey Magazine, click here.