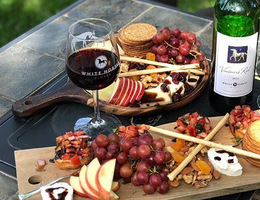 A Grape Escape
Whether you're unfamiliar with New Jersey wines or are looking for a new favorite spot, we've rounded up some of the area's most notable South Jersey wineries for you to check out this fall.
New Jersey's known for a lot of things: its cranberries and its coastline, tomatoes and traffic, blueberries and Bruce. But wine?
The Garden State's winemaking history is a surprisingly long and enduring one, dating back to the Colonial Era and even maintaining a foothold throughout Prohibition. It's also one influenced by personal histories, thanks to farmers, immigrants and other long-ago residents determined to defy popular opinion that the classic European grapes would never grow right in this soil and climate—and if they did, there were no winemakers skilled enough to produce the quality wines those grapes were destined for.
According to the New Jersey Department of Agriculture, a number of factors have made the present an exciting chapter in the story of wine in the Garden State: more wine producers are establishing themselves all the time, many of the state's wines have achieved both national and internal acclaim, and more than 40 grape varieties are grown in the very soil naysayers once sneered at.
Right here in South Jersey, there's a smattering of wineries boasting some award-wining vino, impressive histories and forward-thinking philosophies that'll take our blossoming winery scene into the future. Whether you're looking for a uniquely local outdoor activity or want to explore the area's winemaking powerhouses, we've got a list of must-visit vineyards to get you started.
Amalthea Cellars Farm Winery, Atco
Since 1976, Amalthea has upheld the philosophy of founder Louis Caracciolo, armed with both a childhood spent in his grandfather's wine cellar and a food science degree from Pratt Institute, who believed winemaking is an art. They age their grapes in barrels for chocolate, coffee, vanilla, cinnamon and other bold flavors to yield their dry reds, whites and off-dry wines.
What You Should Try: At the 2019 U.S. Wine Awards, Amalthea's 2015 Reserve Merlot earned a whopping 96 points (of 100) and took home a Platinum Medal. A 2015 cabernet sauvignon snagged the gold, the 2016 Europa V earned both a Gold Medal and Cellar Selection. Its 2015 Legend's Edition Europa I, a Bordeaux-style blend, was only one of nine wines to earn a top-scoring 97 from the Beverage Tasting Institute.
For Groups: The winery does not accommodate events like birthdays and showers. Seating is on a first-come, first-served basis for small groups, though groups of six or more can make reservations for a sommelier-led tasting experience. Tastings are done as flights of five or six white, red or off-dry wines.
Why You Should Visit: Amalthea, so named for the moon of Jupiter, is the only winery in the state producing wine from Rayon d'Or, a white hybrid grape developed in France in the early 20th century.
Blue Cork Winery & Vineyard, Williamstown
Owners Michelle and Angelo Tantaros bring their Italian and Greek backgrounds to one of the area's newer wineries. Michelle learned to care for plants by watching her gardener mother and landscaper father nurture thriving greenery; Angelo grew up on a farm and vineyard in Greece, where he got a hands-on education in the tradition of winemaking, cultivation and harvesting.
What You Should Try: It doesn't need to be a sweltering summer day to sip on Blue Cork's wine slushies, like its mango-pineapple mix and the eminently popular frosé. You can also grab a glass of sangria on-site or get a growler to bring home. Its wine club grants you access to exclusive incentives, all kinds of discounts and freebies, and membership levels based on your preference for red, white or mixed wines.
For Groups: COVID safety measures are currently in place. Well-behaved children are welcome, though pets are not. Groups of eight people or more, as well as any party, must make reservations and arrangements ahead of time.
Why You Should Visit: As the days get shorter and chillier, cozying up to a roaring fire grows all the more appealing—and you can reserve one of Blue Cork's fire pits for groups up to 16, as long as your plans don't coincide with the weekends' fall fire pit series.
Coda Rossa Winery, Franklinville
Coda Rossa's owners Kathy and Kenton Nice make light of how their business began, saying that Kenton had no choice but to level-up his winemaking hobby to support Kathy's affinity for the spirit. While the pandemic closed their Wine Room of Cherry Hill, which offered curious visitors the chance to participate in the process for more than 15 years, Coda Rossa's tasting room is open Fridays through Sundays.
What You Should Try: Here, you'll also find dry reds from California, Chile and South Africa. Be sure to grab a bottle of its Tukulu, where the smoky, earthy tastes of pinotage are blended with cabernet and syrah to form a full-bodied red wine with intense berry flavors.
For Groups: The winery can host everything from low-key, intimate gatherings to more festive parties.
Why You Should Visit: The natural beauty of the property augments the experience which is evident whether you're strolling through the grapevines, taking a tractor tour of the grounds or watching a sunset from the outdoor patio.
Renault Winery Resort, Egg Harbor City
According to Marketing Manager Elise Baker, Renault is the second-oldest continuously operating winery in the country. And after 156 years, it's summited some pretty awesome milestones, like being able to call its sparkling wine champagne—a distinction it shares with only a handful of wineries in the United States, thanks to the grapes founder Louis Renault planted from his Champagne-region hometown.
What You Should Try: Obviously, start with the champagnes, including the semi-sweet blueberry one. The signature reds and whites are crowd-pleasing standards, and those who want something a little more daring can go for the sangria or cocktails made with local flourishes.
For Groups: From tastings to tours, experiences to events, there is something for everyone at Renault—including your four-legged friends. The open-air village hosts Dueling Pianos on the weekends, local bands in its Champagne Patio Garden and includes a full-service bar and dining area.
Why You Should Visit: Come for the wine; stay for the golf, dining menu, rich history and French-inspired hotel, Château Renault. The massive property has been completely revitalized in the past two years.
Sharrott Winery, Blue Anchor
An apple orchard once stood where Sharrott now does, so it's no wonder the winery utilizes its fertile six acres of cultivated land to make not only classic grape wines but also fruit wines from blueberries, cranberries and peaches. The Camden County winery has been serving up those spirits since 2008, and its sprawling property—which includes a tasting room and wine bar—is powered entirely by solar energy.
What You Should Try: Not sure if you prefer reds or whites, dry or sweet? The experts at Sharrott are more than happy and exceedingly prepared to help you find your next favorite. No matter what you try, pair your tasting with a cheese plate for a satisfying sensory experience.
For Groups: Sharrott is diligent about following CDC guidelines and committed to providing a safe environment for everyone. Outside food, tents, umbrellas, chairs, tables or party decorations are not allowed. Groups of eight or fewer are always welcome; bigger gatherings necessitate a reservation.
Why You Should Visit: Sure, you can join Sharrott's wine club and get hand-picked dry, sweet or red wines delivered to your door four times a year, but you get the full beauty of the Blue Anchor property if you attend its wine bar Sunday brunches.
Tomasello Winery and Tasting Rooms, multiple locations
Sparkling wines, moscatos and hard ciders are among Tomasello's unique offerings that go beyond more traditional wines. Operating since 1933—it was one of the first 100 wineries in the country to snatch up a post-Prohibition license—and with 10 locations throughout the state, time and geography have helped spread the word about this third-generation Garden State staple.
What You Should Try: Tomasello has a number of Gold Award wines to its name, like the 2014 Palmaris Petit Verdot Reserve, 2014 Palmaris Outer Coastal Plain Merlot, 2015 Outer Coastal Plain Sangiovese and 2013 Outer Coastal Plain Blaufrankish, which were big winners at the Tastings World Wine Championships.
For Groups: COVID safety procedures are in place, though those who want the full tasting experience but aren't quite comfortable in group settings just yet can enjoy the virtual wine-tasting kit (a social-distancing kit is available for in-person guests). A staff of expert "Winetenders" is also on-site to lead both indoor and outdoor wine tastings.
Why You Should Visit: There's always something going on at its tasting rooms, from hands-on, kid-friendly arts and crafts to live music to restaurant-themed events.
Valenzano Winery, Shamong
Since 1996, this Pine Barrens favorite has been producing an array of wines, many of which have won double gold medals at competitions like the Indy International Wine Competition, Finger Lakes International Wine Competition and the NJ Governor's Cup. Twenty years after its first commercial batch of wine, Valenzano made history by winning the Governor's Cup Wine Award twice in a row for the same varietal.
What You Should Try: Local favorites Shamong Red and White Sangria got a new twist with the introduction of Valenzano Fizz, which reimagines the sweet red made from Concord grapes and the fruity white's crisp pear taste with a carbonated twist.
For Groups: Valenzano has been a popular wedding destination for years but it's equally adept at hosting smaller private parties. If your nearest and dearest are artistically inclined, Valenzano offers evenings of arts and crafts.
Why You Should Visit: The winery unveiled a new casual dining experience when it opened its Bari Wine Pub, so named for the Italian city where the Valenzano family's roots are. The renovated space allows for socially distanced dining while guests dig into fresh Italian fare expertly paired with a glass—or a flight—of wine.
White Horse Winery, Hammonton
Here you'll find whites, reds and rosés, whose bold flavors match the spirit—and label, which was created by world-renowned local artist Jamie Wyeth—of White Horse Winery. The winery's 58 bucolic acres include a uniquely appointed tasting room, outdoor deck, courtyard and grove, and is home to a winemaking method that combines the best of old- and new-world approaches.
What You Should Try: Its wine club—an expertly chosen assortment of four premium wines is delivered to you three times a year to complement the season. The membership program also offers discounts, exclusive invitations, barrel tastings and more. But if you really want a recommendation, ask the on-site experts for a personalized suggestion.
For Groups: Reservations are recommended for groups of six or more people, and White Horse is happy to host special events of all kinds. The Farmhouse, its six-room guest house, is temporarily closed, but will offer both luxurious rooms and a trip back in time upon its reopening.
Why You Should Visit: With a dedicated event manager on staff and a determination to be not just a winery but a destination, White Horse's event calendar is chock-full of happy hours, live music, trivia nights and wine-appreciation offerings of all kinds.
William Heritage Winery and Tasting Rooms, Haddonfield/Mullica Hill
For six generations, the Heritage family has farmed the same land in Mullica Hill since 1853; today, the 150 acres that once grew apples and peaches have been reclaimed for vineyards. Proprietors William and Penni Heritage have shared their love of wine cultivation and making with their two sons, Richard and Erik, who have embraced their … well, heritage of both agricultural and viticulture with tradition and modern innovation.
What You Should Try: In 2020, Wine Enthusiast Magazine recognized four standout Heritage wines: the 2017 William Heritage Blanc De Blancs, 2017 William Heritage Burn Pile Chambourcin, 2019 William Heritage Pet Nat Rosé and 2019 William Heritage Estate Reserve Chardonnay.
For Groups: Walk-ins are welcome but online reservations are recommended, especially on Saturdays. There's both indoor seating for up to four people per table, as well as outdoor seating. No balloons, outside food or pets are allowed at the winery, and guests younger than 21 are not allowed in seating areas.
Why You Should Visit: The Haddonfield tasting room brings the Gloucester County vineyard's vintages to one of the most happening Main Streets in Camden County, where the entirety of the winery's critically acclaimed wines are available for purchase.
Click here to subscribe to the free digital editions of South Jersey Magazine
To read the digital edition of South Jersey Magazine, click here.
Published and copyrighted in South Jersey Magazine, Volume 18, Issue 7 (October 2021)
For more info on South Jersey Magazine, click here.
To subscribe to South Jersey Magazine, click here.
To advertise in South Jersey Magazine, click here.