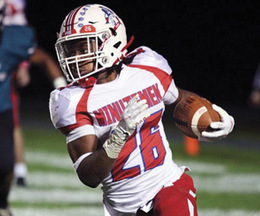 Their Time to Shine
These eight varsity athletes have been difference-makers on and off the field this fall.
Ryleigh Heck, Eastern field hockey
A senior forward, Heck is once again among New Jersey's top scorers after leading the state in goals as a sophomore and junior. She became just the seventh player in the nation to ever reach 200 career goals earlier this season and was approaching 300 when the playoffs started. She was hoping to hit that milestone while leading Eastern to a state championship.
SJM: You have had an unforgettable career at Eastern. Has it sunk it that it's almost over?
RH: It's a little scary that I'm a senior because it came so fast. I'm excited that I'm the most experienced on the team, but at the same time it's a little sad that I'll never get to play [for Eastern] again. I'm trying to get the last bit of memories.
SJM: Since there were no state championships or Tournament of Champions last year because of the pandemic, are you even more excited than normal for the playoffs this season?
RH: Yeah, definitely. Our whole team is excited to have a state tournament because we were so bummed out last year to only have sectionals. We're preparing every day and excited for the state tournament.
SJM: How old were you when you started playing field hockey?
RH: I think I was 4 or 5. I really didn't even know what the sport at first but I loved playing it.
SJM: I heard that you weren't a dominant scorer like this until high school. Is that true?
RH: I played center mid my whole life and I still play it on every other team but high school. I was never much of a scorer; I passed the ball to the girl who was going to score. I love being a distributor and getting assists but I didn't realize how fun it was to score goals. It's a lot of fun to score a big goal.
SJM: Not many high school players in the country have scored 200 career goals. Was it meaningful to you to get to that number and join a select group, or was it something you never even thought about?
RH: It definitely was on my mind but I tried not to focus too much on it. It's obviously a very honorable accomplishment but I never want to just think about scoring goals. I'd rather think about getting better with my teammates and being successful in big games.
SJM: Do you know Austyn Cuneo at all? Have you thought about your chances of breaking her school record of 328 goals?
RH: I went to a couple of her games when I was younger. I don't know if I could've beaten her record but I definitely think I would have had a better chance if we had a full season last year. But things don't always go your way because of COVID and everything else. I'm still reaching for 300. I don't know if I'll get there but I'm going to try.
SJM: What has it been like having your mom as the new head coach for Eastern this year?
RH: It brings back memories when I was younger because she was my coach all through elementary and middle school. I love having her on the field at practice and everything. She understands Eastern's program and she understands field hockey in general. She's very close with a lot of girls on the team. It's super fun and at the same time she can be hard on us and strict, but she does everything for our team, to make us better in every way.
SJM: Is she easier or tougher than former longtime coach Danyle Heilig?
RH: I would say Heilig is definitely tougher, and she had different coaching strategies than my mom. But my mom is up there with being demanding.
SJM: Your older sister Kara also had a great career at Eastern, although it was cut short by injury. What kind of influence has she had on you?
RH: She was definitely a big role model my freshman year. She was an amazing player and I loved watching her and playing with her. She also loved to yell at me on the field, but I would listen to what she said instead of getting down on myself. I obviously miss playing with her even though it was only for one year. She's at Boston College now. She tore her ACL last year and she's still in recovery but she's practicing now.
SJM: You come from a big family right? Do you like that?
RH: Yes, I have two brothers too and it's fun. There's a lot of stupid fights.
SJM: What made you commit to North Carolina?
RH: It's always been my dream school; I think third grade was the first time I went there. There's a picture of me on the field and I'm about 3 feet tall. I just love the area, I love the environment and the field hockey program. My freshman year when I got a call from the coach, I knew I wanted to go there and I made the decision.
SJM: So you will be playing against your sister in college since North Carolina and Boston College are in the same conference.
RH: Yes. My family is more on my sister's side because they're big BC supporters. They think it's going to be a tough match. They've always loved the Boston area and they visit it all the time.
SJM: Do you know what you want to study in college?
RH: Right now, I'm looking to major in either education or business. Teaching is possibly an option.
SJM: What else do you like to do when you're not playing field hockey?
RH: I love to go to the beach. I love walking my dog; I have a golden retriever and he's the best dog. I also love hanging out with friends and watching Netflix.
SJM: What was the experience like playing for Team USA this past summer?
RH: I was on the indoor national team during the Pan Am Cup, which is a qualifier for the World Cup. We placed first and now we're training for the World Cup in February in Belgium. I'm super excited and a little scared.
SJM: Have you been to Europe before?
RH: Yes. I've been to Finland to play in two tournaments and I also went to England and Germany. It's awesome. I definitely loved England the most so far. The one thing that surprised me was their croissants; they were so good. We went to London and a bunch of other small villages. We saw the Queen of England's house. It was so cool.
Matt Welsey, Shawnee football
Welsey, a senior, became Shawnee's starting quarterback midway through his freshman year and has been one of the top players in the area ever since. He led the Renegades to sectional championships each of his first two seasons and became the program's all-time passing leader earlier this season. The career record for touchdown passes is also in his reach.
SJM: It doesn't seem like that long ago that you were starting as a freshman and helping Shawnee win a sectional title, and here you are a senior. Has it gone by quickly for you?
MW: It feels like yesterday I was sitting there at Clearview watching all the seniors have their big night and winning the championship. It's definitely gone by real fast and I'm trying to take it all in during the last few weeks that I've got.
SJM: Does that game stand out as one of the highlights when you look back at your career?
MW: It definitely is one of my biggest accomplishments. I always look back at it when we're down, like [earlier this season] when we were playing Cherokee and we were down. We were 2-6 that year going into the playoffs and we come out and win the [sectional] championship. It just shows that you can always come back.
SJM: Does this year's team have the potential to go on a playoff run?
MW: I think we definitely do. We have a lot of kids coming back who were injured and we look real good in practice. We have a great offense right now and our defense is starting to click, so I really think we can make a big run.
SJM: Last year was a rare losing one for Shawnee, but it seemed like you were a lot better than your record. You played a lot of close games against tough teams. Do you feel like you've been able to put 2020 behind you with a winning season this year?
MW: We definitely do. Last year we had a great offensive year but obviously the record didn't show that. Like you said, most of our games were within a touchdown and if we make a couple different plays, we probably have a .500 record. We're definitely back on the right track and we're just moving forward and forgetting about last year.
SJM: Have you always played quarterback going back to youth football?
MW: I was mostly quarterback and one year I played running back. I loved running back but quarterback has always been my No. 1 position.
SJM: Quarterback is one of the most important positions in all of sports. What do you love about it?
MW: Just being able to lead and being myself out there. I have full control of what I want to do when I get the ball. It's so fun being out there with my friends, throwing them the ball and having them score touchdowns, and winning football games.
SJM: Who are the QBs you like to watch?
MW: This is probably what everyone says, but Tom Brady just because of how smart he is on the field. He knows where to go with the ball all the time. I also like Patrick Mahomes and Josh Allen because when they're off balance they can still make great throws. It's crazy to watch them.
SJM: You're similar to Josh Allen because you can hurt defenses with your arm and your legs.
MW: It definitely helps when the pocket collapses and I can run and keep the play alive. I see a little of Josh Allen in me.
SJM: Shawnee has had a lot of great players over the years, including former QB Michael Welsh. What did it mean to you to break his school record for career passing yards earlier this season?
MW: I think after the season I'll look back on it and realize how special it was. That night, he was there and he came up to me and said, 'Make history. You deserve this and there's no one else I would rather hand this off to.' It's definitely awesome but it hasn't really set in yet. I just wanted to win that game and get it over with.
SJM: Did you ever see him play?
MW: I did get to see him play and his dad is one of our coaches so I always talk to him. He says I play just like him, so that's pretty cool.
SJM: How is the recruiting process going?
MW: It's going good. I'm still waiting but I'm talking to a lot of different schools like Wagner, Kutztown, New Hampshire, Maine and Fordham. I'm keeping my options open and waiting until after the season to decide. When I got to high school I realized I could [play in college] but I've always dreamt of it. It's going to be awesome when I get there and I can't wait for it.
SJM: What do you want to study in college?
MW: Right now I want to study finance. Everybody loves money so that's my plan. I don't know if it will stay the same once I get to college but we'll see.
SJM: What do you like to do when you have a break from football?
MW: Because of COVID, I started playing golf a lot, like most people. I also like to fish because I live right near a lake. It's mostly golf, lifting and football.
SJM: You're wearing No. 44 this year, an honor given each year to a senior in memory of former Medford youth player Nick Garner, who passed away in 1995. What does that mean to you?
MW: I think I've worn it with pride and having Mr. Garner pick me is an honor. My brother wore it last year and that started to become a goal when I saw that change him into a great man. I'm really glad I got it.
Jo'Nathan Silver, Washington Township football
A senior running back/defensive back, Silver has been a key player for Washington Township since he was a sophomore. This fall he has helped the Minutemen enjoy their most successful season in years and establish themselves once again as a premier program in South Jersey.
SJM: This has been one of the best seasons for Washington Township football in a long time. Did you have a feeling this was the year for the program to bounce back?
JS: We definitely knew because our seniors have had experience with playing. Me, Nah'mere [Graves] and Quamir [Land] have been starting on defense since our sophomore year, so we knew the program well. All of the seniors have come together and we knew this was going to be our year.
SJM: It feels like there's a buzz around town again for the football team. What's it like to be playing in front of packed houses on Friday nights?
JS: It's nice to be able to bring back the love of football in Township for everybody. I was here when people weren't coming to the games and people were calling us bad. It's nice to prove those people wrong and now have them on our side.
SJM: How far do you think this team can go?
JS: A sectional championship is definitely something I think we can achieve. … We want to have home playoff games throughout the postseason, for sure.
SJM: Have you played football since you were young?
JS: I started playing when I was 6 and I've been playing ever since. I started out playing running back and when I was 11 or 12, I played quarterback for a year. When I got to high school I played both quarterback and running back as a freshman, but after that I focused on running back and cornerback on defense.
SJM: Are there running backs you like to watch and model your game after?
JS: Definitely Alvin Kamara, he's my favorite player in the NFL for sure. I also like Saquon Barkley. I wore No. 26 after him my sophomore and junior year. But Alvin Kamara is the guy I try to emulate, even the way he dresses in games and his hair. He's really my idol, to be honest.
SJM: How is the recruiting process going for you?
JS: Right now it's a little quiet with colleges, but I feel like that's just due to them being in season also. I'm still getting messages from the recruiting accounts at schools.
SJM: I know academics are very important to you and you do well in school. Do you know what kind of career you would like to pursue?
JS: I'm actually not sure because I'm still not sure what I like to study. I'm figuring that out and I don't think I'll be figuring it out until I get to college.
SJM: I've heard how you enjoy being a role model for the young fans in town. Why is that important to you?
JS: Me and my teammates were actually just talking about this. When we were kids, we would be in the big room with the high school football guys. Just watching them, we were in awe. They could have been NFL players for all we knew. Now that we're in the same position, it's so nice to look at these kids and know I'm an inspiration to them. Even the kids on the eighth grade team look up to me and treat me like a celebrity. It's so nice to be able to have an impact on these kids.
SJM: What do you like about growing up in Washington Township?
JS: Everyone is nice in my opinion and loves each other. I feel like we come together as a community.
SJM: What are some of your other interests aside from football?
JS: I like to hang out with my friends a lot, I like to play PlayStation and I also like to read books when I get some free time. I feel like everybody needs to read. I mostly read young adult fiction.
SJM: What are your favorite PlayStation games?
JS: I like to play Apex Legends and Rainbow Six Siege. I used to be a 2K guy but not anymore recently.
SJM: Do you have a pregame routine?
JS: Not really. I have some songs that I like to listen to but I like to be more chill before games. I'm never the person to be screaming before games or banging my face against the locker. I listen to chill or mellow music, and then right before game time I'll amp it up a little bit with loud music. But my teammates will tell you I'm not the rah-rah guy.
Rhea Sethi, Lenape girls tennis
Lenape's first singles player since her freshman year, Sethi has put together another strong season this fall as a junior. She made it to the final at both the Burlington County Open and Olympic Conference Tournament and reached the quarterfinals at the South Jersey Interscholastic Championships.
SJM: The tennis season is winding down but are you happy with what you've accomplished in your junior year?
RS: Yes. Our team made it to the [sectional] semifinals. We unfortunately lost but it was a good match. We're definitely looking to get to the finals next year and take sectionals. In terms of my individual season, I did really well at the [Burlington County] Open and I beat a great player, [Shawnee's] Samantha Tepes, someone I've always hung tight with. Our matches are always really close. Then I met [Moorestown Friends'] Bella Pescatore in the final and she's an amazing player. It was a close match. Later in the Olympic Conference Open, I also made it to the final there. I played some great matches leading up to the final and then lost to Samantha. In terms of my regular season, I've been doing pretty well. I had some good wins against Cherry Hill East, Moorestown and Clearview. It's been a really busy season, with a match almost every day, which was really different from the pandemic when we only had two matches a week. It was a bit of an adjustment.
SJM: Is it fun to have those great players in your county and your conference?
RS: Yeah, I feel like it always pushes me to work harder the next season. Even if I don't always get the outcome that I want, I know next year I can always come back and make it a competitive match every time I meet them. Having such great players around me motivates me to get better and put in a lot of hard work during the season and in the offseason.
SJM: The South Jersey Interscholastic Championships is one of the best tournaments around. Were you excited to see it return this year after it was canceled in 2020?
RS: Yes, I always look forward to that tournament. My freshman year was obviously my first time there and I made it into the second round, where I met Moorestown's No. 1 at the time. She was really good and I was nervous as a freshman, so I ended up losing. … Obviously, we didn't have the South Jersey tournament last year but it's a really great environment because you're with so many people who love playing tennis and they're passionate about the sport. It's nice talking to everybody and making friends at that tournament.
SJM: You played in the state singles tournament too this year, right?
RS: Yes. I met a seed in the first round so it wasn't the best draw. She was really good but I hung tight with her. It was a new experience for me because I didn't make it to the tournament as a freshman. It was really good to see what it was like and play at Veterans Park, which was a great experience.
SJM: How did you get into tennis in the first place?
RS: I was probably around 4 or 5 years old. Tennis is something my dad is really passionate about and something we can both connect over. If it weren't for my dad, I definitely wouldn't be where I am today. He has made me passionate about tennis and has really made me want to succeed in tennis and go further than I ever imagined I'd be able to. I remember there were these courts near my old house in Mount Laurel and I remember going there every single day. We would practice, hit some balls, and it was really fun because it was something I could connect with him.
SJM: Do you and your dad still hit together?
RS: Yes. It's different because I'm kicking his butt now. He doesn't admit that though.
SJM: Do you follow the sport?
RS: Yes. We always have the pros on in the background, especially when it's the U.S. Open or any of the majors. I went to the U.S. Open right before school started and we saw Leylah Fernandez. She's such a breakout star and it was amazing to see her and how much she gets into every point.
SJM: If you could pick one of the other Grand Slams to go to, which one would it be?
RS: I'd definitely pick Wimbledon just because of the tradition there. It's always been something I've wanted to experience. I'd love to see Roger [Federer] there because he's my favorite player of all time. I love him so much and me and my dad follow all of his matches. I've never been able to see him but if I could, I would love to see him at Wimbledon if he comes back for a final Grand Slam.
SJM: Have you thought about playing tennis in college?
RS: It's definitely something I'm looking to do. I've been looking at some D-III colleges and keeping my mind open to different colleges.
SJM: Do you know what you want to study in college?
RS: I want to go on the pre-med track so my major would probably be biology or biological studies, something in that area. Tennis has helped me realize how much I love helping others because I also coach and volunteer. I really love working with kids and through some experiences I've had in the medical field, I knew it was something I've always wanted to do. I think I would like to do pediatrics.
SJM: What else do you like to do in your free time?
RS: I'm really involved in DECA at my school, which is a public speaking business club. I compete in a team event for business ethics and we actually did really well last year. We placed fifth in the state and were able to make it to internationals, which was virtual. DECA is always something I've been passionate about. I also like volunteering, going to the gym, cooking and traveling. With my friends, I love exploring everything that South Jersey has to offer. On the weekends we're always looking to go somewhere new, like a restaurant, a farmer's market or an event.
SJM: Have you always lived in Mount Laurel?
RS: We moved to Mount Laurel when I was about 4 or 5 and I've been living here ever since. It's a great place to grow up. It's an amazing community with amazing people and I love how there's always something going on, something to be excited about in the community.
SJM: Do you have a favorite teacher at Lenape?
RS: I would have to say one of my favorite teachers was Mr. [Andre] Lopez. He was my English teacher. I think it was through him that I realized how to find my voice, really think about what I was passionate about and apply that to what I wanted to do in life. He would always foster these amazing discussions and he would always want to hear everyone's opinion. … Even though it was an English class, I learned so much about life and so much about myself because he cares so much about his students and always wants to see everyone succeed.
Christian Ball, Haddonfield boys soccer
A four-year varsity player and an all-conference selection as a sophomore and junior, Ball is on his way to earning that recognition again as a senior. The forward is not only Haddonfield's best offensive threat but also one of the Bulldawgs' emotional leaders and a major reason why they caught fire toward the end of the regular season.
SJM: Is it hard to believe your senior season is winding down?
CB: Definitely. It's insane. Being the younger guy it always felt like you had so much time, and now there are just a few games left.
SJM: Haddonfield has a great boys soccer program with a lot of history. What has it been like to wear that uniform?
CB: It always seems like there's a target on our back. Everybody usually wants to beat us, even when we're not having our best season, especially in the Colonial Conference. There's a lot of pride that goes along with it. You look back at our state championships and sectional championships, and we're just trying to reach that level again. We've fallen short of that but there's still a pride factor.
SJM: Your team had some really big wins toward the end of the regular season, starting with a victory over rival West Deptford. Did that get the season on track?
CB: I think that was definitely our biggest win of the season. They were undefeated and we knew they were ranked high—No. 2 in South Jersey by the Courier-Post. We thought the last time we should have gotten the better of them and we knew we needed to take the opportunity to transform our season from what it had been.
SJM: Do you think this is a team that can make some noise in the playoffs?
CB: I definitely do. We have three guys in a boot right now, all starters, and another starter who is getting minutes but he's kind of on a leash because his leg is acting up. If we can get those guys healthy we have a good shot of making a run.
SJM: Has soccer always been your favorite sport?
CB: Early on, it would fluctuate between seasons. I played basketball, I swam, I was really into baseball. As high school went on, I chose soccer because I really liked it and I also played club. It was all year long so I stuck with it.
SJM: You're not the biggest guy on the field but you don't let that bother you and you always play with passion. Does your size make you work harder to prove yourself?
CB: Definitely. There's always a taller or bigger center back on me, but I'm always going to go as hard as I can with him. Even if I don't win the jump ball I'm still going to go for it. Coach [Ryan] Nixon is always praising me for my toughness. Even when I was a freshman, way smaller than I am now, I would always bang into guys who were bigger than me. That's been my motto throughout high school.
SJM: Do you have a favorite goal you've scored in high school?
CB: Two years ago, I scored a header goal in double overtime against West Deptford for the win. That was pretty huge. It was kind of a scuffle and I just went for it.
SJM: How did you get your nickname, Chich?
CB: When I was younger, my sister couldn't pronounce Christian so she'd call me Chich-ten. So all my family started calling me Chich and it just stuck. Honestly, I never thought I'd be called Chich in high school but now I'm thinking I might be called Chich throughout my life. If I'm called Christian, I know I'm in trouble.
SJM: Have you always lived in Haddonfield?
CB: Yeah, I grew up in the same house I live in now. There's such a homey feel in Haddonfield and a lot of good people. You can leave your car unlocked; it's super safe. A majority of the kids want to learn and are competitive academically, and there's a standard that our sports teams have to live up to or we're letting the town down. I think having high expectations academically and athletically is a good mix.
SJM: Do you know what you're doing next year?
CB: I'm definitely going to college but I'm not sure where. I've applied to a few schools but I'm not playing soccer. I didn't want to play and the opportunities didn't really seem worthwhile to me. I thought I could get into a better school academically and I got burned out a little bit. I love playing for the town and all, but I don't know if [college soccer] is for me.
SJM: Do you like to watch soccer? Do you think you'll play for fun in the future?
CB: Oh yeah, I still love soccer. I wasn't really into European leagues before but now I watch all the time and I love it. I plan to come back to Haddonfield and help Coach Nixon with whatever he needs. I love being around the program and I'd love to help in any way after I graduate.
SJM: Do you know what type of career you'd like to get into?
CB: I'm not sure. I'm thinking about going pre-law because my uncle and grandfather are lawyers. I was going to major in finance and then go to law school, but that's still in the works.
SJM: What else do you like to do aside from soccer?
CB: I'm really into snowboarding and surfing. My family all skies and I snowboard and we take trips every winter. We've gone to Park City, Utah, we've gone to Vermont a few times. I think we're planning a trip to either Vail, Colorado or Big Sky, Montana this year. [For surfing], we usually go to the Outer Banks every year and the waves are a bit better down there. Last summer I surfed every day when we were in the Outer Banks.
Kailyn Roselli, Cherokee girls soccer
In her first season of high school soccer last year, Roselli made a name for herself as one of the most talented goalies in South Jersey, and she has only gotten better this fall as a junior. Approaching 100 saves toward the end of the regular season, she hoped to help Cherokee contend for a sectional championships.
SJM: Earlier this season, you were part of a big upset over Eastern, which was ranked No. 1 in the state at the time and had been on a 26-game winning streak. Did that give you a lot of confidence as a team?
KR: It definitely did. I think it was a defining moment for our entire season. We just need to play like that in every single game, because we've had our letdowns. If we play the way we did [against Eastern], I have full confidence in my team that we can win the entire thing.
SJM: You played very well last year as a sophomore to make a name for yourself. Did you enjoy your first taste of high school soccer?
KR: Yes. My club team was DA [Development Academy] so I couldn't play high school soccer my freshman year. I didn't realize how intense it was until I joined the team. There was already a senior so I didn't think I was going to get a lot of playing time, but that obviously wasn't the case. It's been an amazing experience and I've loved every single second of it. It's so competitive and I put my whole heart out there every single time I play.
SJM: Have you always been a goalie?
KR: I started playing soccer when I was 8 or 9 and I didn't become a goalie until I was 11 or 12. It hasn't been super long. I think to be a goalie you need to be a little nuts, a little crazy. I like the adrenaline and being able to be so aggressive. I wound up being good at it and it just stuck. I like being in control back there and it's such a good part of the game.
SJM: So do you consider yourself a little crazy then?
KR: Yeah, definitely. People think I'm insane sometimes [laughs].
SJM: What are your long-term goals in the sport? Have you started thinking about college yet?
KR: A little bit. I'm an '04 but I'm a junior so I'm behind everybody on my [club] team. This year for showcases is a really big year for me. I'm hoping to commit somewhere good by the end of this year or the beginning of my senior year.
SJM: What kind of qualities are you looking for in a school?
KR: I would like to go D-I and I definitely want to be in a very competitive school. Anywhere that would have what I want to major in and a good education. I'm thinking of studying exercise science to become a physical therapist.
SJM: What are your interests away from soccer?
KR: I'm definitely pretty focused on school. I just got a new Jeep for when I get my license in November and I'm excited about that. I love hanging out with my friends and I like to do that whenever I get a chance.
SJM: Have you always lived in South Jersey?
KR: Yes. I used to live in Magnolia right by Stratford and I used to live in Laurel Springs [before Marlton].
SJM: What do you like about growing up here?
KR: Cherokee High School is super nice compared to the other school I went to. I've made some extremely close friends and the soccer part has been a great time. Overall it's been an amazing experience.
SJM: Who is the girl on the team who can make everyone laugh during a tense practice?
KR: I want to say Abby Kulinski makes me laugh all the time.
SJM: What is an activity you missed doing during the pandemic that you have been able to resume?
KR: I'm definitely glad that school is somewhat back to normal. I honestly really like school; I like seeing everybody there. Soccer games are still getting canceled for my club team because of COVID. I really want that to go back to normal so showcases can resume and I can be seen by colleges.
Ava Cickavage, Moorestown field hockey
A four-year varsity player, this senior midfielder was part of a state championship team as a freshman and was named all-state as a junior. She will continue her career at Wake Forest University.
SJM: What is it like to have your senior field hockey season winding down?
AC: It's a little bit hard to believe. It feels like just yesterday I was a freshman and starting out high school. It's bittersweet.
SJM: Do you have fond memories of your freshman year since you were part of a state championship team?
AC: Yes, we won a state championship and went to the TOC [Tournament of Champions] so we were pretty successful. It was really fun. I got to learn a lot from the girls and I learned how to win just from being part of that atmosphere, because everyone was working hard every day.
SJM: This program is known as one of the best in South Jersey and the state. What has it been like to wear that uniform knowing the expectations?
AC: It's been really special and a lot of fun over the years. I don't really feel a lot of pressure, I just try to play every game the best I can and try my hardest.
SJM: How did you get started in the sport?
AC: I think I started around second or third grade in the rec department on Sundays. Then I joined a club team called Spirit of USA in fifth grade. Throughout the years I've just enjoyed playing, both with Moorestown and Spirit.
SJM: What did you like about Wake Forest and its field hockey program to make you commit there?
AC: I liked that the school has a great academic reputation. It's small and it takes a holistic approach to learning, more of a liberal arts approach. I loved the girls on the team and the coaches. I think they're some of the best coaches around and they're really going to push me, which I love.
SJM: Do you know what you're going to study?
AC: Right now, I'm planning on studying engineering and finance. We'll see how it turns out but that's my plan. Math and science have always been my favorite two subjects so I felt those were the two fields that would best suit me.
SJM: Are you nervous at all about going to school a little far from home?
AC: I don't think I'm that nervous. I know my parents are going to support me no matter what and they'll definitely be at quite a few games next fall. It's just a car ride away, it's not that far. So I'm excited.
SJM: Other than family and friends, what are you going to miss most about South Jersey when you're at school?
AC: Being right between Philly, New York and the Shore is really fun. You have something different to do every single day. I like that high-energy, fast-paced lifestyle in the Northeast and I think I'll miss that the most.
SJM: How do you like to spend your time when you're not playing field hockey?
AC: Well, field hockey definitely takes up a considerable amount of time. When I'm not playing or doing schoolwork I usually just spend time with my family and friends and take advantage of the great location.
SJM: Do you have any favorite Netflix shows?
AC: Right now I'm watching Madam Secretary, which is so good. I'm also a big Gilmore Girls fan and Gossip Girl, the old one. Remixes are always bad and the original is always the best.
Tori Radzinska, Cherry Hill East girls volleyball
A senior outside hitter, Radzinska emerged as Cherry Hill East's best offensive player during her junior season and has continued to shine in her final campaign despite battling back from a foot injury. She and the Cougars had their sights on a deep playoff run.
SJM: Is it strange that your high school career is winding down?
TR: Yeah, it's very weird that I'm a senior this year. We had Senior Day [recently] and it didn't feel real.
SJM: Do you think the team can go on a run in the playoffs?
TR: I think with every practice we get stronger and stronger and it shows during our games. We have a very good chance of going far in the playoffs.
SJM: You're obviously a talented volleyball player, but you also play really hard and you're always diving on the floor. Has that always been your approach to the game?
TR: Volleyball is not just about hitting the ball to a certain spot; it's also going as hard as you can for the ball and focusing on keeping it up. I like to do anything to help the team.
SJM: How did you get interested in volleyball in the first place?
TR: My uncles always played volleyball and they kind of got me into it. They took me to see a family friend play and just being there I saw how much fun the sport is. I went home and I straightaway looked up the closest volleyball club near me, and I found Cherry Hill Volleyball Club. That was seven years ago and I've been with them ever since.
SJM: I understand you suffered a serious injury in the offseason and had to have surgery. What happened?
TR: I had my foot run over by a car and I had to have surgery on the top of my foot to repair the skin. I was out from volleyball from May until basically right before the preseason. When it first happened and they told me how long I was going to be out, I cried for four days straight. I couldn't believe that I couldn't just go play volleyball or hang out with my friends. It made me realize how much I really miss playing when I can't play.
SJM: Was it someone you knew who ran over your foot?
TR: It was myself [laughs]. I pulled into my driveway and I didn't put the car in park at first. I got out and my dad was outside so I was talking to him, then I turned and realized the car was in neutral. It started going really fast down our driveway and the door was open so I couldn't get out of the way. It went into my neighbor's lawn and hit their lamp post, and when it hit their lamp post it stopped on my foot. My dad had to drive off of it so the skin on the top of my foot was ripped to my toes.
SJM: How does it feel now?
TR: At the beginning when I first got back it would hurt almost every day, but it actually hasn't hurt in a while, which I'm very thankful for.
SJM: Is it true you were born in Poland?
TR: Yes. I was born in Poland and when I was around 4 my parents came to America to join my grandparents. We originally went to Philly and then eventually made it over to New Jersey. I don't remember [when I lived in Poland] but I went back when I was 8 and in eighth grade, and then we went back as a family my freshman year. We lived about an hour from Berlin, Germany.
SJM: Do you embrace your culture?
TR: Oh yeah, definitely. I love it. We speak Polish in my house and it's a big part of me.
SJM: Traveling has obviously been difficult during the pandemic but do you hope to visit soon?
TR: I wanted to go back my senior year before I go off to college. Because of COVID, I'm not really sure if that's going to happen.
SJM: What qualities are you looking for in your college search?
TR: I definitely want to play volleyball and I'm still in the recruiting process. I'm a pretty social person so I'm looking for a big school. I'm looking to study criminology so that's important. I don't want to be right in the middle of a city and I don't want to be in the country, so something in the middle.
SJM: Cherry Hill East is well known for its volleyball program. What has it been like to be part of that team?
TR: The coaches are wonderful and you become a family with the players. You do everything together because you're always together, and you end up spending time with each other on the weekends too.
SJM: Which rival teams do you look forward to playing the most?
TR: Definitely PVI [Paul VI], Washington Township, Shawnee, Cherokee. Every game in our division is a hyped game that we get excited for.
SJM: What are your other interests away from volleyball?
TR: I spend a lot of time with friends and family. During the summer I'm always down at the beach. We usually go to Ocean City.
Star Watch 2021
Football
LeQuint Allen, Millville: A senior running back/linebacker, Allen is a key player on both sides of the ball for a team ranked in the top five in the state. He will continue his career at Syracuse.
Brandon Boria, Cherokee: Known as "Bam" because of his fierce running style, this junior running back amassed over 1,300 yards rushing and 17 touchdowns through the first seven games this season and is a major reason the Chiefs have kept on winning despite the graduation of a stellar senior class.
Donovan Leary, Timber Creek: The younger brother of former South Jersey star and current N.C. State quarterback Devin Leary, this senior is making a name for himself. The Illinois commit is among the state leaders in passing yards.
Boys soccer
Jeff Heineman, Kingsway: A four-year starter at center back, this senior is the backbone of one of the best defenses in South Jersey. He helped the Dragons earn a share of the Tri-County Conference Royal Division championship and enter the playoffs as sectional title contenders.
Colin Kenville, Cinnaminson: Whether he's scoring goals himself or setting up his teammates, this senior forward is a major part of the offense for a team that has been ranked in the state for most of the season.
Matt McFadden, Shawnee: After losing several top players to club commitments, there was a little uncertainty surrounding the Renegades coming into the season, but they have remained one of the best teams in South Jersey, and McFadden is a big reason for the success. The senior midfielder is the leading scorer for the Olympic Conference American Division champs.
Girls soccer
Kennedy Garcia, Rancocas Valley: This junior, an all-South Jersey second-teamer in 2020, has taken her game up another notch as an upperclassman. She is the leading goal scorer and third in assists for one of South Jersey's best teams.
Summer Reimet, Ocean City: A senior forward, Reimet broke the school record for career goals earlier this season. Entering the playoffs, she had found the back of the net more than 100 times in her time with the Red Raiders, including 52 this year alone.
Cami Silvestro, Eastern: Silvestro was an all-state third team selection as a junior, and this season she is the leading scorer for a team that has spent time in the No. 1 spot in New Jersey. She is committed to West Point.
Field hockey
Olivia Bent-Cole, Camden Catholic: After receiving all-state first-team recognition as a sophomore, Bent-Cole has continued to dominate this fall and hopes to lead the Irish to the Non-Public A state championship.
Izzy Bianco, Eastern: An all-state selection as a junior, this senior midfielder is known for her passing but can also find the cage on a consistent basis. She will continue her career at Louisville.
Tori Griffiths, Kingsway: A four-year starter, Griffiths went over the 100-goal milestone for her career earlier this fall. The Liberty commit once again led the Dragons to an outstanding regular season.
Girls tennis
Molly Jespersen, Schalick: The Cougars' first singles all four years of her career, Jespersen led Schalick to a sectional final and reached the championship match of the South Jersey Interscholastic Tournament.
Bella Pescatore, Moorestown Friends: Pescatore wrapped up her remarkable four-year career this fall by reaching the final at the South Jersey Interscholastic Tournament for the second time and claiming her first title. She also won the Burlington County Open and led the Foxes to a sectional championship.
Samantha Tepes, Shawnee: The Olympic Conference American Division champion for a second time, this junior helped Shawnee go 17-1 with a sectional title. The Renegades' only loss came in the state semifinals.
Girls volleyball
Bryn Bautista, Washington Township: Still just a sophomore, Bautista has established herself as one of the premier players in South Jersey. A libero during club season, she slides over to outside hitter for high school and dominates at the net.
Mia Moscicki, Shawnee: The Renegades brought back only one starter from last year's sectional championship team, but luckily it was Moscicki. One of the most talented outside hitters in the state, she entered the postseason with over 200 kills and had her team playing outstanding volleyball once again.
Dajah Williams, Williamstown: The leader in kills for a team with state championship aspirations, Williams helped the Braves go undefeated and win the Gloucester County title during the regular season.
Boys cross country
Billy Clewell, Camden Catholic: A former soccer star for the Fighting Irish, Clewell has proven to be an elite runner as well. He was the Olympic Conference champion earlier this fall and also took second at the Camden County Championships.
Kyle Rakitis, Kingsway: A Meet of Champions winner in the mile this past spring, Rakitis has not disappointed in his senior cross country season. He already had Gloucester County and Tri-County Conference titles heading into the postseason and was looking for even bigger accomplishments.
Girls cross country
Nikki Clifford, Cherokee: Clifford, a senior, repeated as the Burlington County champion this fall and also took first at the Olympic Conference Championships. She entered the postseason expecting to be in contention at sectionals, states and the Meet of Champions.
Abigail Waddington, Clearview: This junior claimed first place at the Gloucester County Championships and took third at the Tri-County Conference Showcase, boosting her confidence heading into sectionals.
Gymnastics
Isabella Nelli, Washington Township: Just one of the many talented gymnasts on Washington Township's roster, this former Olympic Conference champion led the Minutemaids to an undefeated regular season this fall.
Click here to subscribe to the free digital editions of South Jersey Magazine
To read the digital edition of South Jersey Magazine, click here.
Published and copyrighted in South Jersey Magazine, Volume 18, Issue 7 (October 2021)
For more info on South Jersey Magazine, click here.
To subscribe to South Jersey Magazine, click here.
To advertise in South Jersey Magazine, click here.