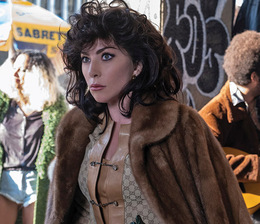 Leading Lady
With her latest star turn in the upcoming movie House of Gucci and her still-thriving music career, Lady Gaga continues to wow audiences as a true original.
When Lady Gaga last graced the big screen in 2018, in the aptly titled A Star is Born, the entertainer known more for her music career at the time proved that she was a force in the film world, as well. Nominated for an Academy Award as Best Actress, she ended up with an Oscar in the category of Best Original Song for the hit "Shallow," and raised expectations for what her next step was going to be in Hollywood.
The answer comes this fall with her latest role in House of Gucci, which is based on the true story of the 1995 murder of Maurizio Gucci, the one-time head of the famed fashion house. Gaga stars as Patrizia Reggiani—who hired a hitman to murder her ex-husband—and leads an all-star cast that includes Adam Driver, Al Pacino and Salma Hayek in the Ridley Scott film.
House of Gucci marks the latest highlight in what has been one of the best periods in Lady Gaga's already impressive career. Both personally and professionally she has progressed, excelled and taken an already creative powder keg forward into an explosive 2021, in the aftermath of the actress, model and singer returning to the limelight last year with her sixth studio album, Chromatica.
The supreme iconoclastic entertainer has long been a pop icon who fused music with a self-styled brand of performance art. There were never any limits or taboos to her outrageous outfits and inspired stage appearances.
That's not to say amidst the albums and acting appearances in the likes of American Horror Story, the 35-year-old Gaga didn't undergo a period of deep personal reflection that saw her open up about the "horrific things" she experienced while working her way up in the music business. Her revelations of sexual abuse made her appearance at the Oscars in 2016 all the more poignant when she delivered the most dramatic moment of perhaps any awards show. Little did she foresee the storm that was to follow in a movie world she was only just stepping foot into.
Lady Gaga, whose real name is Stefani Joanne Angelina Germanotta, is currently working on preparations for a set of live dates, while still enjoying the time to be able to work relatively undisturbed that these latter days of semi-lockdown still provide. Over the course of her career, she has earned a colossal 29 Grammy nominations and collected 11 trophies, the last win coming for the A Star is Born soundtrack and track "I'll Never Fall in Love Again."
Here, she tells us why love is such an important part of her music, how the passing of her beloved aunt has brought her family even closer together and how she intends to change the beauty industry with her new makeup brand.
Q&A
Your last album provided a triumphant return to love—was that intentional?
Love is always a determining emotion in anything I do. We can be nothing without love—it is the truth.
But can love also be deceiving?
Love can be such an overpowering emotion that it can prevent us from seeing that your relationship is not real. It's a struggle to get past the illusions and see what is real. I believe that relationships are very real and very important and we need to focus on that.
Do you think that finding out what's real is becoming harder and harder in today's world?
You have to look at things very hard and not be taken in by false appearances and images and things people do to present a version of themselves, which may not be real.
Do your songs say or reveal more about yourself than ever?
In all my songs I try to be honest and open. But much of the inspiration these days comes in me wanting each song to say something autobiographical about myself. Each song has a personal connection.
You've used your albums in the past to lay tribute to various people.
I guess you're referring to my late Aunt Joanne who passed away a few years ago. It was interesting with her—I grew so much more aware of how losing my Aunt Joanne affected my family. It affected my father deeply and it's been one of the most defining experiences that has made us stronger as a family.
Recognizing how much sadness her premature death caused my family has been my way of discovering how that has shaped us and made us who we are. Even though she's someone who is part of my past, she's helped me become a more authentic woman as I head into the future.
And there are obviously other people before and since. All these people fall into the mix and are there to be praised because they have left such a lasting impression on our lives. They must all be remembered.
Do you feel the responsibility of fame?
I do these days, certainly. I wouldn't say I ever didn't, per se, but when you see how much people worship your every word, it does make it all the more important to make sure what you say has some point to [it].
In fact, what I say mostly is for people to follow their own voice and not listen to mine—or anyone else's for that matter.
You seem more relaxed these days in both your persona and your choices. Would you agree?
Yes, I think that's true. Fame can actually be a very lonely place and that was something I found very confusing in the past. It's not something anyone can prepare you for but it's very real. You are surrounded by press and paparazzi yet still feel desperately alone.
I've accepted this is my life, and when you do that you actually find yourself welcoming in people and opportunities rather than hiding away and refusing them. That's ultimately what happened with A Star is Born and it has been a constant progression through my music over the past decade or so. Branching out into acting was a big step and I'm glad I've done that.
Tell us about your makeup brand. With so much competition out there, what sets Haus Laboratories apart from the rest?
We're not just about the selling of makeup. We want to spread our message to everyone around the world that people need to fall in love with who they are. It's about seeing that reflection that they see looking back at them and really adoring it, because it's who they are.
The idea for makeup is just as I have always used it in my life and career and that's to re-invent yourself, go through some new creations, have experiments with yourself and new styles.
For me, makeup was a huge part in the transformations that I have undergone through my entire life and it's something that I want other people who may be feeling like I did, to know that they can be someone else, too. It truly can be something that can change your life, because it worked for me.
How do you feel about the beauty industry at the moment?
Firstly, I think that there are some rules both unwritten and misconstrued that young girls feel they have to follow and that's something [that], with Haus Laboratories, I want to try and help blow completely out of the water.
Everything seems to be the same with a focus on lips being big, on perfection, on contour. But sometimes, people do need reminding—and not just following those traditional guidelines—that you can still feel beautiful in other ways. You can find the best way for your creative artistry to come out and spread its wings.
Color was mine and that came straight from the heart and also where Lady Gaga came from. It was always in there, but I didn't know at first how to get that out. It didn't happen overnight, and it did take a lot of time for me to get me the way I wanted myself to be.
But that doesn't mean you have to do things the same way as I did, or other famous people and the way they are. It's about being you, unique and inventing your own you and the whole point is exactly that. It's not about following the crowd, looking like your favorite celebrity or even looking like the girls who you are friends with.
What it is about is looking the way that you want, feeling the way that you feel and being the person that you want to be. The whole point about it as well, is not getting things right the first time, because no one ever gets it perfect when they first try it. Have fun and enjoy creating that new you.
So what comes next?
I think with things beginning to become a bit more normal it's a time for all of us to look around us and show compassion and forgiveness. There has been so much heartache and upset and, with freedoms being restored, it would be great if we could all reach out and share in the wonder of what life gives us. That's my next biggest project—it's everyone's, surely.
Click here to subscribe to the free digital editions of South Jersey Magazine
To read the digital edition of South Jersey Magazine, click here.
Published and copyrighted in South Jersey Magazine, Volume 18, Issue 7 (October 2021)
For more info on South Jersey Magazine, click here.
To subscribe to South Jersey Magazine, click here.
To advertise in South Jersey Magazine, click here.