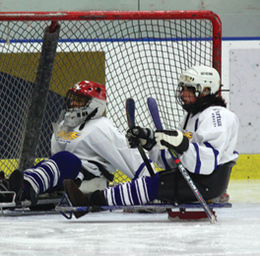 Southern Exposure
Southern Exposure
Icebreaker
On Thursday afternoons at 4:30 p.m., the ice at the Flyers SkateZone in Voorhees is flooded with young skaters, easily coasting around the rink or taking slapshots at the goal. But unlike typical hockey players, these budding athletes have two hockey sticks apiece, and they play a great deal lower to the ground.
This is sled hockey, an adaptation of hockey designed for people with a broad range of physical disabilities, including amputated limbs or conditions such as spina bifida, muscular dystrophy and brittle bone disease. Tom Brake of Blackwood, a longtime hockey coach and referee, started this team, the Virtua Wings of Steel, 11 years ago.
"I thought it was really cool for these disabled kids to be able to play hockey," says Brake. "Most of the kids that are involved would never be able to play an able-bodied sport, especially ice hockey. This gives them an outlet to be able to play, and it gives them camaraderie." Now, 21 kids ages 5 to 21 from across South
Jersey venture to the SkateZone for weekly practices and games; the season runs through February.
Darlene Hemerka, 21, is the Wings' captain. She grew up watching her older sisters play sports but, because she has cerebral palsy, was never able to play herself. "As soon as I found out about this, I went and saw it, and I loved it," says Hemerka, now a political science major at Rutgers-Camden.
Anyone can play, she says—those who can't propel themselves are allowed to be pushed—and things can actually get pretty rough on the ice. "When people first hear of it, they think, 'People with disabilities playing hockey, that's got to be low contact,'" she says. But "we play hard, and people can hit."
Among the club's alumni is Tim Jones, a Mount Ephraim native who is now on the U.S. National Sled Hockey Team and was a gold medalist at the 2010 Paralympic Games. It's proof, says Hemerka, that "you can definitely accomplish big things, with or without a disability." The team will host a golf fundraiser on April 29 at Ramblewood Country Club. For information or a game schedule, visit SJWingsOfSteel.com.
Did You Hear?
"It's time to leave. It's time to give another person an opportunity to experience the wonderful things I've experienced."
—Camden County freeholder Riletta Cream, 84, on her retirement from the board of freeholders after 17 years of service.
Under the Weather
23.2: Inches of snow from Dec. 26 through Jan. 18, per the National Weather Service measuring station in Mount Holly.
5.9: Total snowfall in an average year up to that point.
139,047: Tons of rock salt stockpiled by NJDOT.
$75: Maximum fine for not removing snow or ice from a vehicle.
$1,000: Maximum fine if snow or ice causes damage or injury.
48: Days until spring, as of Feb. 1.
Home Grown
As a former shop teacher and a father of two, Sewell's John Greco took the litany of toy recalls a few years ago as the impetus to start making his own wood­en toys, ones his kids could play with safely. That hobby evolved into a full-time business, Greco Woodcrafting. Today, Greco specializes in so-called executive toys—everything from custom-order trucks and biplanes made from exotic woods to minute-perfect hour­glasses with hand-carved detail—as well as pens and other functional items. Best of all, through a partnership with the Arbor Day Foundation, Greco plants a tree for every five items he sells. Find them online at GrecoWood­crafti­ng.com or at Jersey Made in Mount Holly.
DATA?POINTS
1: The number of seats New Jersey is expected to lose in the U.S. Congress in 2013, based on the 2010 Census. While our population grew 4.5 percent since 2000, that was far less than the overall U.S. population growth of 9.7 percent. We also dropped from the ninth most populous state to the 11th.
Kids on a Mission
This month in Moorestown, the Live Civilly Food Pantry of Saint Matthew will open at St. Matthew Lutheran Church. Behind it is a most unlikely force: three young sisters with a fierce sense of compassion.
It wasn't until 2009 that the Buss girls—Anna, 11; Grace, 6; and Abigail, 4—of Moorestown came to fully grasp the concept of homelessness. With their parents, they were volunteering for the Interfaith Hospitality Network, which hosts homeless families at various local churches for a week at a time. Grace asked when the families would be going home, only to be informed that they had no homes to go to. "We thought that was wrong. We didn't want people to be homeless and hungry," Anna says.
So, she and her sisters—with help from their parents, Kahra and Joe—founded Live Civilly, a homegrown organization devoted to combating hunger. "After their initial desire to build a hotel and go big time, we said, 'Well, let's start with something you can manage, something that you can all participate in,'" Kahra says.
That was a food drive in May 2009, followed by a second one the next year. This year, when the Busses saw the excitement not just among their daughters, but also their friends, they began working to launch the food pantry. "When you see kids that have an energy and a desire to do something good, you don't want to walk away from that. You really want to tap into that," Kahra says. "The establishment of a food pantry here in Moorestown was born out of a desire to help them get involved."
Donations will be collected at Moorestown elementary and middle schools beginning Feb. 1; the food pantry should be open by the end of this month. Learn more or support the program by purchasing Live Civilly merchandise—designed by the Buss girls, of course—online at LiveCivilly.org.
600 pounds of food Live Civilly collected in 2010. 200 magnets Live Civilly sold to benefit Camden's Bridge of Peace food pantry.
$6 price per magnet. 12,000 people in South Jersey who require emergency food assistance in a given week, per the Food Bank of South Jersey. 39% of Food Bank of South?Jersey clients who say they must choose between buying food and paying utilities.
Street Level
Cherry Hill
Two men came to blows—and one was arrested—in a Christmas Eve scuffle at a Toys "R" Us.
Cherry Hill
A four-ton, 10-foot-tall dinosaur sculpture known as Danny was mourned by locals after it was sold for $1,500 and shipped to new owners in Delaware.
Washington Township
Three Bunker Hill Middle School teachers slept on the school roof dressed as Santa and reindeer after students made good on a challenge to collect more than 3,000 Toys for Tots.
Franklin Township
A group of parishioners entered through an unlocked door and held a sit-in for more than a week to protest the closing of St. Mary's of Malaga church.
Maple Shade
A woman was arrested for dealing drugs—to residents of a nursing home.
In Her Own Words
Bibliophiles, this one's for you. Moorestown author Camille DeAngelis, whose debut novel was 2007's Mary Modern, recently released her latest book, Petty?Magic, on Random House's Crown imprint. Subtitled "Being the Memoirs and Confessions of Miss Evelyn Harbinger, Temptress and Troublemaker,"?the story is a supernatural romance between a 149-year-old witch—and one-time World War II spy—and her far younger, mortal lover. Intrigue naturally ensues. CamilleDeAngelis.com
Conspicuous Consumption
Some people are naturally athletic. Others have a talent for music. But it seems that more than a few South Jersey locals share a different type of gift: the innate ability to down obscene numbers of chicken wings.
Among the more successful local gluttons are the semi-pro Voorhees resident David "U.S. Male" Goldstein; amateur eating phenom Jonathan "Super" Squibb of Winslow Township; the impressively named John "Freak of Nature" Harker; and the one of South Jersey's earliest competitive eating icons, Bill "El Wingador" Simmons of Woodbury Heights. Ahead of Wing Bowl 19, our region's premier competitive eating contest, taking place Feb. 4 at the Wells Fargo Center in Philadelphia, we checked in with the local talent. They're training hard and, as always, hungry for victory.
The Competitor:?Jonathan Squibb
Alias:?Super Squibb
Track Record:?Two victories in two Wing Bowl appearances.
Genesis Story:?Squibb discovered his gift at Pic-A-Lilli Inn in Shamong. "My friend bet I couldn't beat the restaurant record, which was something like 100 wings. So I came back the next week and I beat the record," Squibb says. "It's something I'm for some reason naturally good at, so if I can exploit those talents ... I might as well go for it."
Training Regimen: An ordinary diet punctuated by a weekly binge. "I'm a big fan of the Sunday brunch buffet," he says—even if they're not fans of him. "One place I went to one Sunday and had 16 omelets, the next week … they had a sign up that said, 'No one person can have more than four omelets.'"
The Competitor: John Harker
Alias: Freak of Nature
Track Record:?In his last effort, Harker was disqualified for having, ahem, choked midway through the competition. However, in his third Wing Bowl attempt, he's hoping to down at least 250 wings, having qualified for the competition by eating a comparatively dainty 25 hot dogs in five minutes.
Training Regimen: Harker has been training for seven months for his third Wing Bowl attempt. The West Deptford resident has been chewing dozens of frozen Tootsie Rolls a day to strengthen his jaw, and drinking copious amounts of water to distend his stomach. "It gets to be very strenuous at times," he says, "but I need to keep my jaw ready for Wing Bowl."
The Competitor: Bill Simmons
Alias: El Wingador
Track Record:?Simmons has won Wing Bowl no fewer than five times. After his 4-year-old complained about having never seen Simmons in all his buffalo sauce-soaked glory, he decided to come out of retirement and seek his sixth Wing Bowl championship.
Training Regimen: Simmons is known for inventing the frozen Tootsie Roll technique, but these days he's noshing on his own line of "El Wingador-Style" wings, coming out this month from Rastelli Foods. Altogether, he says, "I'm doing about 10 to 15 pounds of food every day to stretch my stomach. I'd rather train for a fight than train to eat chicken wings. It is hard."
Out of Service
New Jersey Transit has canceled Philly service for the 405 and 407 buses leaving from the Cherry Hill and Moorestown malls. In the last five years, five Philly routes have been cut, reducing morning peak routes to Philadelphia by 38 percent.
Department of International Relations
289: The number of news articles—in the U.S. and abroad—that reference the sentencing of Stratford's Ryan Burke, based on a Google News search. He received a 15-day prison sentence for putting body hair in an Evesham police officer's sandwich at the restaurant where he worked.
In the Red
Cherry Hill is working hard to get its new "traffic-calming system"—that's press officer speak for red light camera—up and running as soon as this month. Elsewhere, the lights have already netted thousands of tickets, (and hundreds of thousands of dollars in revenue), for towns across South Jersey, including Glassboro, Stratford, Deptford and Gloucester Township. Cherry Hill's light at Route 70 and Springdale Road will "calm" an area that sees more than 350 accidents a year. And nearby, Collingswood commissioners in January approved an ordinance that will soon bring three red-light cameras to the Borough.
$85: Cost per ticket administered by red light cameras.
41,000: Estimated number of tickets issued via red light cameras in Gloucester and Camden counties in 2010
17,300: Tickets issued in Gloucester Township in the last six months of 2010, at four monitored intersections along Blackwood-Clementon Road. The township is planning to add six more cameras.
4: South Jersey towns with red light cameras in place.
25: Towns in New Jersey accepted into the red light camera program.
9: Towns that have installed cameras.
22%: Decline in crashes on Blackwood-Clementon Road in Gloucester Township from 2009 to 2010, when cameras were installed.
"What we have currently are people driving like it's the Indy 500 in that [Route 70-Springdale Road ] corridor, and this new resource is going to give us an opportunity to re-educate drivers and ultimately slow them down."—Dan Keashen, Cherry Hill Township chief of staff
Names to Know
Betty Mohnacs-Anderson, nurse administrator of Underwood-Memorial Hospital's Transitional Care Unit, was named Long Term Care Nurse of the Year by the March of Dimes New Jersey.
After Cole Dopke, 2, was given a stuffed animal by Gloucester County EMTs during an emergency, his mother Jacquelyn collected 40 more stuffed animals for the EMTs to give to other frightened patients.
Salvation Army Majors Paul and Alma Cain of Cherry Hill are the driving force behind the new $60 million Kroc Center being constructed in Camden.
Ronald Caputo, a vice president and senior trust advisor with PNC Bank in Moorestown, has been named to Kennedy University Hospital's board of trustees.
Medford Lakes Athletic Association president Rob Burton and community relations director Rachael Urban are heading an effort to upgrade recreation areas in Medford Lakes, starting with Wilson Field, where work is already underway.
Joan Carter of Haddonfield, president of the private equity investment firm UM Holdings, has been named the first woman president of the Union League in Philadelphia.
Gloria Rosanio and her husband Jim, residents of Medford, are donating a portion of the proceeds from their new children's book, Flip Flop Flo the Know-It-All, to Shoes that Fit, an organization that equips children in need with shoes for school.
Dominic's House trustees Pam Machulsky, Lori Leonard, Shirley Fayan and Janice Milley were honored by Oprah Winfrey for their efforts to build a house for Dominic Stratton, a Mount Laurel boy with cerebral palsy, and his family.
Do you know a local person who is doing great things and should be on our radar? Let us know by e-mailing samantha@southjersey.com.
Published (and copyrighted) in South Jersey Magazine, Volume 7, Issue 11 (February, 2011).
For more info on South Jersey Magazine, click here.
To subscribe to South Jersey Magazine, click here.
To advertise in South Jersey Magazine, click here.