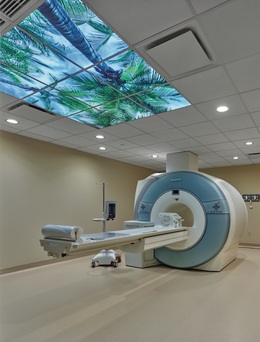 Raising the Bar
With exciting new leadership in place, Jefferson Outpatient Imaging continues to offer South Jersey residents the highest-quality radiology services right in their own backyard.
The critical role that radiology plays in modern health care often goes overlooked by the average person, but those who have committed their lives to medicine understand how important imaging is for the early detection of certain diseases and establishing the right treatment plan for patients. Trusting a team with leaders in their field and the most advanced equipment available can result in a positive outcome or even be life-saving in some cases—and today that's easier than ever here in South Jersey.
For years, local residents have been able to take advantage of a world-class radiology department at Jefferson Health in Philadelphia when in need of a yearly mammogram or MRI, for example. Now they can receive the same services a lot closer to home at Jefferson Outpatient Imaging (JOI), which has locations in Marlton and Washington Township convenient to Burlington, Camden and Gloucester counties along with surrounding areas
"Patients who live in South Jersey shouldn't feel like they have to cross the bridge into Center City in order to get the high-quality care that you get at an academic center," says Dr. Shuchi Rodgers, Chief of Radiology for Jefferson Health – New Jersey.
"I think it's very important for patients to have an awareness about screening. One of the barriers is patients not knowing the services that are out there and also how close these radiology imaging centers are to their homes. All of our radiologists are in symmetry with the Jefferson radiologists in Philadelphia, and you're getting the latest innovation, technology and interpretation."
Dr. Rodgers is new to Jefferson Health, having assumed her role on July 1, but her credentials speak for themselves. An attending radiologist since 2005, she built several imaging programs throughout Einstein Healthcare Network in Philadelphia and most recently was the Associate Chair for Body Imaging. She was eager for a different challenge and found the perfect fit at Jefferson, where she is able to utilize her skill set while overseeing the radiology department at the three Jefferson hospitals and two outpatient imaging centers in South Jersey.
"I'm really excited about this opportunity," she says. "I like to bring the best to our patients and our community. My job is to ensure that our radiology services meet the clinicians' needs, and also that we're providing the highest-quality imaging for our patients."
One of the benefits to using Jefferson is the existence of subspecialists as compared to general radiologists. "Subspecialty radiology means a radiologist has undergone further training in a specific area," Dr. Rodgers says. "Our radiologists here in South Jersey are subspecialized in musculoskeletal radiology, abdominal imaging, neuroradiology, mammography—the list goes on. My particular areas of expertise are body MRI, body CT and ultrasound, and I am excited about working with the other doctors here in those areas."
Services include 3T wide bore MRI, arthrography, CT, CT lung screenings, calcium scoring, 3D mammography, ultrasound, MSK ultrasound, DEXA bone density scans, and X-ray.
Both locations have a 3-Tesla MRI scanner, and the Washington Township center offers 3D mammography. "3D mammography has been shown to decrease false positive results and reduce recall rates. Images are reviewed by specialists in breast imaging. Patients diagnosed with breast cancer are easily integrated with a multidisciplinary team to ensure timely, appropriate treatment, which is a game-changer," she says. "The 3-Tesla magnet is more powerful with higher resolution, so we can see more detail. It's particularly useful for musculoskeletal and prostate imaging as well as brain MRI."
Another plus to JOI is that patients can avoid the hassle and expense of going to a hospital for their imaging needs. It's easy to schedule an appointment and there's often same-day or next-day availability.
"It's easier to park your car and the feel of the place is a lot more relaxing," Dr. Rodgers says. "I've been rotating at our locations since starting my job, and all of the technicians and the front staff are extremely friendly. They are very attuned to easing patients' anxiety, alleviating their fears and communicating with them what the test will be like and explaining anything they have questions about."
Dr. Rodgers, who spent part of her childhood in Camden and Maple Shade and mostly grew up in North Brunswick, has come full circle by returning to the Garden State after many years in Pennsylvania. She is ecstatic to be back and looking forward to building upon the strong foundation in place at Jefferson.

"I'm very familiar with New Jersey: the Turnpike, the Parkway, the Shore," she says with a laugh. "I consider myself to be a Jersey girl at heart. I've loved meeting so many new people and getting to work with the clinicians at Jefferson. My goal is to make sure I provide and meet their radiology needs and help grow the practice and bring the best to our patients. There's a lot that we are doing, but I'm excited about the potential for future radiology capabilities and growth. We have a lot now but I think there's even more to come."
Jefferson Outpatient Imaging
243 Hurffville-Cross Keys Road, Suite 102 | Sewell
999 Route 73 N., Suite 101 | Marlton
(215) 503-4900