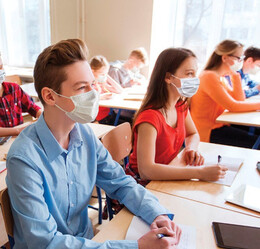 School is in Session
With mask and vaccine mandates in effect, local high schools are determined to give students the normal year they deserve.
In a recent letter to families in the district, Dr. Carol Birnbohm, superintendent of Lenape Regional High School District, put the pandemic student experience in sharp perspective. "The startling reality is our seniors are the only cohort of students who completed one full 'normal' year in LRHSD," she stated.
It's hard to believe. After their freshman year, the rising seniors of 2021 had a disrupted sophomore year that pivoted to full remote learning in March 2020, and a junior year that, although offering some in-person learning opportunities, came with a host of safety protocols to follow and limited extracurricular activities.
As the last school year wound down in June, most students were in fact back in class, and New Jersey was finally seeing the success of vaccines bring down COVID hospitalizations and deaths. Gov. Phil Murphy officially lifted the executive order allowing remote instruction, meaning all students would physically be back in classrooms in the fall. Adding to the level of hope for a maskless start to the 2021-22 school year—at least for high schoolers—was the fact that students over age 12 could also be vaccinated.
As of late July, some districts, including Cherry Hill and LRHSD, had not introduced a formal mask-wearing policy, which was in accordance with Murphy's stance at the time that masks indoors for vaccinated people would be optional but recommended for the unvaccinated. However, as the Delta variant spread this summer, leading to breakthrough cases among the vaccinated, it became clear that there would be a policy shift in the state.
Murphy announced Executive Order No. 251 on Aug. 6. "This is not an announcement that gives any of us or me personally any pleasure. But as the school year approaches, and with the numbers rapidly increasing, it is the one that we need to make," he said, proffering that he could lift this mandate if things improve.
The official mask policy is the same across the board for schools, and has some breaks built in for students engaged in certain activities. According to Robert Cloutier, superintendent of the Eastern Camden County Regional School District, "As per state regulations, masks are to be worn by all persons in air-conditioned areas in the high school, regardless of outdoor weather conditions. Masks are to be worn in all non-air conditioned indoor rooms and areas and on buses unless daily weather conditions meet the criteria for a heat exemption (currently a forecasted 'real feel' measure of 85 degrees or greater—this criteria will be refined for the start of the school year). There is no mask requirement for individuals engaged in high-intensity aerobic or anaerobic exertions, instrument and vocal practice, all outdoor activities and while eating."
Masking also reduces the need for students to quarantine. An Aug. 25 letter from Joseph Bollendorf, superintendent of Washington Township Public Schools, states, "It is also important to note that the new guidelines from the New Jersey Department of Health state that students who wear masks are no longer considered close contacts when exposed to COVID positive students who also are masked and within three to six feet—and therefore would not have to be quarantined. This is a huge step in helping to keep our students in school during this newest round of COVID."
Schools have created contingency plans for remote learning in the event of an outbreak or students who need to quarantine. "We are planning a number of contingencies for situations that may occur as we retained our full capacities developed last year," Cloutier says. "If an outbreak were so severe that we would need to temporarily return to remote learning, we will. However, it would be premature to discuss specifics at this time."
Another mandate came down from Murphy just two weeks after the mask announcement requiring school employees to show proof of vaccination or undergo weekly testing with the goal of further protecting students and helping them remain in the classroom.
Executives from the New Jersey Education Association (NJEA), the largest teachers' union in the state, released a statement in support of Murphy's mandate.
"From the beginning of the COVID-19 pandemic, we have called for following the guidance of public health officials to keep the students and staff in our public schools safe. Gov. Murphy has been a great partner in that effort to ensure that our students continue to learn and grow while remaining as protected as possible. … COVID-19 vaccines are the best tool we have to better protect our schools and communities against this pandemic and the terrible toll it continues to take. Public health experts agree on the importance of widespread vaccination."
Districts are doing their part in hosting vaccine clinics on school properties. LRHSD held one at Cherokee during the summer and both Haddonfield Memorial and Eastern high schools had clinics set for early in September.
Although educators and administrators have been put in delicate positions and forced to make sometimes unpopular decisions, every effort is made with students' livelihood at the forefront. Realizing the impact this experience has had on students, schools are adding a variety of resources. In her letter, Birnbohm said, "As we process how exhilarating the start of this school year is for many, we also are cognizant that some may experience trepidation or anxiety," adding that counseling centers have been open throughout the summer. LRHSD also plans to use federal funds to boost tutoring sessions and mental health support services.
Eastern too has been helping students ease back into classrooms. "The school continues to emphasize social and emotional wellness for students and staff," Cloutier says. "The district contracted for third-party clinical support for the mental health challenges of students, parents and staff during the pandemic. In addition, the traditional Freshman Transition Camp in August welcomed all students no matter the grade level because, for many students, it will be the first time since March 2020 they will be back in the building."
Everyone realizes the pandemic's inherent fluidity, but rest assured, it hasn't dampened the excitement that comes with every new school year. "We are excited about this return. Our families and staff have been looking forward to this for some time," says Chuck Klaus, superintendent of schools, Haddonfield School District. "Since we were back at the end of last year, we believe most students and staff are well prepared. We will of course have a strong focus on supporting those who may have increased anxiety at this time and we are looking forward to a productive year."
Back to School: The 2021 Public High School Report Card
As the new school year arrives and we look toward a return to a more normal learning environment, we examine how our area learning institutions compare in several key academic areas. In order to put together our annual public high school report card, we gleaned information from the New Jersey Department of Education School Performance Reports. With a focus on schools in Burlington, Camden and Gloucester counties, we gathered key statistical data in areas like average SAT scores, graduation rates, AP classes and student-to-faculty ratio. We also reached out to a few local school districts to see how they are handling another school year affected by the pandemic to find out what students can expect.
AP Classes
| | | |
| --- | --- | --- |
| Cherry Hill High School East | 30 | 1892 |
| Eastern High School | 28 | 685 |
| Kingsway Regional High School | 28 | 1131 |
| Moorestown High School | 28 | 1028 |
| Northern Burlington County Regional High School | 28 | 1043 |
| Washington Township High School | 27 | 791 |
| Cherry Hill High School West | 26 | 676 |
| Cherokee High School | 25 | 843 |
| Haddonfield Memorial High School | 25 | 672 |
| Clearview Regional High School | 24 | 671 |
| Lenape High School | 23 | 1243 |
| Shawnee High School | 22 | 852 |
| Seneca High School | 20 | 600 |
| Burlington Township High School | 19 | 255 |
| Collingswood Senior High School | 19 | 228 |
| Rancocas Valley Regional High School | 19 | 489 |
| Williamstown High School | 19 | 364 |
| Delran High School | 18 | 172 |
| Delsea Regional High School | 18 | 344 |
| Pemberton Township High School | 18 | 291 |
| West Deptford High School | 18 | 206 |
| Winslow Township High School | 18 | 310 |
| Bordentown Regional High School | 17 | 197 |
| Gateway Regional High School | 17 | 186 |
| Cinnaminson High School | 16 | 485 |
| Pennsauken High School | 16 | 253 |
| Timber Creek High School | 15 | 433 |
| Highland regional High School | 14 | 292 |
| Triton High School | 14 | 360 |
| Woodbury Junior/Senior High School | 14 | 150 |
| Haddon Township High School | 13 | 209 |
| Burlington City High School | 11 | 134 |
| Deptford Township High School | 11 | 142 |
| Florence Township Memorial High School | 11 | 122 |
| Glassboro High School | 11 | 99 |
| Pitman High School | 11 | 95 |
| Overbrook High School | 10 | 123 |
| Haddon Heights Junior/Senior High School | 9 | 209 |
| Palmyra High School | 9 | 54 |
| Willingboro High School | 8 | 24 |
| Audubon Junior/Senior High School | 7 | 83 |
| Lindenwold High School | 7 | 41 |
| Maple Shade High School | 7 | 102 |
| Sterling High School | 7 | 194 |
| Clayton High School | 6 | 88 |
| Riverside High School | 6 | 43 |
| Woodrow Wilson High School | 4 | 44 |
| Camden High School | 2 | 4 |
| Paulsboro High School | 2 | 20 |
SAT Scores
| | |
| --- | --- |
| Haddonfield Memorial High School | 1225 |
| Moorestown High School | 1213 |
| Cherry Hill High School East | 1194 |
| Lenape High School | 1167 |
| Shawnee High School | 1156 |
| Haddon Township High School | 1137 |
| Cinnaminson High School | 1128 |
| Eastern High School | 1127 |
| Northern Burlington County Regional High School | 1124 |
| Clearview Regional High School | 1122 |
| Cherokee High School | 1116 |
| Kingsway Regional High School | 1110 |
| Rancocas Valley Regional High School | 1108 |
| Seneca High School | 1108 |
| Bordentown Regional High School | 1107 |
| Washington Township High School | 1102 |
| Pitman High School | 1095 |
| Maple Shade High School | 1080 |
| Florence Township Memorial High School | 1080 |
| Burlington Township High School | 1075 |
| Delsea Regional High School | 1075 |
| Gateway Regional High School | 1069 |
| Cherry Hill High School West | 1062 |
| Audubon Junior/Senior High School | 1054 |
| Deptford Township High School | 1052 |
| West Deptford High School | 1049 |
| Collingswood Senior High School | 1048 |
| Haddon Heights Junior/Senior High School | 1040 |
| Delran High School | 1038 |
| Williamstown High School | 1036 |
| Sterling High School | 1025 |
| Palmyra High School | 1020 |
| Glassboro High School | 1013 |
| Timber Creek High School | 1006 |
| Triton High School | 1002 |
| Clayton High School | 987 |
| Highland Regional High School | 987 |
| Pemberton Township High School | 986 |
| Pennsauken High School | 986 |
| Winslow Township High School | 985 |
| Woodbury Junior/Senior High School | 985 |
| Overbrook High School | 982 |
| Burlington City High School | 967 |
| Riverside High School | 963 |
| Lindenwold High School | 955 |
| Paulsboro High School | 897 |
| Willingboro High School | 887 |
| Woodrow Wilson High School | 766 |
| Camden High School | 763 |
Graduation Rate
| | |
| --- | --- |
| Shawnee High School | 99 |
| Haddon Township High School | 99 |
| Cherokee High School | 98 |
| Cherry Hill High School East | 98 |
| Haddonfield Memorial High School | 98 |
| Moorestown High School | 98 |
| Cinnaminson High School | 97 |
| Seneca High School | 97 |
| Burlington Township High School | 96 |
| Kingsway Regional High School | 96 |
| Lenape High School | 96 |
| Northern Burlington County Regional High School | 96 |
| Palmyra High School | 96 |
| Willingboro High School | 96 |
| Washington Township High School | 95 |
| Audubon Junior/Senior High School | 94 |
| Clayton High School | 94 |
| Clearview Regional High School | 94 |
| Eastern High School | 94 |
| Gateway Regional High School | 94 |
| Maple Shade Regional High School | 94 |
| Bordentown Regional High School | 93 |
| Delsea Regional High School | 93 |
| Florence Township Memorial High School | 93 |
| Haddon Heights Junior/Senior High School | 93 |
| Delran High School | 92 |
| Sterling High School | 92 |
| Triton High School | 92 |
| Williamstown High School | 92 |
| Burlington City High School | 91 |
| Pemberton Township High School | 91 |
| Rancocas Valle High School | 91 |
| Cherry Hill High School West | 90 |
| Riverside High School | 90 |
| West Deptford High School | 90 |
| Glassboro High School | 89 |
| Pitman High School | 89 |
| Timber Creek High School | 89 |
| Woodbury Junior/Senior High School | 89 |
| Collingswood Senior High School | 88 |
| Overbrook High School | 88 |
| Deptford Township High School | 87 |
| Pennsauken High School | 87 |
| Highland Regional High School | 85 |
| Paulsboro High School | 83 |
| Lindenwold High School | 82 |
| Winslow Township High School | 79 |
| Woodrow Wilson High School | 63 |
| Camden High School | 60 |
Student Teacher Ratio
| | |
| --- | --- |
| Camden High School | 8:1 |
| Glassboro High School | 9:1 |
| Haddonfield Memorial | 9:1 |
| Woodrow Wilson High School | 9:1 |
| Burlington City High School | 10:1 |
| Clayton High School | 10:1 |
| Lindenwold High School | 10:1 |
| Overbrook High School | 10:1 |
| Paulsboro High School | 10:1 |
| Pitman High School | 10:1 |
| Seneca High School | 10:1 |
| Winslow Township High School | 10:1 |
| Burlington Township High School | 11:1 |
| Collingswood Senior High School | 11:1 |
| Deptford High School | 11:1 |
| Gateway Regional High School | 11:1 |
| Haddon Township High School | 11:1 |
| Moorestown High School | 11:1 |
| Willingboro High School | 11:1 |
| Woodbury Junior/Senior High School | 11:1 |
| Audubon Junior/Senior High School | 12:1 |
| Cherokee High School | 12:1 |
| Cherry Hill High School West | 12:1 |
| Cinnaminson High School | 12:1 |
| Delran High School | 12:1 |
| Haddon Heights Junior/Senior High School | 12:1 |
| Lenape High School | 12:1 |
| Maple Shade High School | 12:1 |
| Northern Burlington County Regional High School | 12:1 |
| Palmyra High School | 12:1 |
| Pemberton Township High School | 12:1 |
| Riverside High School | 12:1 |
| Triton High School | 12:1 |
| West Deptford High School | 12:1 |
| Bordentown Regional High School | 13:1 |
| Clearview Regional High School | 13:1 |
| Highland Regional High School | 13:1 |
| Kingsway Regional High School | 13:1 |
| Pennsauken High School | 13:1 |
| Shawnee High School | 13:1 |
| Sterling High School | 13:1 |
| Timber Creek High School | 13:1 |
| Washington Township High School | 13:1 |
| Cherry Hill High School East | 15:1 |
| Delsea Regional High School | 14:1 |
| Eastern High School | 14:1 |
| Florence Township Memorial High School | 14:1 |
| Rancocas Valley Regional High School | 14:1 |
| Williamstown High School | 14:1 |