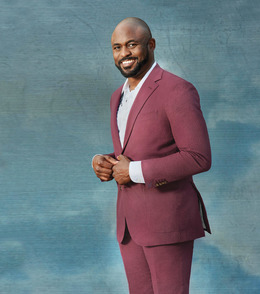 Wayne's Way
Even as his star continues to rise, Wayne Brady stays true to his roots.
From comedy, to acting, singing, dancing, and hosting game shows, Wayne Brady has proven he can do it all, entertaining audiences for over three decades with no plans of stopping anytime soon.
Earlier this year, the multi-Emmy winner and Grammy-nominated Brady garnered tremendous praise for a riveting spoken word piece he wrote entitled, "A Piece by the Angriest Black Man in America (or, How I Learned to Forgive Myself for Being a Black Man in America)." The riveting composition appears on acclaimed actor Glenn Close's spoken word jazz album, Transformation: Personal Stories of Change, Acceptance, and Evolution, and offers a deeply poignant reflection on Wayne's early struggles with colorism.
Currently residing in Los Angeles, Brady, the proud father of a beautiful teenage daughter who he lovingly co-parents with his ex-wife and best friend Mandie Taketa, is looking forward to going back on tour this fall. On Sept. 25, he will return to Atlantic City to take the stage at the Borgata. South Jersey Magazine recently caught up with the charismatic showman as he reflected on his multifaceted career, the exciting projects he is currently working on and why A.C. is on every performer's bucket list.
SOUTH JERSEY MAGAZINE: Your recent contribution on Glenn Close's spoken word jazz album has gotten rave reviews. It is intensely personal and I understand it was a project you had been working on for some time but were never able to fully complete. Now that it is out in the world, do you feel a sense of relief and did you ever worry about the vulnerability that comes with allowing people behind the curtain, so to speak?
WAYNE BRADY: Yes, to all of it. I was very relieved when I finally got it out. I was worried for a while but I was never worried about what people thought. I think I was most worried about making sure that I wrote it and got it out in a way that people would understand what I'm saying. In comedy, when I tell a story, even if it's something fantastical, I always want people to connect with it on some level; whether they see themselves in the story or they can respond to it. I knew when writing this that it is a very specific window into a Black person's life but I was hoping that even though it is very personal, with me talking about my experience with colorism, self-love and self-hate, that there would be things that people could latch onto and say, "Oh, I know what it's like to feel a certain way about myself because of an event that happened to me." And that's the part that I kept saying, "Ugh this isn't good enough, this isn't good enough." Finally, Glenn gave me the kick in the pants to finish it and share it. It's actually one of a bunch of pieces that are part of a show that I will be doing on Broadway soon called Young, Gifted and Wack about being a kid and growing up in Orlando in the '80s.
SJM: You have performed on Broadway many times. Will this be a different experience for you now that you will be sharing something so personal?
WB: Oh, absolutely! I think sharing anything personal like this is different than playing a character. When I was doing Kinky Boots, Hamilton and Chicago, I got to hide behind that character's skin. When you're you, it's the skin that you are in, that's it. That's why you have to feel damn comfortable in your own skin to be able to share something like this; and that's the place that I think I have finally reached in my life. I feel very comfortable in this skin to share personal stories and not just have things be about the very surface.
SJM: That sounds powerful and intriguing. When do you expect the show to run?
WB: I'm actually going to be doing a presentation with Audible at the end of this year or beginning of next year. It will be three shows and we will use that as the test run; then my aim is to be able to do the show for an extended run by the summer of next year.
SJM: You will be performing in Atlantic City in September. How excited are you to be on stage once again and what can audience members expect from the show?
WB: I'm am thrilled to be getting back on stage. The show at the Borgata will be the first improv show that Jonathan Mangum, my partner from Let's Make a Deal, and I would have done in nearly two years due to the pandemic. It will be an evening of full-on interaction and because it's been a while since I've done it, this audience can really expect me to let it all out and just be so happy to be there with them. I like to call my show a one-man variety show. There will be music, impressions and story-telling. I'll also be doing some improv with Jonathan, as well as a Q&A with the audience where I take the questions from the audience and turn them into themes. I'll be on stage, I'll be in the audience, the audience may be onstage with me. It will be a night of unpredictability and fun.
SJM: Is there a different approach one has to take when performing for a casino crowd? Is the vibe different than being in a normal club?
WB: Yes, you have to know your audience. When I play comedy clubs—and I don't play comedy clubs a lot anymore—but I know that if I am doing the 9 p.m. show, odds are folks are drunk so I need to be ready to deal with that. If I am playing a performing arts center that's subscription based, the audience might skew a little older and be a more family-friendly crowd. When I play a place like the Borgata, that's a mixture—it's locals, it's out-of-towners who have just come in, saw that I was playing and bought tickets, and people that drove in from the nearest town and they want to laugh. I am always ready for anything with the Atlantic City shows because it could turn out to be a bit of a rowdy crowd or it could turn out to be a crowd that is more family friendly with a little rowdy sprinkled in. It's my job just to be the wittiest no matter who is in the audience. As soon as I come out on the stage and size up the audience, then I'm ready to go.
SJM: Have you spent much time in A.C or the Jersey Shore area previously?
WB: Unfortunately, I never get a chance to because I'm either filming or I'm on tour. I have been lucky enough to have performed in Atlantic City a lot. It's one of those bucket list places for performers, especially someone like me, who is steeped in the old school. I grew up respecting guys like The Rat Pack, and all of the performers who made going to Las Vegas and Atlantic City so glamorous. Atlantic City means so much to me. Just being there makes me happy.
SJM: During the pandemic, you revealed that you quarantined with your teenage daughter, your ex-wife and her longtime boyfriend. How did that come to be and what was that dynamic like?
WB: It has worked out great because our family was very close prior to the pandemic. We didn't start hanging out and staying together because of the pandemic, that's just our vibe. We happen to live three minutes from each other so the best thing to do was just either stay at my house or stay at theirs. It was lovely because that's just the relationship that we have. Mandie is my ex-wife but she is also my best friend and we share a beautiful daughter. I think the cool thing was the world getting a chance to see a relationship like that through our TikTok videos, of all things. I hope our family has been a bit of an inspiration and has shown that just because you are not in relationship anymore it does not mean that you can't still have love for that person or welcome another person into your life that happens to be their partner. We're not perfect but like any family we have love for each other and I think that was the coolest thing to come out of the pandemic for us personally.
SJM: Speaking of the pandemic, many people have dealt with varying degrees of depression and anxiety. As someone who has been so vocal about your own experiences with depression, how did the pandemic affect you mentally and emotionally?
WB: I actually have to admit that for me, life was pretty good because of my family. We kept each other's spirits up, kept creative and made sure that our minds stayed occupied. Now I know that isn't the place that everybody was able to be in because it hit everyone differently depending on your work, social, economic or health status so I certainly don't mean that in a way of, "Oh, I had a great pandemic." But we worked at having a good experience during the last year and a half. There were definitely a couple of times, especially a few months into the pandemic, that we each had our rough patches but those are the times when you rely on your family; that's when you all huddle and say, "Ok we are going to get through this and we are going to lift each other up."
SJM: You have also talked about growing up with a stutter and the angst it had caused you. How do you reflect on those struggles and what you have been able to accomplish?
WB: Any struggle that any of us goes through forms who we become. I think that's what getting older is all about; it's about how to make those choices and which are the healthy ones and which are going to lead you down the wrong path. As I look back on some of the choices I made when I was younger regarding certain things, I can say, "Those weren't the healthy choices; I could have dealt with that a different way and now I know I'm not gonna deal with it that way anymore because of that life experience." But I think that any challenge I faced from dealing with the stuttering, bullying, colorism or any challenge—each of those things, had they not happened I wouldn't be having this conversation with you because I wouldn't be the person that had to develop strengths that put him onstage and have a certain place in this world. If you took out any of those struggles, then I'd be a completely different person.
SJM: You have made a point to support numerous charitable causes over the years. Why is it so important for you to give back?
WB: I wish I could find a way to do more and be more involved. I think anyone who is successful on some level, and I'm not talking about just someone on TV—you can be a successful realtor or plumber—anybody who has gotten some help, a nudge, encouragement or a push somewhere in life, you owe it at some point, even if nobody knows you've done it, you owe it karmically to give back. I have had people in my life who have given me the nudge and the bump so I'm not trying to give back because I want to make a grand gesture, I'm just trying to live up to what I feel is my debt.
SJM: You seem very conscience of your career and your choices. Have you thought about your legacy and what you would want to be remembered for?
WB: There are two things that I would like to think of as my legacy. One being that I would like to have been a small part of the bigger picture of race relations in our country. I want to be a small part to say that at some point I was able to help people cross that gap that can exist sometimes between cultures and I'm not saying that in a Pollyanna sort of way, I mean more of taking time to open conversations to where we strive to understand each other. I've been able to play every town in the Midwest, up North, down South, towns on the West Coast, East Coast and internationally. I have had audiences where I've played to only white people, only Black people, a sprinkling of in between, old people, gay people, straight people, so I hope my legacy would be that I was part of not just a race conversation but also a human conversation and being one of those people that is a bit of a nexus. The other legacy that I would like to leave is of my daughter and how she lives her life. I don't mean that she has to be in show business, just carrying on the legacy of doing whatever jobs she chooses and is happy and wonderful at, and that she goes on to show her kids how to be good humans and then they show their kids and so on. That's a legacy that I want.
SJM: You have accomplished so much in your career from being a fixture on television for decades, winning several Emmys, making music, your time on Broadway; the list goes on. What do you find that most people recognize you for?
WB: I think it depends on the person you are talking to. If you stick around long enough, you'll have a career where people know you from multiple things. Many people remember me from Whose Line Is It Anyway? and then there are people who are diehard Let's Make a Deal fans. Many international people recognize me from How I Met Your Mother, and sci-fi fans always ask me about Colony. One of the biggest things I get recognized for is the work I did on Chapelle's Show over a decade ago. What's so cool is that you could never have told me, growing up in Orlando, that I would have a career where people would know me from so many different things. It's awesome.
SJM: Speaking of which, today fans have greater access to celebrities through social media. Do you enjoy being able to communicate with fans that way or is there a downside?
WB: When used for good, social media can be amazing, particularly from a place of social change as we saw during the pandemic. However, I think there is always a downside when you share too much of your life. I've never been an over-sharer on social media or in life. I post intermittently or when I have something going on. There are celebrities who choose to share everything and to each his own. I'm of the mindset [that] I will let you see what I want you to see.
SJM: You have truly done everything in terms of comedy, music, dance, theater, movies, television, hosting, just to name a few. Is there any one particular area of entertainment that you prefer over the others?
WB: I would have to put all those things into the same lump. They are all connected. I think that my brand of comedy wouldn't be as strong if I didn't have the musical component and I wouldn't be as good of a musician if I weren't a good actor and I wouldn't be able to do the impressions if I didn't sing, so I love it all.
SJM: With your upcoming Broadway show and the numerous projects you are working on, do you feel that your best work is still ahead of you?
WB: Absolutely! I absolutely believe that. I feel so blessed looking at the things that I've got coming up and I know my next act is gonna be ridiculous. Like in January, I start working on American Gigolo, a TV series on Showtime starring Jon Bernthal, where I play his best friend. I've got Let's Make a Deal where we get to change people's lives. I'm producing shows along with Mandie—things involved in the LGBTQ+ space and the diverse space that are just great human stories. I'm writing a novel with an amazing novelist and that will be out next year. I have new music, I'm going back on Broadway with Freestyle Love Supreme, and I'm just enjoying life. I'm almost 50, and I think I have a great second act coming.
Click here to subscribe to the free digital editions of South Jersey Magazine
To read the digital edition of South Jersey Magazine, click here.
Published and copyrighted in South Jersey Magazine, Volume 18, Issue 8 (August 2021)
For more info on South Jersey Magazine, click here.
To subscribe to South Jersey Magazine, click here.
To advertise in South Jersey Magazine, click here.