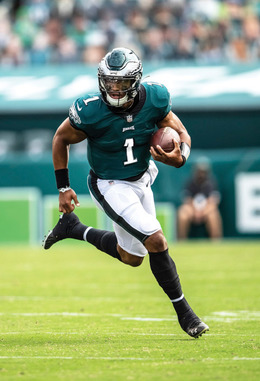 Ready to Take Flight
As he enters into his second season, Eagles quarterback Jalen Hurts is leading by example.
At age 23, Jalen Hurts has been in the public eye for about a third of his life.

It shows.

The quarterback whose quest is to become the Eagles' long-term answer at the NFL's most important position betrays virtually no emotion in his comments to reporters. He has been a topic of conflict and controversy since his unexpected arrival, as the 53rd overall pick in the 2020 draft, but Hurts seems to churn along undeterred, through the choppiest waters the Philadelphia market's hurricane-force sports focus can produce.

"I try and stay away from the rat poison" of media speculation and social media posturing, Hurts said last December. He learned that phrase from Nick Saban, the University of Alabama head coach who both launched and impeded Hurts' career.

When the New England Patriots joined the Eagles for two days of joint practices in August, Hurts said he was thrilled to meet Cam Newton, the Patriots quarterback who was the NFL MVP in 2015, back when Hurts was just starting high school. Newton said he didn't really need an introduction to Hurts, he'd been following Hurts' career since the younger man was a teenage star coached by his father at Channelview High near Houston.

Yet fame does not always bring security. Hurts begins this season with something to prove, which is how he has begun every season of his career at least since 2018, the year Hurts fought a losing battle with Tua Tagovailoa over the starting job at Alabama.

Hurts had been benched by Saban at halftime of the previous season's national championship game. He'd watched Tagovailoa lead the Crimson Tide to victory that night, then cried in his parents' hotel room.

Ultimately Hurts would leave Alabama after backing up Tagovailoa in 2018, reinventing himself in 2019 at Oklahoma, where Hurts threw for 3,851 yards and ran for 1,298 in becoming the Heisman runner-up to Joe Burrow.

That's an unusual career arc for a quarterback, a series of twists and turns that might have derailed anyone less familiar with football's capacity to both exalt and humble. But Hurts is the son of Averion Hurts, a former offensive lineman who coached both Jalen and Jalen's older brother, Averion III, at high-profile Channelview. Averion III, a quarterback at Texas Southern, is now a high school assistant coach in the Houston area.

"Adversity is going to come, it's going to come," Hurts said during training camp, as the August heat and humidity broiled his questioners in a press conference tent adjacent to the NovaCare practice fields. "That's the game, you know? How do you respond to it? Have a 'So what? Now what?' mentality with everything you do. Ten percent of life is what happens to you. Ninety percent is how you respond to it.

"I guess I was raised that way. Seeing my dad, the way he went about his business. And I saw that in my brother—my brother would kind of talk back and do all of that to my father. I wasn't that guy. I learned from his mistakes, and I went about it the way that I did."

Averion Hurts doesn't grant many interviews, but he did speak to the Houston Chronicle last season, after his son took over for Carson Wentz in a Dec. 6 loss at Green Bay. Jalen's first start would come the next week, against the Saints.

"It's a testament to his hard work and perseverance along the way, and the obstacles he had to overcome," Averion Hurts said. "Those things all made him stronger."

It doesn't seem that first-year Eagles coach Nick Sirianni will have to worry about Hurts' coaching dad giving him any advice that might conflict with what Jalen is being taught in Philly.

"I don't coach him anymore, I just watch him," Averion Hurts said. "He's a grown man now. This is his job, and he's equipped to handle himself. I'm just here to support him and pull for my son and his teammates."


Just for starters
Last year, Hurts started the final four games of his rookie season, upsetting New Orleans in his first start, bringing energy to a bedraggled offense and hope for the future amid the disaster of a 4-11-1 year.

Even so, management began the offseason attempting to salvage its substantial investment in Wentz; general manager Howie Roseman compared the idea of losing Wentz to losing "the fingers on your hand." It was only when Wentz told the team he wanted to move along that Roseman became resigned to swallowing the largest dead money charge in NFL salary cap history, $33.8 million, which the Eagles will pay Wentz this year while he quarterbacks the Indianapolis Colts.

For the player they drafted second overall in 2016, the Eagles got a third-round pick in the 2021 draft and a second-rounder next year that can be a first if Wentz plays 75 percent of the Colts' snaps, or plays 70 percent, with the Colts making the playoffs.

That 2022 first-rounder could be used to help build a contender around Hurts, or it could be part of a package put together to acquire his replacement.

Even after passing on a top 2021 draft prospect, Ohio State QB Justin Fields (taken 11th overall by the Bears, one pick after the Eagles selected wide receiver DeVonta Smith), the Eagles didn't declare Hurts their long-term starter. The Eagles feature prominently in speculation about the future of Houston quarterback DeShaun Watson, at least in part because they will own three 2022 first-round draft picks, if Wentz fulfills the trade's requirements in Indianapolis. Those riches certainly could get a team within drafting range of a well-regarded quarterback.

Sirianni hit town in January preaching the value of competition within the roster. Joe Flacco, the 36-year-old they signed to back up Hurts, spoke initially not of passing on wisdom to the younger man, but of competing against him to start.

Another quarterback might have been put off by the way management and coaches elude attempts to secure a vote of confidence in Hurts. The last time we saw a situation like this, then-Eagles coach Chip Kelly was squirming and deflecting while not tying his future to Nick Foles, in 2014. Sure enough, Foles was traded to the Rams the next spring. (Historians will note that he did eventually return, with spectacular results.)

In May, when Hurts was asked about not having been named the starter, he said: "I know rent is due every day. It's always been that way for me ... and when that rent is due, I don't plan on missing no payments."

The Eagles' 2021 season has pretty much been set up as a referendum on Hurts' future. Finding out if he can carry the load as a franchise QB might be more important to the organization in the long run than, say, sliding into the Wild Card round of the playoffs with an 8-9ish record.

"I think he's going to continue to get better and better," Roseman said of Hurts, back in March. "When you look at those four games, I think I watched [Sirianni] say this, and I think it was the best way to describe it—he's only got four starts. There's huge room for him to continue to improve from a player who had four starts. We're excited about the ability that he has, and his opportunity to grow … with this coaching staff, and their ability to get their hands on him and help him become the player that he's got the talent to become."

Big donation
Off the field, Hurts has shown that he is the kind of person a franchise would want to become the face of the team.

Last season he chose the logo of the cancer charity Alex's Lemonade Stand during the NFL's "My Cause, My Cleats" campaign. Through that group he met Erick Carter-Figueroa, an 8-year-old cancer patient from Nottingham, Pa. Hurts discovered that Carter-Nottingham's family was struggling, living in a mobile home. So when he visited, he brought a $30,000 check to help them obtain new housing.

"Everyone has a set of values that are instilled in you as a kid that never change," Hurts told CBS Philly during that visit. "And I've always prided myself on maintaining and upholding those values … because the root of it all is about giving, it's about inspiring, it's about giving a sense of hope that something can be done."

Coffee break
As Hurts embarks upon his "prove it" season, there are questions about his footwork, his accuracy (he completed just 52 percent of his passes as a rookie) and how well he runs through progressions in the pocket. There are no questions about his poise, or his leadership.

Hurts likes to say that his aim is to become a "coffee bean." When he first trotted out the phrase at Oklahoma in 2019, he was asked to explain, and Hurts said: "When I say 'coffee bean,' you got the carrot, and the egg. You put an egg in boiling water, it hardens up. It doesn't affect anything. The carrot softens up. But the coffee bean, it spreads. Gets strong. Impacts the people around you."

This is a striking image, but it also raises questions. Are our choices limited to being an egg, a carrot, or a coffee bean? What if one aspires to be a nice, soothing spoonful of chamomile tea?

Allegories aside, teammates Javon Hargrave (a defensive tackle) and Jalen Reagor (a wide receiver) have called Hurts "a natural leader."

In the offseason, Jason Peters, the Eagles' nine-time Pro Bowl left tackle who ended up signing with the Bears in free agency, was asked about Hurts during Peters' appearance on the NFL Network's Good Morning Football show.

"He comes to the huddle, he demands your eyes and ears," Peters said. He's definitely ahead of his time as far as his leadership and his swagger."

The Eagles' first-round rookie wide receiver, DeVonta Smith, played with Hurts at Alabama in 2017 and 2018. When they convened as Eagles teammates for the first time this spring, Smith said he noticed differences in his friend.

"He's grown a lot. He's smarter, the decision-making that he does," Smith said. "He works hard. He understands everything a lot more. … His connection with all the other receivers, the running backs, the O-line, just the communication as an offense, everything is getting better. And it's only going to get better as we keep going."

The Eagles aren't expected to be strong contenders this season. Maybe that works in Hurts' favor; if he can gather a few more coffee beans around him and produce a winning season, he has to start to look like the Eagles' future, surely.

The night the Eagles drafted him, Hurts was asked about his journey to that point, which had hardly been smooth.

"I went into Alabama, a 17-year-old freshman, early enrollee, thrown right into the fire, and as a young kid, was able to have success," he said. "I took steps every year, took steps every year, even with the different coaches every year in and out. [I] continued to take steps and develop and develop and develop, regardless of what the circumstances were.

"Now, I know that there isn't a ceiling. I don't put a ceiling on myself or on my game, and moving forward I'm just excited to soak it all in, soak it all in like a sponge, take steps as a quarterback and improve every day, improve every day."
Click here to subscribe to the free digital editions of South Jersey Magazine
To read the digital edition of South Jersey Magazine, click here.
Published and copyrighted in South Jersey Magazine, Volume 18, Issue 8 (August 2021)
For more info on South Jersey Magazine, click here.
To subscribe to South Jersey Magazine, click here.
To advertise in South Jersey Magazine, click here.