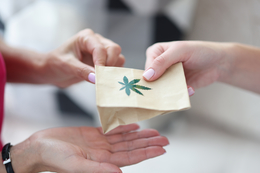 Special Delivery
Marijuana gifting services are operating in a gray area and challenging the state's fledgling recreational adult use industry.
When New Jersey residents overwhelmingly voted in favor of legalizing recreational marijuana for adult use last November, there was great excitement across the board. Lawmakers touted the economic boost the industry would provide our cash-strapped state as well as the societal benefits of decriminalization. That's not to mention those midnight tokers who were thrilled that they'd be able to openly enjoy cannabis without fear of retribution.
But from the onset, it was evident that it would take time for the industry to take shape and become regulated. While Gov. Phil Murphy formed the state's Cannabis Regulatory Commission (CRC) in late 2020, experts suggested that it would be many months, possibly a year, before we saw dispensaries or grow houses setting up shop in the Garden State. In fact, it wasn't until late August that the commission adopted the initial rules that opened up the application process for business licenses. The rules are valid for one year, but at press time the CRC had not yet set a date to begin accepting licensing applications.
The lengthy wait, along with the expected exorbitant cost of obtaining a license, has led some enterprising folks to take matters into their own hands. Chances are if you've driven around South Jersey of late, you've seen everything from highly visible digital billboards along the highway to yard signs planted adjacent to busy intersections advertising discreet marijuana delivery services.
Several of these companies have popped up in recent months, selling snack packages, stickers or other items at inflated prices and in turn offering "free" marijuana gifts in the form of flower, edibles and concentrates along with the purchase. A customer places an order and based on the amount of money spent, they receive a designated amount of marijuana as a bonus. Think paying $350 for some cookies, chips and water and receiving an ounce of cannabis in return.
It's a business model—or loophole, depending on how you look at it—that has previously popped up in Boston and Washington, D.C. A few months back, it caught the attention of then-New Jersey Attorney General Gurbir Grewal, who sent a cease-and-desist letter to several companies that were offering the high-priced snacks as a guise and threatening fines as high as $20,000 for subsequent violations.
One of those companies was Slumped Kitchen, a delivery service that operates statewide and launched this past January. Undeterred by the letter from the state, co-owner Todd Moeller simply pivoted his business model from offering snacks to accepting "donations." Similarly, the higher the donation, the more marijuana may be gifted to you.
Moeller says he's been a marijuana enthusiast for many years and since the day the constitutional amendment passed on the ballot, he knew he wanted to get involved in the industry. But cutting through the red tape has proven to be difficult and the cost of the license likely prohibitive.
"In New Jersey, we are already 10 steps behind these huge corporate dispensaries. They have the [financial] backing and the politicians behind them. That's great, I give them all the credit. But what do you expect young entrepreneurs to do?" he says. "I want to be recognized and operate completely open and freely. We have a great attorney, a great cannabis CPA firm to get our taxes in order; we are not trying to skate by, I want a license."
To further show a sense of goodwill, since switching to the new model, Slumped Kitchen introduced a charity component to the business where each month a portion of their proceeds will be handed out to an organization. Its first donation of $23,390 went to Just Believe Incorporated, a Toms River nonprofit that works with the homeless and disenfranchised in Ocean County.
Another statewide operation that was served a cease-and-desist letter, NJ Green Direct, also launched in January and founder Sam Gindi echoes Moeller's complaints about the licensing process and thus he anticipated running into legal issues.
"We knew the state would want their money and already promised certain donors the licenses," Gindi says. "We know the licensing process is not open to the public, and many out-of-state people with big money are already the first on the commission's list for licenses."
Despite the hurdles faced, the companies we spoke to appear to be thriving. And don't think it's just college kids looking to score a bag. Gindi says roughly 75% of his customer base is over the age of 50. Likewise, Moeller says his customers range in age, but that he certainly has his fair share of more mature customers.
"My mother lives in a retirement home and we've delivered to [residents] at her home 20 or 30 times," he says.
Marc Whitman* is a Washington Township resident who has used a delivery service he found on Instagram called Dank Donations. To date, he's used the service three times and says the experience has been fairly smooth.
"You make a 'donation' and choose your gift and then set up a delivery window, usually within 24 hours, in some cases even later that day. I put the cash in my mailbox and they replace it with my gift bag—the bag is full of random stuff like a candle, an air freshener, rolling papers, a lighter, etc.," he says.
While the majority of these services utilize cash payments, Whitman says he would prefer using an electronic payment system.
Another South Jersey resident, Robert Birch*, has used several different services for delivery. "[My experience] has honestly been pretty great," he says. "Of the dozen or so times I've ordered, I've only been slightly disappointed in the overall quality of the flower one time."
That brings into question where exactly the marijuana being gifted is coming from. While a legal dispensary would have information on the producer and content of their product, consumers utilizing the delivery services are forced to take a leap of faith, not unlike purchasing weed from a dealer on the black market.
"There is always a little concern when you aren't personally buying directly from a cultivator, says Birch. "But, a good chunk of us started out buying weed from some dude out of his locker in high school. You were lucky to know if it was sativa vs. indica, let alone strain and cultivar."
Like Birch, Whitman turned to online communities to find out more about the services available in New Jersey. "There's a Reddit group where people talk about their experience and review the vendors. That's all I really had to go by, so I guess I got kind of lucky," he says.
Because much of how they operate remains shrouded in secrecy, the companies we spoke with would not divulge their suppliers. Moeller simply offered that once an order is placed, the product is secured through a partner and packaged for delivery.
Gindi also respectfully declined to share his supply chain, but notes "we have had excellent responses from customers who appreciate our very good organic product, fast service and transparency. We can ensure that it is all top quality."
Now that the CRC has begun to move things forward, the future of these delivery services is uncertain. Will folks still want to patronize them if they can instead walk into a brick-and-mortar location and leave with the product immediately and not have to wait 24-48 hours for delivery?
"I'd probably rather go to a dispensary," admits Whitman.
Birch has mixed feelings. "I've done the dispensary thing in Las Vegas, California and Colorado. There are good ones and bad ones. … I'll probably stick to the gifting services for the foreseeable future. In fact, I've already made the decision to not renew my medical recommendation this year as the extreme costs don't justify the limited benefit the program grants and the dispensary product just doesn't stack up with what is available from the gifting vendors."
Moeller says his company's proprietary delivery system and app are likely the future of his business once dispensaries start to open their doors. Rather than try and compete, he'd like them to sign up to use his service, not unlike how restaurants work with Uber Eats or DoorDash.
"We can easily onboard any brick-and-mortar or company that wants to offer their products on our platform. We want to get the products that the customers want into their hands rapidly, whether it's coming from us or not," says Moeller. "We did this all on our own, we didn't get any outside funding or any loans. We are now in a position to bring in investors and experts in the field to help grow this business to provide a much better service to the customers."
Gindi says his company would not have been able to enter into this industry if it stuck to the regulated market because of its lack of big financial backers.
"It is unfair to the little guy who is denied the opportunity. … We have experienced many issues due to not being able to get a license and understand our business may not last very long at all once corporate dispensaries start opening and the state starts cracking down harder. The future remains to be seen," Gindi says.
No matter what happens, Moeller is sure of one thing. "The demand for marijuana is always going to outweigh the supply."
*Names have been changed for confidentiality
Click here to subscribe to the free digital editions of South Jersey Magazine
To read the digital edition of South Jersey Magazine, click here.
Published and copyrighted in South Jersey Magazine, Volume 18, Issue 8 (August 2021)
For more info on South Jersey Magazine, click here.
To subscribe to South Jersey Magazine, click here.
To advertise in South Jersey Magazine, click here.