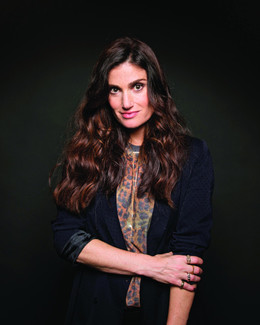 Prime Performer
From the stage to screen, the multi-talented Idina Menzel continues to wow the audience.
From life on Broadway to her iconic performance as the voice of Elsa in Frozen, Idina Menzel has always looked for the next challenge in her career and the multi-talented performer has checked off plenty of boxes along the way.
After bursting onto the scene as Maureen in the original cast of Rent, Menzel has gone on to give several memorable stage performances, including a star turn in the ever-popular Wicked. Her portrayal of Elphaba, the Wicked Witch of the West, earned her a Tony Award and cemented her place in live theater.
In the smash-hit 2013 film Frozen, her voice touched the hearts of hundreds of millions of little kids—and a few adults, too—the world over. The songs from the film (and its sequel) have become some of the most popular in the Disney franchise, with Menzel's stirring "Let it Go" winning both an Oscar and a Grammy.
Menzel has also recorded six solo albums and has branched out with other film roles in The Tollbooth and as Adam Sandler's wife in the edgy crime thriller Uncut Gems. She's appeared several times on the small screen as well, including a recurring role on Fox's musical dramedy Glee.
Now, she finds herself once again in the film world appearing in the new live-action Cinderella, slated for release this summer. With another singing sensation, Camila Cabello, playing the lead character, Menzel stars as the "wicked" stepmother.
We had the chance to speak to Menzel about the upcoming film, going from wedding singer to Broadway star and one unforgettable performance at the White House.
What was the lure of doing Cinderella?
Well, let me just be straight with you, this was one of those ones where you really struggle to find a reason not to do it! Just think of how much fun a project like this is; not just to act in but to lose yourself in a fantasy world where you have a script, an idea, a story, a vision; but you can put so much of yourself into it and that's really how this came about.
It's an amazing love story, a fairy tale, a chance to turn back the clock to simpler times coming at the end of a tough period for all of us.
And then when I knew I could put my own original songs into the production as well, it was just a dream come true for me and something I could never possibly turn down.
And so here you are as Lady Tremaine, the evil stepmother.
Well, you know there is a bit of her in all of us, I think. In any true story that sees good triumph over evil you need to have that terrifying element in there somewhere. We all know how it ends and I knew switching to the dark side would be a lot of fun and that's all you really want from these projects—to have fun and to put smiles on faces, so what a perfect way to do it.
It's the acting debut for Camila Cabello. Did you help her at all, given you have lived through similar experiences of switching codes, so to speak?
The thing about Camila is she is a fiercely proud and very confident performer, no matter what it is she is doing. Of course, she came for advice and of course I offered it, but when you have someone so naturally talented it is good for them—healthy—to see them take on the challenge in their own way. She's incredibly versatile and is one of those performers who makes things look so simple and it was such a thrill to see that.
Your work has become so diverse—are you a singer, an actress or somewhere in the middle?
I think once you've been in the theater that will always dominate how you feel as a person because it's so special and so personal. You need to sit back to step forward in the theater—what I mean is you need to have the quiet moments to appreciate what you've done and what you might go on to achieve.
What's true is it will change you; it will leave you in a trance sometimes talking about it. And that's the same for other people as well. I think people sometimes feel the theater is about 40-year-old women, but it's really not. I have so many people coming backstage—men in tears at performances—every demographic, every type of person absorbing the magic.
You seem to have made so many good choices over the course of your career. How do you find the balance?
Well, people talk about the choices we make in life and what road we take and where we could be now if we had tried something different. That's true, but I do always think we have the opportunity to start life over every day—every single day is an opportunity, and at each minute is a new path that we can take. You know, we are the captains of our ships and that's daunting but that's also exhilarating,
As far as how you got started, is it true you were a singer at weddings and bar mitzvahs when you got the call to do Rent?
Yes, that's true—it was quite a step up for a 15-year-old girl but I actually really loved the wedding work and it was a cool gig to have on the weekends. I was hanging out with like 35-year-old guys and singing Whitney Houston and Madonna tunes. I thought I was just the coolest; I thought that was the business, you know, the ultimate; so I actually look back on it really fondly and I feel like it really gave me a foundation.
It also taught me so many kinds of music—pop music of the time, rock 'n' roll, Motown, all the jazz standards. So it really helped me with my influences and sort of honing my sound.
Of course, when the call came, I was so happy. Weddings aren't that plentiful in January so I was happy to have a job, then the next thing you know I never went back—the frenzy that surrounded Rent took everyone by surprise. Its first year was in a tiny theater in downtown New York, but in the blink of an eye you're on Broadway, it's on the cover of Time, it's winning the Pulitzer Prize, there's every major star in the world clamoring to get a ticket.
What was the effect on you?
Actually, it was very sobering for us because we lost our composer Jonathan Larson on the night of our dress rehearsal downtown, so for us the entire experience was always bittersweet.
I always talk about how I felt—it was a very grounding experience for a bunch of young 20-somethings to sort of not get swept away with all of that attention and to remain true and pure to what we were doing, and to really appreciate the moments.
Is it true Woody Allen left halfway through a performance of Rent?
It is, and for a long time I was really worried it was because he hated the production. A few years later I took my son to a production and, halfway through, I found myself making my excuses and leaving. Of course, my excuses were because I had a child who was terrorizing people around him and to preserve their evening it really was the best course of action to leave. But the experience did teach me not to second guess what something looks like at a first glance.
Do you miss theater when you're away on film projects?
I do—it's a completely different type of animal and it's probably unfair to compare the two worlds.
What's been your most memorable moment along this path?
Probably when I sang for [President Barack] Obama at the White House. That was definitely a highlight. The Obamas were literally spitting distance from me … and I use that phrase because when a singer hits high notes there is always the worry of spitting on people in the front row!
I really wanted to give this performance absolutely everything I had—I wanted to own it, but in the back of my mind was the reality of spitting on the President. I also had a few moments where I thought I couldn't remember the lyrics, and I was paranoid about looking them in the eye. Man, it was a crazy experience!
You're renowned for looking after and looking out for not just the people closest to you, but anyone who you feel needs a hand or a way forward. Why is that important for you?
I've always wanted to take care of those around me, and society. I think we all owe it to ourselves and to society to do that.
I am a huge supporter of LGBT rights and I started my own charity, A BroaderWay. It's a charity that I created around 10 years ago when so much more of my life was on Broadway, hence the name. Since then, I have evolved, and it has too, but first and foremost it's still a performing arts camp that brings inner city girls, mostly from Harlem, and gives them the opportunity to sing, to dance, to swim … to take opportunities and perform.
When I was young, I had that same sort of opportunity and truly cherished it. It's a way for them to escape their city lives, just like I went to summer camp for six years of my life. That was the best experience for me and I just felt like I wanted girls to have a chance that wouldn't necessarily have that opportunity.
What's your favorite piece of advice that you like to impart onto others?
Kill it with kindness—it opens a number of doors for you.
Click here to subscribe to the free digital editions of South Jersey Magazine
To read the digital edition of South Jersey Magazine, click here.
Published and copyrighted in South Jersey Magazine, Volume 18, Issue 7 (July 2021)
For more info on South Jersey Magazine, click here.
To subscribe to South Jersey Magazine, click here.
To advertise in South Jersey Magazine, click here.