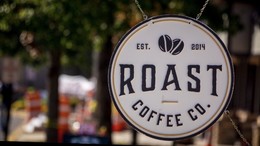 More Than a Cup of Coffee
Roast Coffee Co. brews the perfect blend of flavor and experience for the entire community to savor.
For Meredith Pollock, launching a career in the coffee business was a "hobby gone wild."
"We just love the pure goodness that each cup holds," says Pollock. "Coffee always brings people together. In good times and bad, coffee creates a union with those you gather with."
She started out roasting beans in her backyard for family and friends. In 2014, she officially made it a business, selling her organic and freshly roasted beans online to a nationwide customer base—all from her garage. As demand grew, Pollock needed more space to supply existing customers while also bringing an outstanding coffee experience to the local community. In 2017, Roast Coffee Co. opened in the Village of Taunton Forge in Medford.
Every aspect of the coffee shop experience has been elevated at Roast. First is the aroma when you walk through the door, a pleasant byproduct of the coffee roasting done on-site daily. "When beans are roasted fresh, they provide a flavor experience that you will not find in a typical grocery store bag. You can smell, taste and savor the difference. It's an experience," she says.
Next is the menu. For instance, a cappuccino isn't just a cappuccino. Here, it's made with Roast's own signature espresso blend, roasted in-house of course. Even a hot chocolate for the kids is amplified with a custom-made recipe. Roast also offers a coffee of the day, showcasing its many fresh-roasted bean varieties from across the globe.
"We seek out the finest beans from around the world, often working directly with the farmers to ensure it's the freshest crop ready for harvesting," Pollock says. "All of our coffees are fair trade and most are organic. Some of our bean offerings are from the Americas, Africa, Oceania and Indonesia."
Some Roast favorites include the Jamaica Blue Mountain, a smooth and mild bean with virtually no bitterness and an aroma with sweet herbal and nutty overtones; the Bali Blue Moon, an organic offering with a sweet flavor that is attributed to the oranges and tangerines planted with the Bali coffee trees; and the 100% Kona, cultivated on the slopes of the Hualalai and Mauna Loa volcanoes in Hawaii and purchased through direct trade with the farm.
One option you certainly aren't likely to find in any grocery store is the Remedy Roast, an organic hemp, CBD-infused Arabica coffee blend, creating an alert but calm balance.
There's something for everyone at Roast.
"Lots of people love coffee, but everyone's choice of their coffee type is as unique as each individual," says Pollock. "We try to tailor a taste that's right for everyone's palate. We offer freshly brewed hot coffee, handcrafted signature espresso drinks, iced coffees, cold brewed, nitro, or we also handcraft signature espresso drinks, house-made iced teas, and delicious healthy smoothies. And we can't forget about our decaf friends. We offer decaffeinated beans, espresso drinks and iced coffee. We have also created a 1/2 caff blend for those who just want to get a little lift."
In everything they do, exceptional customer service is at the forefront, she continues. "The most unique aspect of our company is providing individualized personal attention to each guest as they discover new flavors."
Coffees are available for sale online and in store, and Roast offers coffee subscriptions—a great gift idea for the coffee connoisseur in your life.
However, no coffee order would be complete without some light fare, and Roast has a menu that perfectly complements its coffee selection, from signature breakfast sandwiches made fresh to order, avocado toast and smoothie bowls to pastries and salads.
Pollock is grateful for the opportunity that running a business has given her, but none more than being able to give back to the community. Partner organizations can raise money by offering bags of Roast coffee beans, and this has amounted to thousands of dollars in support for area schools. "Our community has supported us from day one, and we feel it is so important to be able to contribute back to something so important as education," she says.
In the true spirit of coffee's ability to bring people together, Roast has also found a second family in their staff. "We have an amazing team at Roast who together bring their greatest efforts to give a wonderful experience to our guests. Each individual brings their own unique vibe creating an inviting environment for all," she says. "Some members of the Roast family have been with us from the beginning and make the working environment pleasant, but they also provide wonderful support and friendship to each other."
Roast Coffee Co.
200 Tuckerton Road, Suite 25
Medford
(856) 267-5384
Click here to subscribe to the free digital editions of South Jersey Magazine
To read the digital edition of South Jersey Magazine, click here.
Published and copyrighted in South Jersey Magazine, Volume 18, Issue 7 (July 2021)
For more info on South Jersey Magazine, click here.
To subscribe to South Jersey Magazine, click here.
To advertise in South Jersey Magazine, click here.