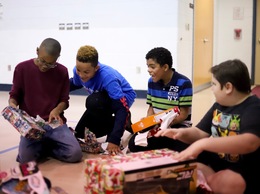 Seizing the Opportunity
South Jersey natives Pete Mauro and Pete Eobbi have turned their college discussions into a thriving nonprofit benefiting local children.
The early 1990s was an interesting time period to be on a college campus. Students were becoming fascinated with a phenomenon known as the internet, the Seattle grunge sound was transforming the music getting blasted in dorm rooms and it was quite common to see hacky sack being played in the quad between classes. Amidst such a setting, an influential local nonprofit got its start thanks to two South Jersey kids who not only shared a first name but also an outlook on life.
Pete Mauro and Pete Eobbi arrived at Drexel University from Washington Township and Bellmawr, respectively, and immediately hit it off upon meeting for the first time. While they were both hard-working electrical engineering majors who took their studies seriously, they entered college determined not to let their career ambitions detract from their general happiness. They found some of their peers to be too focused on "what" they wanted to become in life—a doctor, a successful businessperson—instead of "who" they wanted to become, such as a loving parent or good friend.
"We talked about that a lot in college and we actually took notes in the back of a notebook or on napkins or whatever," Mauro recalls. "We always said when we get out of school and we're settled, what can we do with this idea? What can we do to make more people happy like us?"
"We both had similar perspectives on things and how we went about our lives, so we wanted to figure out how to bottle that," Eobbi adds. "We kind of got together after graduation and tried to put pen to paper. We came up with some principles that we try to live by and things that we thought were important. It rolled into who our audience was going to be, and it seemed like the latter part of high school made the most sense—teenagers who were going off to college or to work."
After continuing to throw ideas around as they got established in their careers and started families of their own, Mauro and Eobbi finally accomplished their vision in 2002 when they were in their early 30s. Having already been informally working with children as guest speakers at high schools or volunteers with youth organizations, they founded a 501(c)(3) nonprofit to focus further on child development. Eobbi's wife, Kristen, came up with a name that both men thought was perfect: An Opportunity's Knockin', or A O.K. for short.
The first mission of A O.K. was to partner with local schools and get their message out to kids between the ages of 14 and 18, not by lecturing but by focusing on relatable storytelling. Mauro is naturally charismatic and Eobbi also embraces public speaking. He attended a youth leadership council as a sophomore at Triton High School, and one of the speakers in particular had a lasting impact on him.
"I think that's why, when Pete and I started this, my initial drive was that I knew how that affected me," he says. "Some people are going to hate it; some kids these days are going to be in the back of the auditorium on their phone and not hear a word we say. But maybe there's somebody like me in the audience who is actually paying attention and will remember Pete and Pete and will get something from our talk. I would hope that is the case because it had an impact on me as a teenager."
While the pandemic has prevented Mauro and Eobbi from speaking at schools because of safety protocols, area districts may be more open to in-person events this coming year. They are excited to return and continue with what they refer to as character development.
"Somewhere along the line, between 2002 when we formally incorporated as a nonprofit until now, the phrase character development became more and more popular, and Pete and I both loved it," Eobbi says. "That's what we do. … When we started, it wasn't about working hard, going to college, making a lot of money and not doing drugs. There were a lot of people who had those messages already. We focused more on integrity, having confidence in yourself, the importance of relationships with your family and friends and so forth."
Although their talks can have a profound effect on certain teens, Mauro and Eobbi knew their message might be too hard to comprehend for younger children. That led to the other major piece of A O.K.: the annual Holiday Gifts for Giving events.
Mauro says he borrowed the concept from UNICO, an Italian American service organization that he was introduced to by a friend. The idea is to empower kids from lower-income areas by taking them shopping and providing them each with $100 to buy gifts for their families, teaching them the value of giving to others.
"We did our first event in December of '02," Mauro says. "We did it small with 10 kids at a neighborhood in Glassboro called Holly Bush Gardens, where my mom worked. … From there, that 10-kid event really blossomed. Now we work with 10 communities and over 300 kids, all over South Jersey and a little bit of Philadelphia when Drexel participates."
The Gifts for Giving events are held on the first two weekends of December in towns such as Washington Township, Mantua and Vineland, along with Mullica Hill, where Mauro now lives, and Eobbi's adopted hometown of Woodbury. Donors and sponsors provide funds for the kids to go to lunch and shopping, and volunteers in each area are instrumental in choosing the young participants, chaperoning and helping to wrap the presents at the end of the day.
Glassboro native Montel Burt, now 28, was 9 when he attended the first event and remembers how he was moved by being able to surprise his mom with pots and pans for her kitchen and his old brother Donald with a video game.
"As a kid you want gifts, you want toys for Christmas," he says. "When I first went I didn't even realize what it was; I thought we were going Christmas shopping for ourselves. But I was happy when they asked me what I would like to get my mom and my brother. That was my first time being able to get a gift for my family. It definitely meant a lot and it was a great feeling. I appreciated it, and my mom and brother appreciated it too."
Burt ended up getting even more from the experience. He was paired up with Mauro that day and the two bonded from the start. A few weeks later, with the permission of Burt's mother, they kept in touch and began spending more time together, whether it was going to a movie, Mauro driving him to school or attending one of his football games.
"It was exciting hanging out with him," Burt says. "He showed me things that I wasn't familiar with and brought me out of my typical comfort zone. Our bond got closer and now he's kind of like a dad to me. We're pretty much family. Honestly, I wouldn't be where I am or have the outlook on life that I do today if it wasn't for him. He's been a big influence."
Mauro proudly talks about how Burt is doing well in his career as a truck driver and bought his first home last year in Philadelphia. They usually get together around the holidays and Burt considers Mauro's children to be siblings. "If A O.K. never does anything else," Mauro says, "it gave me a son."
Burt also may represent the future of A O.K. He volunteers every year for the Gifts for Giving events and loves giving back to kids who are in the same position he once was. He hopes to take on an even bigger role for the organization.
"I'm not as outgoing as Pete is," he says. "He can speak to a thousand people and not break a sweat, that's just how his personality is. In the future I want to keep learning from him and hopefully I can maybe take over or at least help out as much as I can. Hopefully we can keep it going because I don't want this to stop."
Not that Mauro and Eobbi are even close to being done with their mission to help South Jersey kids. They have talked about expanding their nonprofit into other areas, increasing their fundraising efforts and partnering with other organizations like the Ertz Family Foundation, started by Philadelphia Eagles tight end Zach Ertz.
Whatever the next step is, they will do it together. Mauro praises his best friend for being focused on the task at hand and constantly inspiring him, while Eobbi returns the compliment by lauding Mauro's will and passion for charitable endeavors. Neither one could have predicted the outcome of their talks back at Drexel, but here they are with their nonprofit about to enter its 20th year.
"I never would have thought it would last 20 years," Mauro says. "We don't need credit, we couldn't care less about that. As long as we're doing something for the kids, we're happy."
Click here to subscribe to the free digital editions of South Jersey Magazine
To read the digital edition of South Jersey Magazine, click here.
Published and copyrighted in South Jersey Magazine, Volume 18, Issue 7 (July 2021)
For more info on South Jersey Magazine, click here.
To subscribe to South Jersey Magazine, click here.
To advertise in South Jersey Magazine, click here.